Mobile phones are no longer limited to just texting and calling. Internet browsing and online shopping are also considered mobile functions today.
The rapid increase in the number of smartphone users recently has increased the demand for mobile websites. Along with this comes the need for mobile website optimization for optimum performance.
Today, you cannot have a website that takes longer to load. Web development company should know how to make websites compatible with mobile devices for seamless browsing since your business's success is linked with it. 
But, web developers are faced with numerous challenges today in ensuring the smooth performance of the website across mobile devices.
In this blog, we'll first examine the importance of mobile website optimization and address the various issues in developing websites for mobile devices. We'll then discuss the best mobile website development strategies to help you overcome certain challenges related to optimization.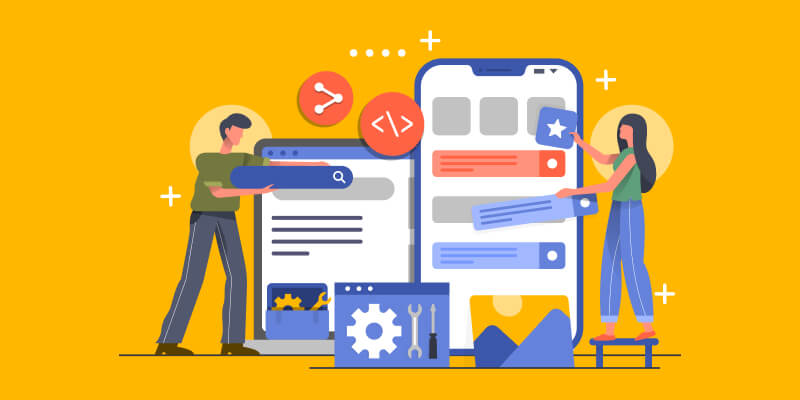 Why Is Mobile Website Optimization Important?
Being a leading destination for web design and development services, we know that mCommerce is the future as online shopping will dominate. That said, there are many things you need to understand here to get the ideal result.
The most important thing is eliminating all the issues in developing websites for mobile devices. You need to make them mobile-friendly.
Today, smartphones are way more versatile than computers since they add more value to users. You'll get to see an increase in phone usage significantly over the next few years as the technology becomes cheaper. If your site is not mobile-optimized, you're already missing out.
You need to seriously design web pages for mobile devices since Google doesn't rank your site highly unless it's optimized for mobile devices. If a user's mobile experience is poor, the chances are high that they won't come back to your site, and that's certainly not good for your business.
Already, some of the top online companies had lost most of their revenue because nearly half of their traffic was turned away when users visited their website via mobile phones as they had a poor user experience.
No business, large or small, can afford to miss opportunities that attract potential users and convert them into customers.
And now that mobile accounts for the highest percentage of search and conversion rates, creating websites for mobile devices is essential for any business.
Whether you need to update an old website or are looking forward to building a new one from a reliable web design company in Dubai or Canada, keep in mind that developing a mobile-optimized website should be your top priority today.
Challenges in Mobile Website Optimization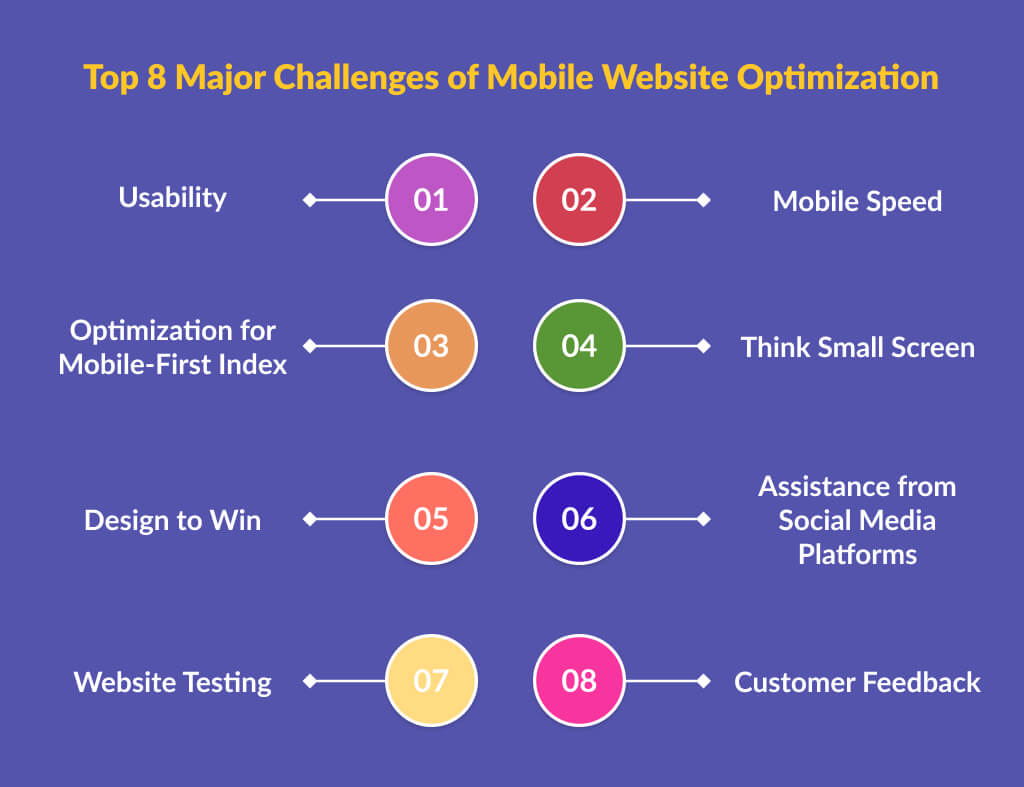 Designing web pages for mobile devices puts forward numerous challenges for web designers. You need to adopt several strategies to design the user experience for vertical resolution before scaling for laptops, desktops, or other large display devices. Options for menus, content, items, navigation and tools are severely limited. This is especially true for mobile-centric web design.
Similar issues arise when updating an existing mobile website or redesigning an adaptive or responsive version. Let's look at some of the main issues in developing websites for mobile devices.
Creating web pages for mobile devices of any screen size is one of the major challenges faced by website developers today. Websites designed or optimized for mobile devices should match the size of the screen where the visitor is viewing.
The concept of responsive web design for mobile devices is based on using media queries to selectively provide style while reducing the viewport size. However, the opposite is true for mobile-centric websites, with the added challenge of creating a usable design with fewer resources.
Navigation and usability are key challenges in both cases, as designers need to ensure that their visitors can navigate their website seamlessly without compromising on a pleasant user experience.
A responsive desktop design is all about reducing user experience degradation, but creating a website for mobile devices runs the risk of not getting a better user experience. In mobile-centric web design, designers must constantly be careful not to over-simplify the design process due to constraints.
This is another problem you can solve regarding mobile web optimization. As discussed above, there are many good reasons to leave a website or mobile site. And slow loading is one of them. Even if you have a lot of content, you will see your website load in a flash. So you should also create a website for mobile devices like this for an enhanced user experience.
Since bandwidth isn't a big deal in most parts of the world, mobile site users don't buy the idea that websites can be slow. In fact, they have many options. They can easily switch to a new site with the same content or service in seconds.
Simply put, mobile website optimization is essential to improve the loading page of your website. If your site contains videos or graphics that load more slowly, you can't even think of competing with your competitors. So, get every chance to get to the top with a fast-loading mobile site.
Optimization for Mobile-First Index
In 2016, Google made a statement that shook businesses worldwide. It called for a fundamental change in the approach of all businesses. It was stated as a mobile-first index because Google started looking for mobile sites of a domain since this version generated more traffic than desktop versions.
Google bots still display content differently on desktop and mobile sites, but their website ranking criteria have changed. They now prefer fully responsive mobile websites. So businesses must have a mobile app if they don't want to optimize their site.
You can also test the performance of your mobile app by reaching out to a reputable company for App Development for their software testing services, or you can't quickly make your site fully compliant with Google standards.
They can make everything work through the application. Now that Google's mobile bots are unable to index their sites when certain resources are unavailable, businesses must invest primarily in indexing for mobile devices for best results.
There are several features to consider when designing websites for mobile devices. And the size should be small, not large. It's not about the small screens of smartphones; it's the fact that smartphones aren't as powerful as desktop computers. For a fast and fully optimized mobile site, you need to get rid of all the clutter you would normally see on a regular website.
Reducing clutter means reducing some of the content. This is difficult for mobile site owners. You need to provide the information you need to showcase your product in a small space. Startups and small businesses need to rethink their strategies in this regard, as there is so much to innovate here. And a site that is completely mobile website optimized is undoubtedly one of them.
It's a ruthless market as companies work hard to stay ahead of their competitors. Design is definitely one of the aspects that can make your mobile web optimization perfect. Website visitors, and above all, those who want to buy a product, find designs to be meaningful. It is generally accepted that designs can make us look different.
Also Read : 10 Major Mobile Application Development Challenges and How to Overcome Them
For instance, if you're looking for interior design products such as wallpaper. You visited two websites, one of them has a stylish design and a nice theme. The other has a medium-sized design and layout. You will choose the best design. We subconsciously believe that the best design is the right product.
For mobile sites, the design is ideal for any business. People judge a product negatively if they find the design less attractive. A beautifully designed website can play a decisive role for your business in terms of peak viewership and good sales figures. It is also worth paying attention to graphic design. Thus, mobile web optimization is essential for driving profits.
Assistance from Social Media Platforms
If a company is careless about social media platforms these days, it's likely going to take a toll on mobile web optimization. This is because businesses share most of their content and blogs via social media. Reaching the masses is difficult, whether you're using a mobile app like Instagram and WhatsApp or a platform like Facebook or Twitter.
To be successful in this field, you must be specific here. Do not try to influence all popular social networks. This makes it harder to impress across all platforms. You should only choose the right platform for your product, making sure you're heading in the right direction.
You might think that the last point will limit the reach of your potential customers. But if you think about it, this strategy is more appropriate. Reaching 1 million is not a way to sell as many items as possible. However, the goal is to only target 100,000 people who can deliver a high sales rate.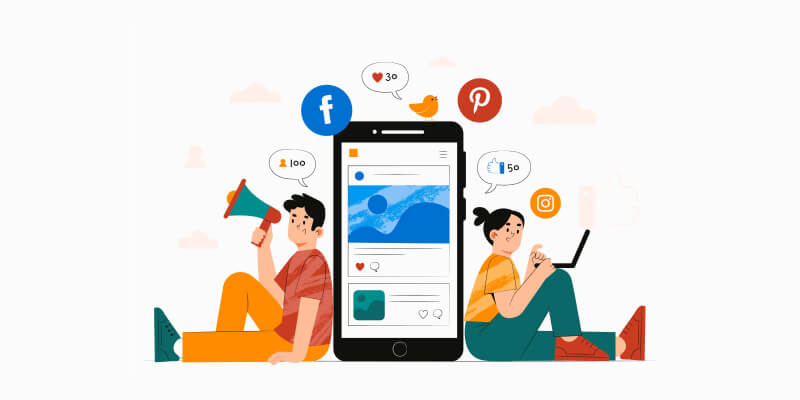 If you think that there is nothing to test after optimizing your website, you may be wrong. There are many factors to consider; the most important is Google's mobile-friendly tools. Try this tool before you start overhauling your current mobile site. This way, you know exactly what it takes to be successful when creating websites for mobile devices.
If you use Google's mobile-friendly testing tool, it'll be an eye-opener. If you think your current site is completely optimized in terms of design, content and layout, then this tool is exactly what you need. You will receive a summary of all important aspects, including areas for improvement. It's like a dedicated testing tool that can help companies identify the need to improve their site.
Last but not least, customer feedback is essential to making improvements to meet user expectations. There are some examples of website owners having positive customer reviews and making their websites mobile-friendly. Despite your best efforts, your efforts will be in vain if your potential customers or visitors do not approve of certain aspects of your site.
Comments on the blog are important, but if you are someone who has a hard time finding this section, all your efforts to create a blog will be wasted. Scrolling too much is also not what we want here, as not everyone likes to scroll to the bottom of the page. It would be perfect for them if they could find the information they want at the top of the page.
So, give your visitors all these possibilities by making websites compatible with mobile devices. Their rating will help shape the entire site based on your preferences.
The Bottom Line
Mobile devices are quickly becoming the consumer's preferred online device. Business owners need to understand this and act now. Optimizing your website for a seamless experience on mobile is not difficult.

All you need is a bit of determination and willingness to apply the techniques described in this blog. We hope this post has given you some insight into the current state of mobile website optimization.
So, why wait? Trust seasoned graphic and web designers, having a reputed record of delivering top-notch websites, to build your website. We know the ins and outs of how to make websites compatible with mobile devices, making them perform seamlessly for a better user experience. Contact AppStudio to learn more.
Frequently Asked Questions
Q1. How To Optimize Images For Mobile Websites?
Mobile websites optimization is important because it makes your website perform seamlessly across all mobile devices, helping users navigate without any hassle.
If you haven't invested in mobile web optimization yet, it's time to do it. Here's why mobile presence is so important to your business. Mobile-friendly websites are ranked high in search results. Mobile search accounts for more than half of all searches on Google.com.
For many advertisers, the majority of traffic comes from mobile phone users. If your website isn't optimized for mobile devices, your visitors are five times more likely to leave your website.
Q2. How To Optimize Images For Mobile Websites?
Most importantly, make sure the images and text are relevant to the page. Here's what you can do to optimize images for mobile websites.
Choose the correct file format. WebPS works best with Chrome and Firefox. Reduce file size for faster page loading. Make sure the SEO elements of your page (metadata, structured data, etc.) are in harmony with the images. Create a sitemap with a scannable image, or don't forget to include the image in your sitemap.
Q3. How Can I Make My Website Mobile-Friendly?
It is important to optimize your website to display correctly on various mobile devices. Here are some important tips for making a mobile-friendly website.
Make sure that every button and hyperlink is easily clickable on mobile devices. Use a single website that's responsive and fits perfectly in every kind of device. Test your website through Google's new website testing tool to find errors.
Check whether all the media elements are working perfectly. Conduct cross-browser testing to ensure there aren't any breakage or rendering issues. And scalability is important since you need to keep in mind that a mobile's screen is comparatively smaller than a desktop. You should optimize every component so that users don't face any issues while navigating.