Many companies have decided to create an online store this year. Shopping on the web is perhaps the most mainstream reason individuals use the Internet. In 2019, Statista reported that worldwide e-commerce retail sales amounted to $ 3.53 trillion, and online retail revenue is projected to grow to $ 6.54 trillion in 2022. But there are costs associated with connecting to the Internet. This blog will see what you need to consider before making any decisions and how much it costs to develop an eCommerce website in 2021.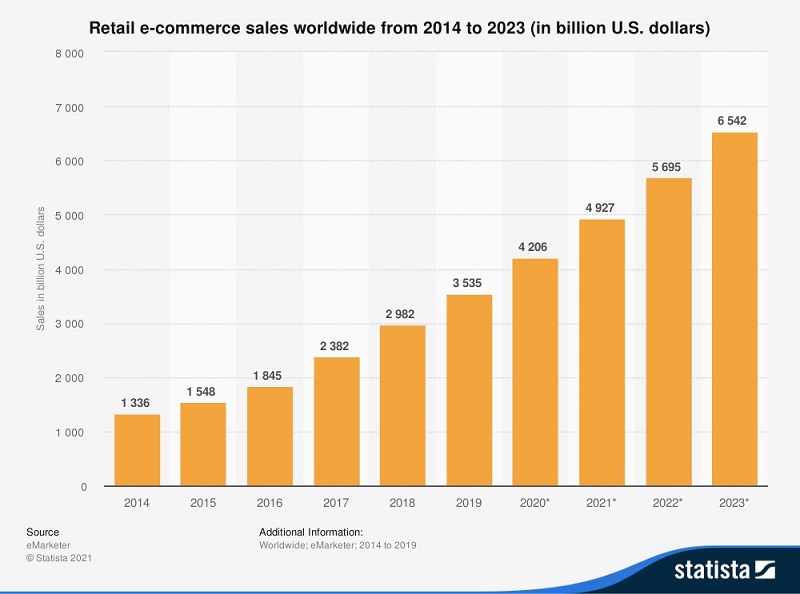 How Much Does it Cost to Build an eCommerce Website?
Here, we will explain every aspect that will impact eCommerce website development cost in the upcoming sections.
How eCommerce Platforms Impact Web Development Cost
Depending on how simple or complex the ecommerce website development platform is and the licensing costs, the costs can vary dramatically for similar functionality. Your options include industry-specific solutions, integrated solutions based on ERP systems, and software-as-a-service (SaaS) offerings designed for business owners to configure and configure themselves conveniently.
The more configurable and customizable offerings like Magento and Magento Enterprise are not designed to be set up by a business owner who lacks technical expertise. At the very least, you'll likely spend $ 5,000 with a good national vendor to set up your store and incorporate basic setups and training.
How Design Impacts Ecommerce Website Development Cost
Numerous platforms, particularly SaaS offerings, have design exhibitions, subjects, or layouts that you can without much of a stretch apply to your site. While these templates may not fit your business perfectly or set you apart drastically from the competition, these templates are a quick and inexpensive option.
Expect a website design cost expense of $ 0 to $ 250 to purchase a theme and another $ 1,000 to $ 2,000 making minor changes and customizations. When you delve into a custom design, the sky's the limit on potential expenses. Similarly, a custom theme can cost anywhere from $ 10,000 to $ 100,000, depending on the details, requirements, and depth of the process.
How Custom Programming & Functionality Impacts eCommerce Website Development Cost.
Many platforms provide support for modules or extensions, allowing you to use functionality developed by someone else on your website. Before developing custom functions, always check what extensions are available before writing custom code. However, be prepared for some of the extensions to be poorly written or implemented.
A good e-commerce agency will develop reliable, thoroughly tested, and secure code. While this is more expensive than just putting it together as quickly as possible, your custom code will hold up better over time. For example, extensions can break when you update the core system, so poor code can be costly later, even if it works at first.
How Web Hosting Impacts Ecommerce Web Development Costs.
Hosting costs are more unsurprising and less of a factor than others. SaaS offerings will for the most part incorporate some degree of hosting in their packages. You'll want to check the limits included for things like storage, traffic, products, customers, and orders.
These solutions start cheap and become more expensive as your sales increase and your needs expand. You can plan for at least $ 20 – $ 250 per month in hosting costs before growing with a typical SaaS solution.
Hosting for a custom eCommerce system will likely start at around $ 300 a month for decent service and support, but it probably won't provide true PCI compliance. For a successful site generating high volumes of traffic hosted in a network or cloud environment, hosting could cost more than $ 1,000 – $ 2,000 per month.
Partner With An eCommerce Website Development Company?
Here we have shed light on the essential steps to consider when evaluating website development packages. However, since the web world has changed a lot in the last decades, it is necessary to include a few more points for flawless and professional eCommerce website development.
Evaluate Past Work
When selecting the web development partner, consider your previous work and experience. Ask them about their competition, what technology they use, what platform they suggest for website development. Whether they have worked in a similar niche or not. All of these factors would help you find a professional and reliable web development partner.
Check Their Outcomes
You don't need a website, but you do need a website that has the potential to generate results. When selecting a website development partner, ask if they have a digital marketing team to offer a digital marketing service. You can ask them to share past SEO projects with the results to see how effective they are.
Don't go for a Low-cost Package.
When selecting the web development package, never go for the reasonable package as it might appeal to you initially, but it might cost you more in the long run. Check the services remembered for the package prior to settling it.
According to an eCommerce app development agency, many packages include basic on-page SEO, off-page SEO, maintenance, audit report, and more. Ask if they would help with changes and modifications in the future.
How Much Amount Does an eCommerce Website Development Cost: Summary
We hope this blog post about how much it costs to build an ecommerce website from scratch has helped you find the answers on how much it costs to develop an ecommerce website in 2021. Now, do you want to get a quote for your ecommerce development project? Then, contact us for a free consultation and a quote for your project.
Frequently Asked Questions
Q1. Can you make a free custom quote for my ecommerce web development?
Sure! At AppStudio, we can develop your project from business and technical perspectives to precisely meet your business objectives. Then, together with the software architect, our business analyst can consult it for free and estimate an approximate budget for the development of your e-commerce website.
Q2. How much time does it require to create an eCommerce website?
The timeline for creating the custom eCommerce website starts from about 3-6 months. Corresponds to the website with basic functionality. If you plan to add more features and more complex designs, the timeline to launch takes a minimum of six months or more.
Q3. What factors influence the final price of eCommerce web development?
Many aspects increase the price of the e-commerce website. This includes a type of software development provider, the complexity of the web design, the number and complexity of the functions, third-party integration, marketing and SEO expenses, etc.