Apple states that its new M1 chip is more power-efficient and faster than the Intel Core i7 processors used in the older generation MacBook Pro. This sounds great, and the new MacBook is sure to be a fantastic device. However, the previous generation still has multiple benefits.
The previous 13.3-inch MacBook Pro was only six months old, so it's still based on modern technology. Using a quad-core processor, tenth generation Intel i7, it supports heavy processing fast. It also features retina resolution, bright and sharp True Tone display. Up to 32 gigabytes of memory and 4 terabytes of storage give you plenty of room to handle large, professional-quality images, videos, and run applications. The 10-hour battery life allows nearly a full day of use before it needs to be recharged. This is an outstanding laptop and the best-selling one in its class.
Quick Glimpse on Apple M1 vs Intel i7
The newly announced MacBook Pro based on Apple's M1 chip beats the Intel MacBook Pro in performance and efficiency. According to Apple, the processor is 2.8 times faster, and the associated graphics are five times better. Furthermore, this massive speed increase is accomplished with a fraction of the power used, and the claimed battery life is more than 19 hours. It seems that Apple has hit a home run with its first-ever hit.
Of course, the reality is that Apple has been designing fast and efficient processors for its iPhone and iPad line for a decade, but few realize how far those designs have come during that time. As a result, a lot remains the same as the new MacBook Pro, which still uses the Touch Bar and active cooling – meaning fans. Screen brightness and resolution have not changed either, but the new Apple laptops can run iPad apps, so there's a lot new in that.
What If You Want an Intel Mac?
While Apple silicon is the future of the Mac ecosystem, Intel-powered Macs won't disappear overnight. The new MacBook Air and Mac mini use the M1 exclusively, but Apple continues to offer the 13-inch MacBook Pro with an Intel Core i5 or Core i7 CPU as options. And other Macs in Apple's lineup – including the iMac, Mac Pro, iMac Pro, and 16-inch MacBook Pro – aren't up to date and are still exclusively supported by Intel CPUs, in some cases optional AMD GPUs.
Apple M1 Chip vs. Intel i7: What's the Difference?
In this segment, experts at Appstudio explain the difference between the Apple M1 chip and Intel i7. You have to take a quick look to understand everything in detail.
Apple M1 Chip vs Intel i7- Specifications and Benchmark
| | | |
| --- | --- | --- |
| S.No | Apple M1 Chip | Intel i7 |
| Frequency | 3.20 GHz | 2.30 GHz |
| Turbo (1 core) | No Turbo | 5.10 GHz |
| Turbo (8 core) | No Turbo | 3.20 GHz |
| Hyperthreading | No | Yes |
| Core Architecture | hybrid (big. LITTLE) | Normal |
Apple M1 Chip vs. Intel i7- Internal Graphic
| | | |
| --- | --- | --- |
| S.No | Apple M1 Chip | Intel i7 |
| GPU name | Apple M1 (8 Core) | Intel UHD Graphics 630 |
| GPU Frequency | 3.20 GHz | 0.35 GHz |
| Generation | 1 | 9.5 |
| Execution units | 128 | 24 |
| Max. GPU Memory | 8 GB | 64 GB |
| Technology | 5 nm | 14 nm |
M1 & Intel Macbook Pro i7: Head to Head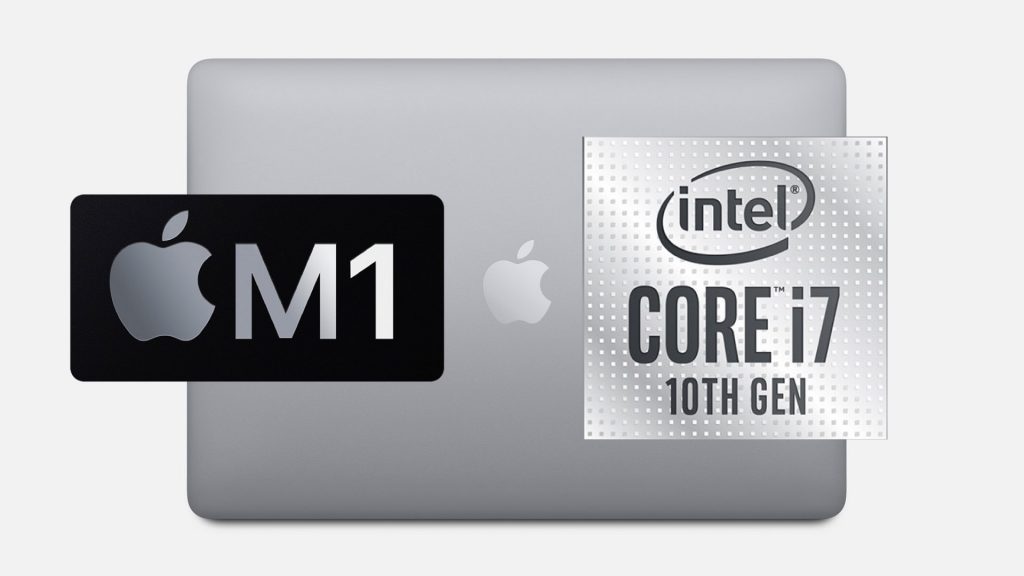 With such a huge performance leap, this might make people question the value of an Intel MacBook Pro. Rest assured, this is still a powerful laptop that can do some serious work. Several advantages remain for the previous generation. Notably, the memory and storage capacity for the M1 MacBook Pro is in the top half of the Intel version, with a maximum of 16-gigabytes and 2-terabytes. External storage exacerbates the problem in part, but whether the 16-gigabyte limit will be an issue is unknown. Apple's best iPad Pros only include 6 gigabytes of RAM, so maybe Apple thinks its memory management is good enough that there's no need for anything else. However, this is just one of the many things that are unknown about the new M1 powered computer.
Also Read:- Guide to Convert an Android App to iOS App Online
Another potential concern is the lack of native versions of some applications. Apple announced that Adobe Lightroom has been converted, but Photoshop won't transition until next year. All Apple apps are ready, and a launch event video is shown for the top iOS app development companies owners stating how easy it is to recompile their app for the M1. How this translates to individual needs remains to be seen and will vary from person to person. Meanwhile, Apple says that some apps run faster on the M1. That's awesome and should take care of most problems. Still, it makes more sense to stick with an Intel-powered MacBook for professionals who rely on specific applications until the essential apps are available in native form on the MacBook M1. The new 13.3-inch Apple Silicon MacBook is a groundbreaking laptop and given enough time; it could become king in the market. Having said that, Apple Watch app development is also reaching its new capabilities, using its next-gen processor.
How to Choose – M1 Chip vs Intel?
Computer benchmarking is like auto racing; it has been around for quite some time. It is natural to try and find out which is better in Apple M1 vs Intel i7. Computers do different things differently, so deciding what to measure is essential. Moreover, benchmarking is not everything. Both the companies promote the quantitative differences between one another. Intel has repeatedly asserted that they are the top PC makers globally, and Apple, on the other hand, demonstrates its robust MacBook ecosystem.
So, the real question that arises is which one is better in Apple M1 vs Intel i7. Apart from the MacBook, Apple Glass application development is also rising the slope, and the company is firm on its decision of not selling the M1 chips. Hence, the distinction is irrelevant to engineers. So, we can't design around M1 even if we want to. We will never have to decide between the two. There's precisely zero cross-shopping between M1 Chip vs Intel.
Talking about the Apple M1 chip benchmark, end users pick the ecosystem, not the CPU. Do they want MacOS or Windows? Once this call is made, the rest fades into the background. The choice is between Apple M1 Chip vs Intel, and Intel is reminding the world that it still makes good laptop processors.
There will always be one moment of confusion and dissatisfaction for us technology nerds who talk about the Apple M1 chip vs Intel i7 benchmark. But, nonetheless, the question is still the same, is the Apple M1 chip better than Intel i7?
Concluding Thoughts
In this blog, our experts have defined every aspect of Apple M1 and Intel i7. However, it is too early to judge chip performance in real-time based on the specifications on paper. It will be several months before a concrete comparison of the two chips can be found on the internet. Moreover, if you encounter any issues and require any assistance, you can contact us without thinking twice.
Frequently Asked Questions
Q.1 Is the Apple M1 chip better than Intel i7?

The recently launched MacBook Pro is in talks because of its M1 chip by Apple that has surpassed the Macbook Pro by Intel in being highly efficient and offering splendid performance. Apple claims its processor to be 2.8 times faster and the corresponding graphics to be five times better. Moreover, the drastic change in speed has revolutionized the industry. The battery life is now more than 19 hours, better than ever. Indeed, Apple has made its mark as always.
Q.2 What does the Apple M1 chip do?
Apple has launched its latest M1 chip being highly power-efficient and faster than the Intel Core i7 processors that was used in the older generation MacBook Pro. This M1 chip induces 3.5 times the speed of normal CPU's performance, with a 6 times faster GPU performance and upto 15 times faster machine learning capabilities as compared to Intel's chips that were used in prior-generation machines.
Q.3 What does the intel core i7 processor do?
A intel core i7 processor is typically efficient in multitasking, media-creation tasks, media-editing, high-end gaming and similar demanding workloads. These processors support high-end PCs with next-gen CPU performance for discrete-level graphics and AI acceleration