The outbreak of the pandemic has been harsh on the entire economy. From individuals to organizations, everybody faced challenges in unprecedented times. The sudden shutdown of services led to inconvenience, and accessing necessities became daunting. Thanks to abundant digital platforms and mobile applications that aided people with quick and hassle-free services.
The major role was played by on-demand applications that provided prompt door-to-door assistance to the citizens. From ordering food, groceries, medicines to the availing cab, banking, and other essential services and commodities – the mobile-based on-demand applications made it possible. Since these on-demand app solutions usher ease and simplicity, it has led to a significant transformation in diverse verticals.
But have you ever wondered what goes behind the making of a striking on-demand app? App development is a vast and intricate process involving a rigorous set of steps, out of which brainstorming of ingenious app ideas. One has to evaluate numerous factors while ideating to create a marvellous app. Not every app idea would be worth investing in. We have created this blog post to acquaint you with the finest on-demand app ideas to integrate into your business. Let's dive into the detailed insights of ingenious app ideas and create bespoke on-demand app solutions.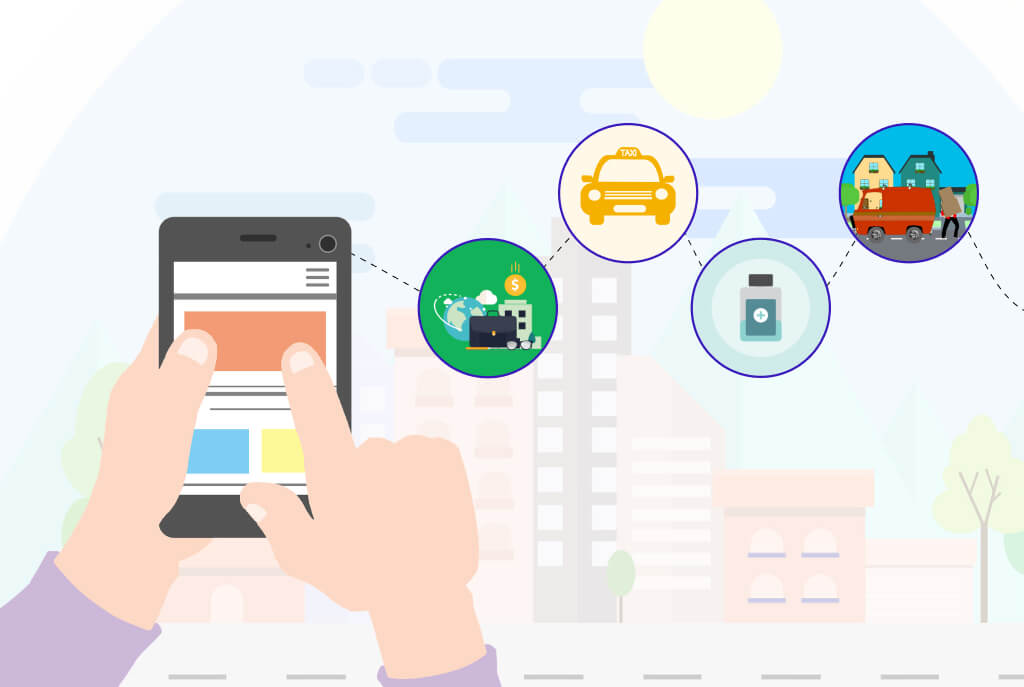 The Resplendent Fad of On-demand Applications
These useful apps bestow the app user with potential benefits like affordability, customizability, and contact-less delivery of products. Several statistics and surveys have proved that the on-demand applications are inducing a mesmerizing hike to the M-commerce industry.
Market research states that the on-demand app market is anticipated to grow by $1574 billion in the upcoming 5 years. Till 2024, this on-demand application sector will witness a massive upsurge in revenue. The mobile app user retention ratio plays a significant role in the upsurge of these apps. Furthermore, 53% of CAGR is predicted to accelerate the market growth of the on-demand apps.

Evidently, the on-demand applications are wowing the users and becoming a prime source of income for the business owners. The on-demand app development service companies are sparing no effort to create revolutionizing apps induced by the most profitable app ideas.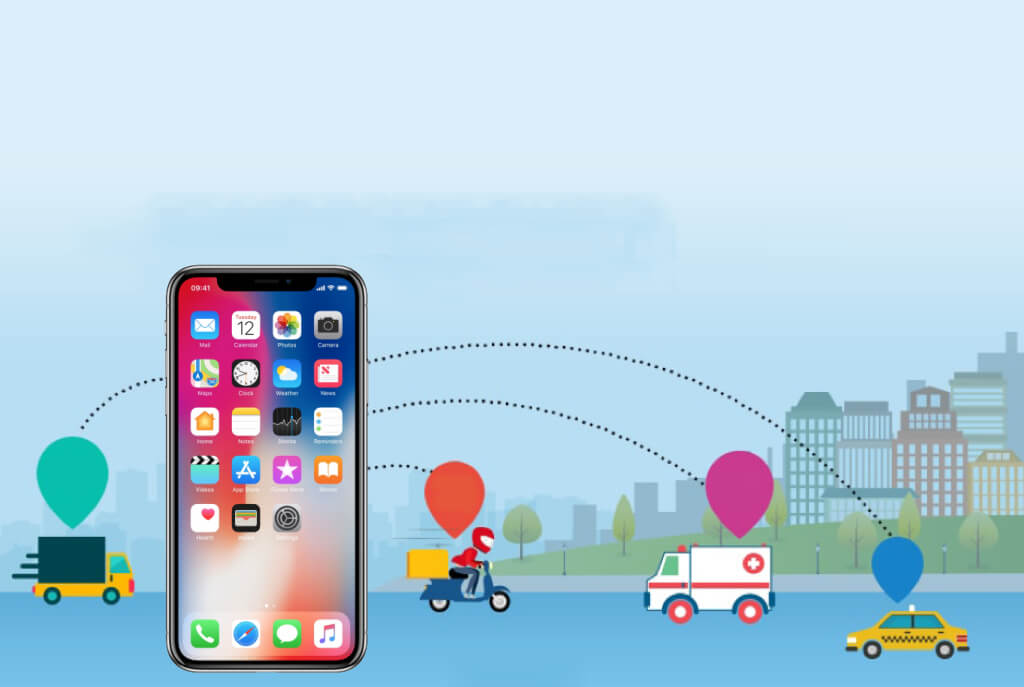 Some Worthy On-demand Business App Ideas
On-Demand Grocery Apps:
Being an indispensable necessity, Grocery is doing wonders in the on-demand sector. Especially during the lockdown phase, this essential sector has outshined tremendously. The demand for groceries is omnipresent, and hence it can be proven to be a maximum revenue-generating sector. The giants like Walmart, Grofers, Big basket, Instacart and many more are flourishing immensely by catering to the customers through on-demand grocery apps.
New start-ups or existing grocery businesses can undoubtedly step into the grocery game. Mobile applications ideas for business are completely successful only when implemented smartly. Hire a good application development company to get a top-notch on-demand app developed. Once the on-demand grocery app is set, allow numerous grocery vendors to associate with your app. This will help you create a decent vendor base while enabling your customers to choose and place an order from abundant options via your app. The next step would be hiring the executives and delivering it to the respective clients.
Remember that prompt delivery, finest quality, economical pricing, and contact-less delivery are imperative factors in profitability.
On-Demand Home Services Apps:
Home services is another predominating vertical that has gradually made its mark over the years. Some of the renowned names in this sector are Urban Company, HouseJoy, Zimberr, Helpr and many more.
The hectic schedule and hustle-bustle of life have left people with little or no time and energy. Availability of home services has proven to be a great aid to working professionals. People from diverse niches like electricians, maids, carpenters, plumbers, gardeners, beauticians, babysitters, etc., can easily reach their customer base through the on-demand home services app.
One of the best ideas for mobile apps is offering home services. To set up the same, get in touch with professionals with expertise in various home services. After verifying their background thoroughly, register their names and charges in the app so that the customers can easily view all of the service professionals under one head. After making the payment, the customers can book their slot as per their convenience, and the allotted service person be at their doorstep at the given time.
Ensuring the availability of professional experts, diverse and economical services, quick problem resolving assistance is the key to attaining success in this niche.
On-Demand Cab Booking Apps:
Hiring a cab has taken place in the day-to-day routine. Yes, it is that frequently used. The on-demand cab booking vertical has brought a substantial transformation in our lives. It has indeed empowered us to complete several outdoor tasks. Needless to say, the cab services giants like Uber, Ola, Lyft and Gett have catered to billions of people by simply enabling them to book a cab/taxi from their app and navigating through various destinations.
If you want to build one such on-demand cab booking empire, hiring a best-in-class enterprise development company should be your first move. The developing team will design an on-demand cab booking app by integrating driver, user and admin panel. Various cab owners can register themselves by filling in their personal and car details. This will ensure the safety of the passengers. Integrating a payment gateway would be the next step. Allow the users to make payment through an in-built wallet, debit/credit card, Paypal or other authenticated sources. Ensure that features like sharing location, choosing a budget, selecting types of cars should be present in your app.
On-Demand Food Delivery Apps:
Food delivery is unquestionably the most favoured sphere in the on-demand ecosystem. Food giants like Zomato, Swiggy and UberEats are highly enticing the customers with their prompt services. Now, no more hassle of standing in the queue for food takeaway. People can easily relish their favourite food with just a few clicks.
If you plan to kickstart a food ordering application, create a panel of multiple restaurants with diverse cuisines. The restaurant owners can register themselves by paying a certain commission on every order. You will be the admin of accepting orders, allocating the order to nearer executives and ensuring the completion of the food order.
Wrapping up
The on-demand apps have become avengers of this tech world. Diverse on-demand apps are contributing to the economy tremendously. This industry is worth mulling on. However, partnering with the finest mobile app development company is paramount. App Studio, based in Canada, is your best bet to create state-of-the-art on-demand mobile applications to skyrocket your business prospects. We have a brilliant team of exceptionally talented developers who build apps yielding profound results. Not only in the on-demand app sector, but we are also the most trusted in e-commerce, wellness, entertainment, healthcare app development and many more.
Frequently Asked Questions
Q1. Is On-Demand Application Vertical Booming?
Yes, on-demand applications are in vogue because of the prompt and functional services.
On-demand applications are in the trend. They enable the users to access essential and luxurious services with just a few clicks. Get in touch with App Studio to receive top-notch on-demand applications.
Q2. Where Can I Hire On-Demand App Developers?
App Studio is your best bet to witness best-in-class on-demand apps. We house a team of dexterous developers who put their heart and soul into creating the finest app. Not only this, we provide constant assistance to our clients to impart a hassle-free user experience.
Q3. What are the famous on-demand verticals?
Food delivery. Grocery, cab booking, home services are trending on-demand sectors.
Experience a boom in your profit figures by channelising these app ideas.