With mobile apps being all the rage, the reality is that too often, people assume that all mobile apps are created equal. The truth is, mobile apps dont always have this sort of capability that most people think they have. The truth is, despite the popularity of mobile apps, it's very important to know your limitations. Sure, some services are better than others, but without a doubt, regardless of the service an app is providing, it is very critical that you realize that when it comes to app development, you need to create an app that is going to go out of its way to give you a significant benefit. For some apps, the implied advantages are just nowhere near as lucrative. As a result of this, it can cause a lot of unfortunate scenarios to prop up.
This is precisely why you need to emphasize the user experience when developing an app. So why is this so important for app development?
What is User Experience?
The user experience, commonly known as UX or UXD, involves everything that affects the perception and interaction of the user with a product. In specialized terms, UX is the functional, experiential, significant, full of feeling, and important qualities of human-machine connection. The mobile user experience encompasses the user's perceptions and feelings before, during and after their interaction with an application. UX likewise incorporates all parts of the end-client communication with an organization and its products/services.
The main concern of a UX designer is addressing the feel of a product to a set of users. Therefore, the UX designer will explore different options to solve the specific pain points of the user and provide them with a valuable solution. Ultimately, products with a good user experience are easy to use and straightforward.
Why is Design Thinking Important?
Design thinking methodology upholds development by noticing and thinking about numerous answers for a solitary issue. The central tenet of design thinking states that a user-centered approach to product development fosters innovation, leading to market differentiation and competitive advantage.
An integral part of successful mobile app development is conducting user experience research. Before the development process, it is important to understand how UI / UX design services will work together to solve user pain points. The design thinking methodology is a formalized framework for processing user data and creating appropriate design solutions to address actual user needs.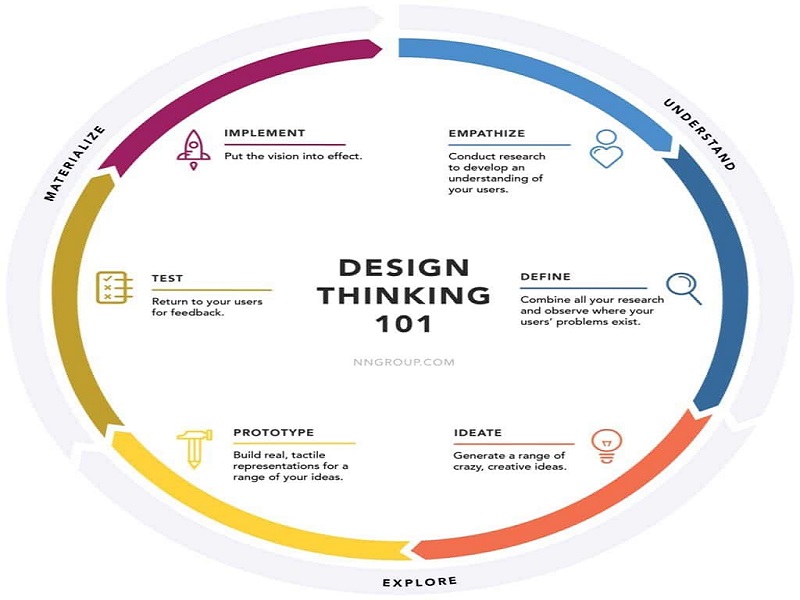 What Makes a Great User Experience?
All successful mobile apps have one thing in common: they benefit users. If a user is going to use an application repeatedly, the product must be useful and offer great value. Creating an amazing user experience starts with following the methodology of design thinking and establishing a broad understanding of target users lives & unmet needs.
Design thinking is at the center of effective mobile application development. Throughout the design thinking process, UX designers conduct a great deal of research to validate or invalidate initial product ideas to guide product development.
It is important to note that UX encompasses much more than how a user feels about a product or service. It incorporates a strategic understanding of the product's business model and the processes that customers use. It's also about understanding the broader context in which users interact and engage. A successful UX design creates solutions that meet the needs of the customer, users, & ultimately works within the confines of technology platforms.
Focus on Data And Emotions
A mobile app development based on the needs of users not only refers to functionality, it also refers to the emotions that applications generate through their design & usability. It is important to consider what users may feel and how the application helps them improve their lives. For users, the first impression and the opinions of other users are very important. Marketers recommend developers appeal to humans, not the buyer.
By focusing on the user experience, you are more likely to reduce application abandonment rates. Remember that both functionality and satisfaction are the most important reasons why users may be interested in downloading an application. In the same sense, data allows application developers to obtain information on user behavior, which is useful for making good decisions and obtaining better results. All this based on the interests of the users and, of course, without forgetting to keep this data safe.
Summary
Without question, the user experience is one of the most critical components of any interface that relies on another person. This is especially true when it comes to mobile apps. These apps are very difficult to deal with because you have to trust that the other individual using the app is going to go along the way. If you are app developers toronto, for example, you have to tailor your app to those that might live in the jurisdiction, assuming you are building an app for them. That means that grammar has to conform to the standards and conventions of a given culture, and you need to ensure that the interface is accessible and usable.
This is where testing comes into play, and any app development companies worth their salt will ensure that considerable amounts of user testing are executed prior to instituting a brand new app. App development companies also have to ensure that a user is able to easily navigate in a linear manner. Almost every page or portal on an app should have a purpose, otherwise, customers will gravitate to other kinds of Mobile App Development Ottawa. Apps, like any other kind of product, are built with people in mind.
Essentially, it is as simple as that. Emphasize the people you are selling to more so than the thing you are selling. By doing this, you will ensure that the customer comes first and you will be able to continually generate great apps. If you are one of those who are searching for a trusted UX developer, then contact us. Our designers will help you out by facilitating the best solution.
Also Read –