The mobile game development niche is continuously growing and thriving. There are already upwards of 2.5 billion mobile game players worldwide, with this number projected to increase to 2.7 billion by the end of 2021. And Google Trends also suggests a consistent number of searches for 'game development cost' over the past 12 months, thanks to the popularity of mobile games.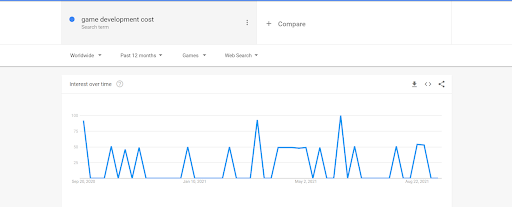 Perhaps the ease of accessibility is the reason for the popularity of mobile games . Unlike other video games, there is no need for a special console or a complicated installation procedure. Instead, users need to click on the install button and start playing the game in mere minutes.
The widespread prevalence of mobile games will only increase with the use of the latest technologies like virtual reality (VR) and augmented reality (AR). Now more than ever, there is a great demand for new and innovative games.
If the mobile game fully engages the user whilst offering something unique, it can generate large revenues. For instance, PUBG mobile has garnered an astonishing 2.6 billion dollars since its launch.
Everyone who wishes to break into this lucrative sector is curious about game development cost estimation. In general, the cost can range between $3,000 to $1 million. Several elements are responsible for determining the game development cost, like the game's kind, design, story, testing, etc.
In this blog, we will delve deeper into the game development process to establish rational and clear expectations regarding the cost of game app development.
How to Create Gaming Apps: A Developer's Perspective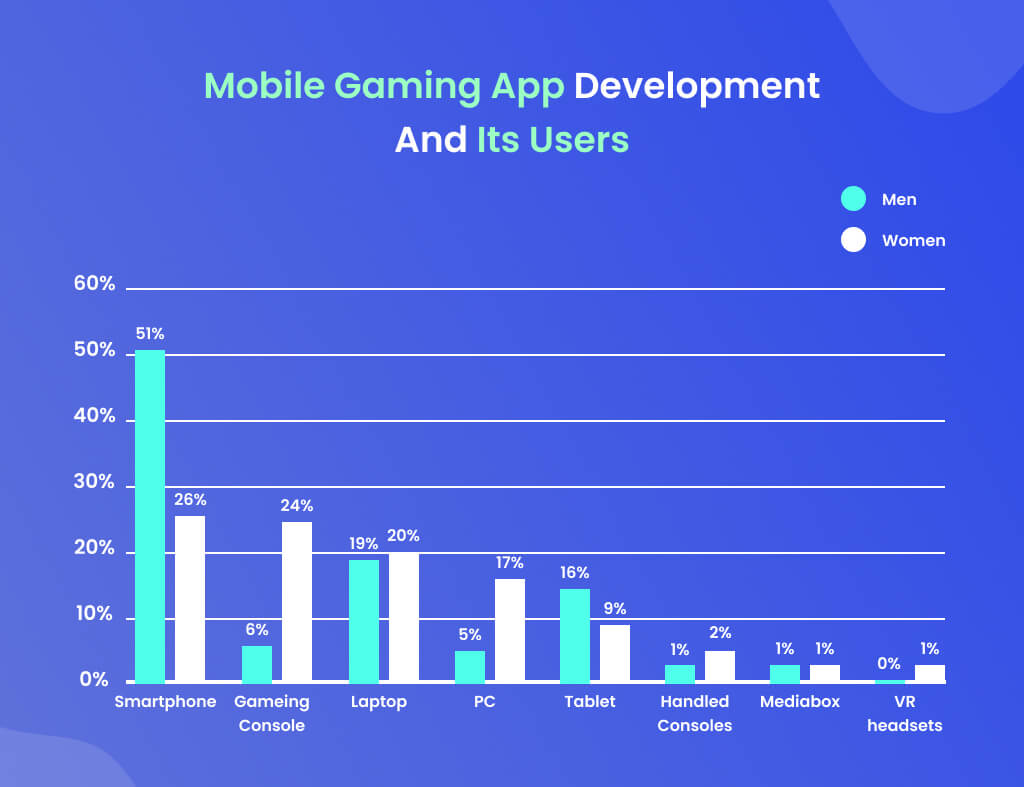 To better understand game development costs and make the required investment, you have to recognize what exactly you're paying for. One can do it by examining the fundamentals, such as the detailed procedure for mobile app game development. The steps are:
Establish a Game Idea
The game's concept is, in essence, the beginning of the development process. The concept could be completely original or based on a successful game. Before embarking on the development process, the developmental team will understand your game idea and its market.
Your game idea should be able to answer key questions. For example, will the game be able to meet the needs of the players? What the aspects to engage the players? Is the game enjoyable? What are the features that pleasantly surprise the players? When creating a game concept, these are just a few of the concerns that the game creators must address.
Refinement of Game Concept
Idea refinement is commonly defined as storyline development, which entails establishing the game's principal character, narrative plot, and general theme. The game's goal and control are established at this point. The notion of game creation contains a brief explanation and representation of the game's building pieces. The game's overview offers comprehensive information about game mechanics, settings, technology, and interactions.
Writing a Game Design Document
After drafting the complete game concept, it is time to proceed with the production stage. It involves creating a team of game designers, programmers, and QA testing experts to develop the concept. Creating a game design document(GDD), a highly descriptive and extensive account of a game's design, is critical for game development. Since a GDD is a living document, it is subject to feedback and should be updated whenever the requirements change.
Creating the Prototype
After the validation of mechanics through testing, it is necessary to construct a playable prototype for the intended platform, whether Android or iOS application development. This prototype must incorporate the key mechanics as well as mimic key elements of the game. Although constructing a prototype requires a significant amount of time, it is necessary to identify the flaws within the game design.
Designing the Architecture
In most cases, game functions evolve during development. The game's appearance and functionality are vastly different from the initial designs. Several ideas emerge with technical variations during the development process. Due to the general ever-changing nature of mobile game development, extremely adaptable architecture solutions based on the modular approach are required.
Developing the Front-End
The objective is to design the game based on the proposed subject. Gameplay, levels, menus, and promotional artwork are all part of the art design. For the iteration, the programmers create a game logic that is entirely dependent on the designed art. Based on the iteration, the fundamental gameplay or UI/UX is implemented.
Game Testing and Deployment
A team of highly qualified experts performs QA testing. These testers verify that the game's quality is maintained before it is released on various platforms. The incomplete game is shown to a select group of potential players before it is released. One can test the game's efficiency by collecting feedback from the participants.
A simple game takes 2-4 months to build on average, but a sophisticated product can take more than four months. The game development cost breakdown will also vary based on the developer/development company you select and the country they're based in. Typically, programmers and experienced freelancers set an hourly charge based on the scope and complexity of the project.
Also Read : How AR & VR are Becoming The Future of The Gaming Industry?
Obtain an Accurate Estimate of Mobile Game Development Costs
Estimating the workload at each step and thus calculating the cost of developing a mobile application is challenging. To do so, you must have a strong idea of the end outcome and be technologically competent to estimate the labour expenses for each function. As a result, in most cases, only the most experienced specialists are engaged.
Experienced development companies who have been in the market for years and completed numerous mobile entertainment projects are generally accurate game development cost calculators and can provide you with a general estimate.
Typically, there are two stages of the cost estimate:
Free Preliminary Cost Estimate
Although it is a preliminary estimate which you can get for free within one or two days, it gives you a rough idea of the budget and monetary investment required to create a game application before committing and signing any contracts.
Exact Mobile App Game Development Cost
A contract enables a more accurate assessment of the cost. The contract specifies the terms and stages of operation with a clear description of the outcome.
It's beneficial if the company you select to partner with already has prior experience developing games with similar features and gameplay. In that situation, the response to the query "how much does a game app cost to make?" will not be lost in countless recalculations.
In addition to development costs, you must also consider the distribution costs. For example, it costs $100 annually to obtain a developers license from Apple. For Google, it's a one-time payment but still in the same range.
With these fees, you gain access to the Apple App Store or Google Play Store as well as to developer libraries. The developer console contains documentation that will help you learn how to build your application to meet specific standards. For instance, the developers must execute iPhone app development in a specific style and have a similar armament to other iOS apps as Apple maintains stringent standards.
Key Factors Affecting Game Development Costs for Mobile Devices
Let's examine the role of a variety of factors in influencing game development costs:
1. Selection of Platform
The choice of technical platform affects the gaming mobile app cost breakdown. So, whether it's Android, iOS or cross-platform, selecting the right option is important in terms of cost and the game's revenue and reach.
Despite the wide range of Android devices with varying screen sizes and capacities, development on this platform is cost-effective. Working with iOS is 10-20% more expensive due to the implementation of the payment system and the admin panel and a vast amount of restrictions on App Store applications.
If you decide on a single platform, the cost will be lower, but you will not be able to collect revenue from other platforms. As a result, cross-platform app development is the most recommended development method; this way, you will reap the benefits of all the platforms you desire; nevertheless, the development cost will rise, but so will the game's profitability and customer base.
2. Type of Game and Features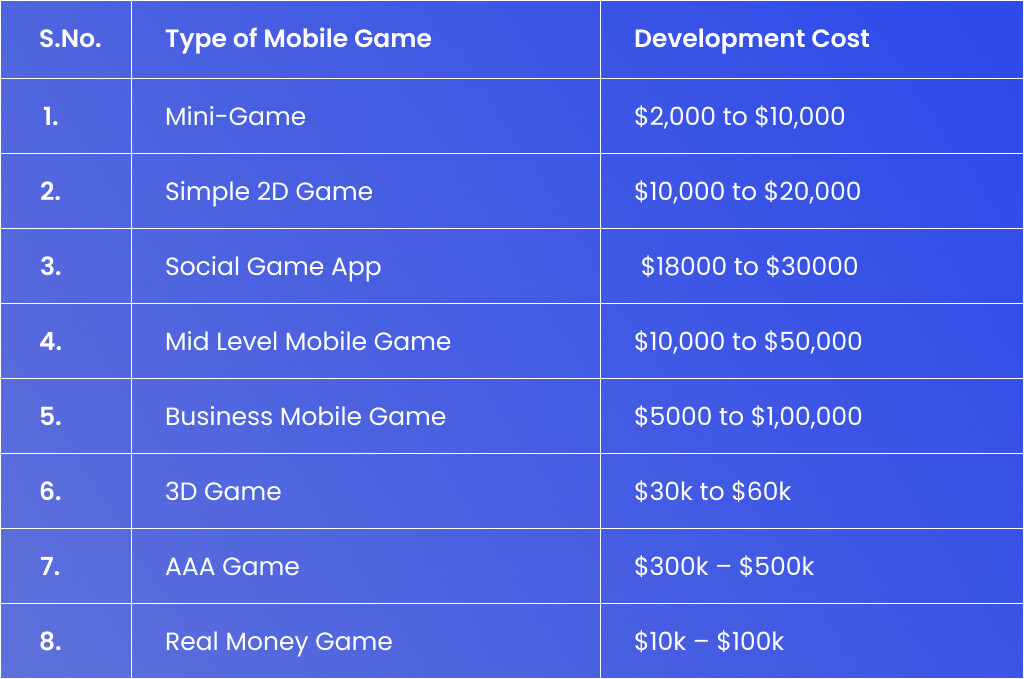 The game genre will determine the size and functionalities, impacting the gaming mobile app cost structure. Game apps are classified into five types based on their complexity:
Mini-games, often known as casual games, are basic solitaire games that do not require any special abilities to play. Simple games such as Ping Pong can cost up to $20,000.
However, if you want to improve graphics or have higher expectations for your gaming app, you may need to increase your budget to roughly $50,000.
These are low-budget games with minimal 2D graphics and soundtracks. Despite their simplicity, they have a high user engagement rate and the potential for expansion. This category includes games like Red Ball and Stack. These types of games can cost between $50,000 and $100,000 to develop.
A large number of people play these games on social media platforms such as Facebook. The social gaming applications are similar to browser games in that they only access a limited amount of user data.
These games are typically created using SDKs given by social media networks. A social media game such as Farmville may cost anywhere from $100,000 to $250,000.
This category includes some well-known games such as Angry Birds and Cut the Rope. These mobile games are 3D with a variety of levels, characters, stories, and high-quality graphics.
The diversity and breadth of the content increase replayability and keep gamers engaged for extended periods. However, such games can cost anything between $250,000 and $700,000 to build.
These games demand a large budget, but you can generate great revenues if you can reach the correct target audience. These games necessitate meticulous planning, strategy, and execution. It can take up to a year to fully develop and release these types of games.
High-end games demand a large budget, but you can generate great revenues if you can reach the correct target audience. These games necessitate meticulous planning, strategy, and execution. It can take up to a year to fully develop and release them.
Since the expense of creating these games is fairly significant, you need to hire skilled developers. For example, a high-end mobile game might cost anywhere between $400,000 and $1,000,000 to design.
3. Game App Testing
Bugs and malfunctions interrupt the gaming experience. Gamers won't install or play your games if it has issues and doesn't offer a pleasant user experience, no matter how wonderful the graphics and storyline are. Therefore, it is vital to devote sufficient time and effort to testing the game to verify that it is free of bugs and malfunctions.
The cost of mobile game app testing is determined by the amount of time required to test the game and the testing rates charged by the company. Testing costs are relatively low if there are no faults or flaws in the game; but, if there are errors or bugs in the game, you must pay money to fix them before release.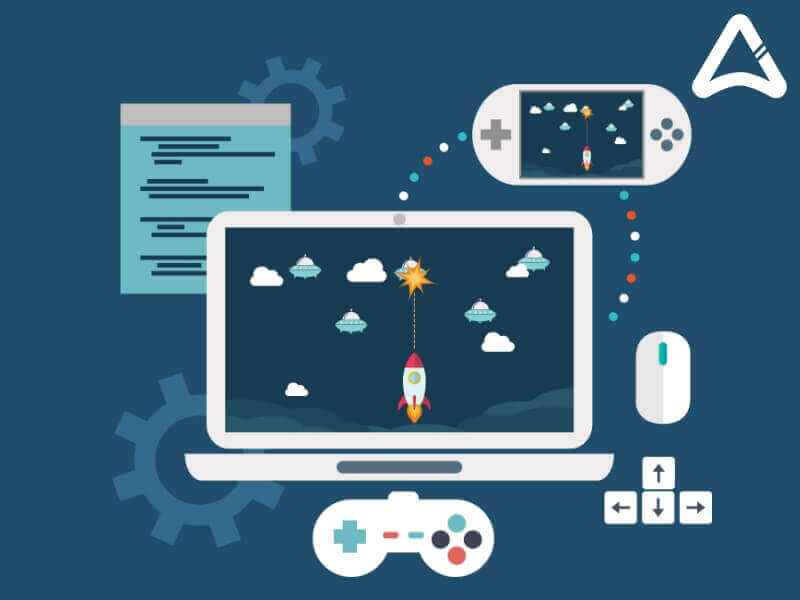 4.Marketing Strategy
Even if your mobile game is entertaining and appealing, it will require savvy marketing to become well-known. After you've spent thousands of dollars on mobile game development, you should seriously consider investing in advertising to recoup your investment and make a profit. To stay within your budget, factor in the cost of marketing to the expense list from the start.
The marketing budget is so critical that big publishers may sometimes spend more money on advertising than on mobile game development expenditures. However, in most situations, the marketing cost utilises a minimum of 30% of the entire budget to reach the target demographic and generate a profit.
Final Thoughts on Mobile Game Development Cost
As discussed in this article, the cost of mobile game development varies because of the many factors at play. It is primarily influenced by the type and category of game you select and its complexity.
The cost will rise as your demands grow (many platforms, complex features) and fall as your demands reduce. Furthermore, you should ensure that you receive the desired quality of service and value for the price you are paying.
If you're seeking an expert game developer company with extensive experience creating appealing games at economical prices, look no further. Consider AppStudio the best app development company in Canada, with countless games in our portfolio demonstrating our ingenuity. 
Hire our skilled app developers to turn your vision into a spectacular game that runs seamlessly and promises an excellent gaming experience.