While developing a mobile app, opting for an operating system that suffices the business goal becomes daunting. And even if you pick one, you have to let go of the benefits the other platform could have rendered. As a result, developers and their clients are often in a dilemma choosing one Operating System as both have pros and cons. Usually, it is unattainable to create an app on both platforms simultaneously. It may be an MVP issue, or it doesn't match the current business strategy or scaling plans. Here's when you can resort to converting an Android app to an iOS app online. It will save you time and resources and, in turn, you can enjoy the best of both worlds.
As per Statista, around 73% of mobile users own an Android device, whereas only 26% use iOS devices. The android users are three times the iOS ones. If you choose to port the android app into iOS, you are simply opening avenues to a larger audience who tends to pay more.
Still confused? Worry not. This article will provide you with a detailed insight on how to convert an android app into iOS one with almost the same code base. We will acquaint you with all profound facts, from telling you how the porting can be flawlessly possible to knowing the tech insights. Read-on!
What is the Need to Convert an Android App to iOS App Online?
With all that being said above about app conversion from one platform to another, here are some legit reasons that will make you think why it's worth moving on to the iOS system to expand your customer base. Have a look:
Capture Consumer Markets: While you already have a decent customer base with the Android version of the app, reach out to an iOS app development company. Once you avail of the services to convert the android app to iOS, you will have a hold of a larger market and witness a significant boost in your business prospects.
Witness Successful App Performance: Before you launch the app in the iOS system, make sure that you have meticulously assessed the performance of the existing Android app in the market. Look out for the factors like the overall number of downloads, number of users, in-app purchases, quarterly customer retention rate, etc. If they are positive, then the chances for the potential iOS app to be immensely successful will also be high.
Higher Profitability: When you opt for the android apps to iOS conversion, you will be able to witness a high profitability level. Generally, users are observed to spend more time on the iOS platform as compared to the Android one. You can easily earn more via in-app advertisements with a rapid downloading rate on the Android system.
Added Features: When you are up for the idea of an Android app to iOS app converter, bestow your users with additional features offered by Google. The features include Android intents, a physical back button, Android wear, widgets, and push notifications. 
Competitive Advantage: If your competitors prefer to conduct their business only on one platform, this is a great advantage. Having a product/service for both platforms will let you lead the competitive curve.
Steps to Convert Android App to iOS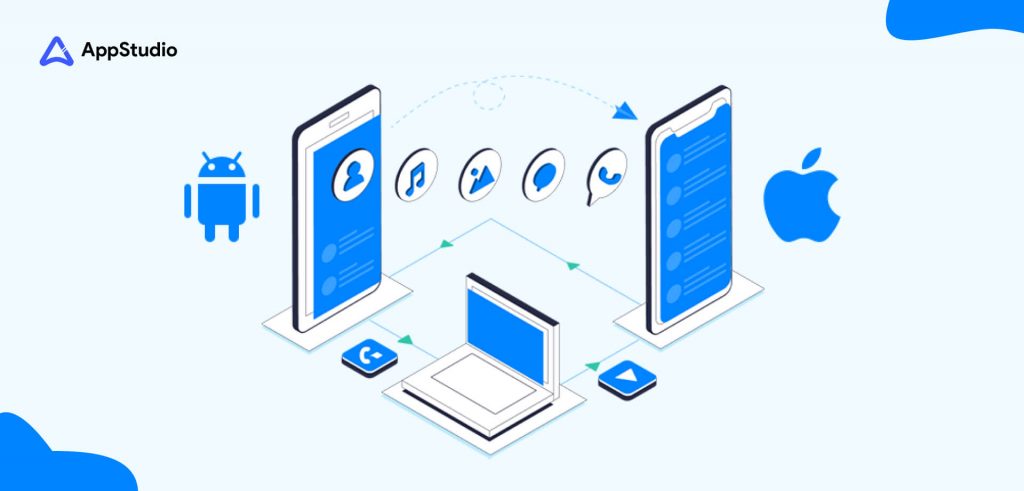 The most awaited part is how to port the Android app to iOS? When converting an app from Android to a new platform, make sure that the developers have hands-on experience in conducting the same. At AppStudio, we have a squad of exceptionally talented developers who are well-versed in converting an android app to iOS or vice versa, enabling you to expand your customer reach. Have a look at the steps followed by our developers:
Step 1 – Reviewing technical and business aspects
The foremost step is conducting an in-depth analysis of the Android app. This means you need to review a few components of the app meticulously. The elements are modules, business logic, integrations, and compatibility of separate components that may cause hindrance on the new platform. Then, revise the app while keeping business and technical aspects in mind. An expert business analyst and a software architect would be suitable to do this task.
Before the conversion, thoroughly skim the app's functionality. Examine the app architecture and the business logic and their alignment and specifications for the iOS platform.
Keep the following pointers in mind:
– Review the app for optimization and probable augmentations
– Verify the business logic of the app and make the required changes
– Check and approve compatibility with integrations
The app's revision and examination while adhering to the new platform's requirements will assist you in building the same precise features for the new version.
Step 2 – Make necessary adjustments to the app's design
Design is an imperative component of mobile application development. First, analyze the existing app's visual appearance and contemplate if you need to change or upgrade it for the iOS one. Usually, copying the same interface of Android apps to iOS apps or the other way around is not good. This is because both operating systems encompass different design paths. Therefore, while using the Android APK to iOS IPA converter, renew the vital elements like icons, buttons, and fonts.
Step 3 – Rewriting the code and optimizing app architecture
Generally, iOS and Android apps are developed using different programming languages. The developers cannot recompile the code that easily facilitates the specifics of an iOS app architecture. Note that this may be a time-taking process. When the changes are made in the code, check that it doesn't cause any new bugs to enter in the app, after conversion. Furthermore, verify all the probable compatibilities and sync them with the new app's specifications. Lastly, check the custom functionalities and localization while creating Google and iphone apps developer accounts beforehand.
Step 4 – Testing and Q&A of the code
Testing the newly ported iOS app from the Android platform is a vital step in this entire process. All will go in vain if you do not conduct imperative QA tasks. Checking all the features and functional and operational capabilities that state the 'good to go live' condition of the app will be the task of your Q&A team. The team must conduct performance tests, functional and security testing, load tests, and control tests. Then, employ the recommendations and thoroughly verify the app for any limitations while finishing the conversion.
Step 5 – Further Technical Assistance
Once you are done with the conversion, there is still a task to follow. The process is not over without conducting an active app operation to detect critical errors if any. If you find any error during the real-time run, connect with your app developers, and they will provide relevant and timely product updates for both iOS and Android.
Winding Up
With the steps mentioned above, you can easily augment your customer reach by being available on both platforms. AppStudio, being a top-tier Android app development company, provides you with end-to-end services with a promise to augment your business prospects. Apart from android app to iOS conversion, our developers work with a comprehensive approach. Whether it is asking questions like 'how much does an android app cost' or knowing how to convert an iOS app to Android – they know it all! So connect with us right away to know more.
Frequently Asked Questions
Why should I opt for android app to iOS app conversion?
While there could be several reasons, the main consequence of platform conversion is expanding the business's customer reach and profit figures eventually.
How much time will it take you to port an Android app into iOS?
It depends on the nature, size, and intricacy of the app. Usually, it may take a few weeks to convert the app's platform aptly.
Is there any specific tool to convert Android apps into iOS?
Some tools are available online, but it is recommended to opt for a holistic approach and hire a dedicated app development company for flawless results.
Check Out :