We all have so many expectations from 2021, especially when it comes to mobile applications development! The COVID-19 pandemic has recently made all businesses realize the importance of IT is their lifeline. All the companies accept the latest technologies due to automation's positive effects and transforming themselves as per future demands. Developers must keep all the latest mobile game development trends in mind while developing games.
There has been a sudden hike in the mobile game market since the introduction of smartphones. The mobile gaming market earns significant revenue due to the increasing number of users playing such games. You must know about mobile game development trends if you also want to develop a mobile game. You must also want to know about mobile gaming industry trends and statistics to understand what people are preferring. These statistics may help mobile app developers in deciding the type of games you need.
The Latest Mobile Game Development Trends That Will Dominate 2021
Significant growth in the use of mobile applications is seen in 2020-21, mainly due to the pandemic. If you are a business owner, you must keep yourself up to date with all the latest technological trends to stay ahead in the game.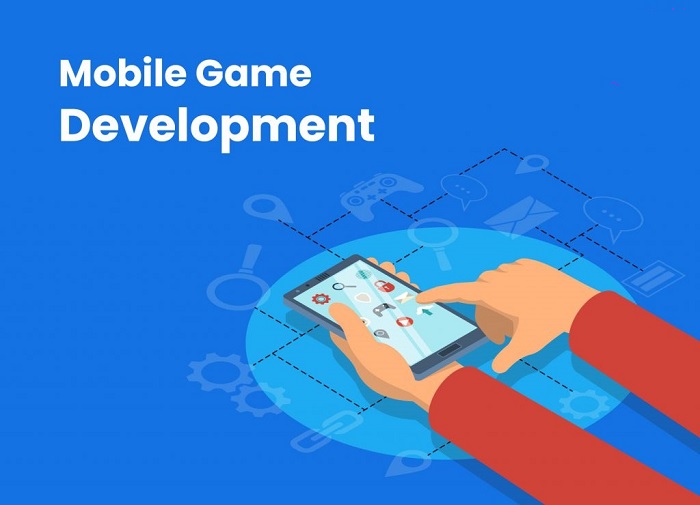 Here are the list of top 7 mobile gaming development trends that you can opt for developing your games in 2021.
Virtual Reality (VR)
Many mobile application development companies consider VR one of the latest mobile game trends that is here to stay. In Gaming industry, Virtual Reality plays a vital role by providing an immersive experience to your audience.
Some VR headsets like PlayStation VR, Oculus Rift, and HTC Vive provide their audience with precisely what they want. Do you want to take advantage of mobile gaming growth? If yes, then opt for the hardware devices compatible with your VR game app.
Comparatively, the cost of such VR headsets may sound expensive to you for now, but later on, it might change in the future. Soon they might become affordable for many gamers seeking low priced headsets. VR benefits mobile application development companies a lot, and it is one of the critical mobile game development trends to consider.
If you don't know more about technical jargon, consider Pokemon Go as the best example that gains massive popularity in less time. Pokemon Go uses Augmented Reality and the mobile game industry statistics to have over 750 million downloads.
While VR presents you with an entirely new world, AR is equally important as it alters the existing world. Technologies like GPS, computer graphics, and others make the game real world into a game. Though AR has not entirely developed yet, Pokemon Go's popularity gives all a quick glimpse of AR's potential. In a word, we can say that AR is one of the top video game trends that all Android game development agencies and iOS developers can opt for.
Face Recognition
It may sound crazy to you how face recognition is on the list of game development trends. But almost all security-based applications use face recognition for security purposes.
You can even use this in your video games to make it more attractive as players love playing with their look-alikes. Consequently, developers of mobile game development company use techniques like face recognition and 3D technology to boost the gaming industry. It is one of the new amazing trends which is taking the mobile gaming industry by storm.
5G Technology
The year 2021 seems to have an exponential increase in the number of 5G connections, which is about 100 times faster than 4G networks. This means the mobile application you are designing to plan must be compatible with 5G networks. Otherwise, your app may bore users in the expected future due to advancements in technology.
5G technology is one of the most exceptional additions to the list of mobile gaming industry trends. It is available with 100 Gbps of speed. Such a high-speed network may lead to standard data transmission with 1.4 billion devices worldwide in the next five years. 5 G technology can be used to build compute-intensive applications like Augmented Reality, Virtual Reality, and 4K video streaming. Such a high-speed network can also design features that enhance business performance in different industries.
Beacon Technology
Beacons technology has not achieved so much success since its development. Beacons are small transmitters that release BLE (Bluetooth Low Energy) radio signals. These signals can easily connect with smartphones accessible in their range and provide more personalized service to customers.
Beacon technology expands your customer base by designing a precise mapping and implementing a capable product display. Beacons also help developers to identify their target audience and to apply personalized offers as per their requirements.
Blockchain Technology
In 2021, most startups, SMEs, and enterprises may increase the use of applications powered by blockchain.
Blockchain offers many advanced solutions for application development that can improve transparency and reduce development costs. Many Blockchain development agency use this technology to provide security protocols and to remove unauthorized access.
Cloud-based Mobile Apps
Almost all the iOS and Android game development companies use cloud technology to access and store data more securely and quickly. It can improve the flexibility and scalability of your game and also saves development costs. This technology provides a better customer experience. Its usage in the gaming sphere has set a landmark in the field of iOS and Android game development.
We suggest using cloud technology in games is something to discuss with your game development team.
Conclusion
Every type of organization must know the importance of mobile applications to grow and expand their businesses. As a famous mobile app development company, AppStudio understands all the trends in the gaming industry for developing games as per its client requirements.
Our mobile game developers deeply analyze your requirements and business strategies before starting the development process. If you are facing any issues while choosing a game development company, then contact us. Our experts will provide you with the best solution immediately.