For more than a decade, the business sector has been reaping enormous benefits from the lucrative mobile apps. However, to make the most of the app development sphere, it is imperative to hire competent iOS app developers with hands-on experience creating robust apps while harnessing the power of cutting-edge technology.
Since the inception of smartphones, iOS and Android systems have been the frontier of mobile OS platforms. Both the mentioned OS platforms own a combined market share of as massive as 99.6%. This makes these operating systems the most desired by the developers and the entrepreneurs.
Furthermore, with just 20.38% of Apple mobile devices, the iOS users spend maximum time because of the premium experience the iOS platform provides. As a result, iOS app development has become the most sought-after digital source for entrepreneurs to expand their businesses.
Consequently, entrepreneurs are in a quest to hire iOS app developers who can assist them in attaining the highest ROI with the help of next-gen iOS app solutions. However, hiring an iOS developer with optimum skills and expertise is no plain sailing. That's why we have curated this blog with useful tips for business owners wishing to take an iOS app development company on board. Let's start!
Understanding Diverse Models to Hire iOS App Developers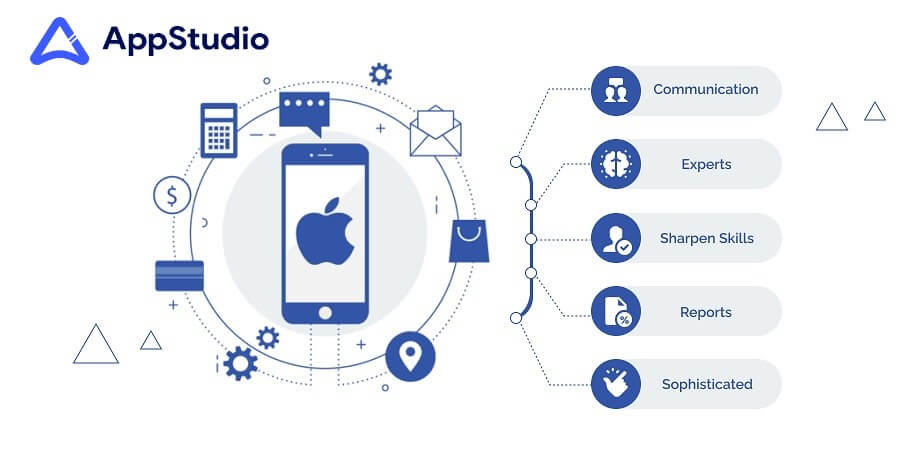 While there are myriad recruitment options for appointing an iOS/iPhone developer, the below-mentioned are some well-structured profound models that you can resort to. Have a look:
Staff Augmentation Model: This model comes in handy when you want to hire a workforce for short-term projects. Outsource your iOS app developer needs and hire on a temporary basis. It saves you time and lets you go easy in your pocket. Furthermore, the biggest advantage of the staff augmentation model lies in complete control over the app development work, even though the employees are hired for a short span.
Dedicated Resource Model: If you are looking for a long-term association with an app developer company, the dedicated resource model is perfect for your business. Hire remote developers who are seeking a full-time job role. These developers will diligently work with the client's business needs and create customized app solutions. In this model, you have full control over the app and the developers. Hence, a win-win situation for both.
In-house Recruitment Model: This model encompasses hiring app developers via your HR team. In-house recruitment boosts the chances of you benefiting from the increased flexibility in hiring. It is important to note that the in-house teams might not have the accessibility to diverse global databases or a rich talent pool of freelancers. The employees appointed via the in-house model have to depend on employment websites and internal employee referrals.
Off-shore or Cross-border Hiring Model: For entrepreneurs wishing to open avenues of a broader talent pool at affordable prices, the off-shore hiring model is the best bet. This model also facilitates hiring iOS app developers with immense expertise and skills that might not be available at the local level. In addition, the hired developers are proven to be creating unique and ground-breaking apps because of their profound knowledge in leveraging the power of cutting-edge technology.
Onshore Outsourcing Model: It may be probable that you and your strategy team might not be up for the idea of appointing overseas developers to conduct app development. This is where the onshore outsourcing model comes to your rescue. Being flexible, this model is a perfect fit when barriers like different time zones or even different communication languages are an obstacle at work.
Miscellaneous Recruitment Model: Apart from the hiring models mentioned above, we would also like to vouch for availing services of any reputed recruitment agency. Such agencies are experts in hunting for unique talent to find the best-suited candidate per your needs. Moreover, these agencies specialize in recruiting employees via all models, making it easier for entrepreneurs to hire iOS developers.
Check Out – List of The Top Canada Android Mobile App Developers
Tips to Find the Best-Suited iOS App Developer for Your Business
Once you are done with locking the type of model you wish to implement while recruiting, consider the following pointers to make the final decision:
1. Identify vital key areas: While on the quest to find the best iOS application development company or developers, your foremost task must be knowing the qualities you need in your developer. Jot down the several aspects you want to know about the potential employee. Factors like abilities, technical know-how, years of experience, practical vision and much more make to the list of crucial key areas.
2. Curate a detailed criterion: When you are able to chalk out a few imperative key areas, the task is to assess the skill sets, technical know-how and industry exposure of the candidates. Make sure that the said criteria adhere with your business's envisaged goals. This detailed criterion can also be your go-to checklist during the interview and screening process.
3. Create a screening and assessment process: The screening process is an ideal way to thoroughly verify the skills you had in your criteria. Use your checklist to formulate an effective screening and assessment process. Test the creativity, technical knowledge, soft skills and spontaneity of the candidate. You can also conduct mini tests on the run, give assignments or assess their sample work. All such activities will make you one step closer to finding the best iOS app developer match.
4. Streamlining your hiring process with recruitment goal achievement: Make sure that you are not going after the idea of just testing and verifying the candidate's skills. You should also look out that your primary goal should match the candidate's profile. It is not necessary that a candidate having technical know-how may also have a precise sense of understanding the business needs.
5. Detecting the apt interview formats for multiple rounds: While there are abundant ways to conduct interviews, make sure that you do not randomly pick any way and go for it. Opt for ways like a one-on-one personal interview, panel interview, personal interview, virtual interview and much more. Every format has its own advantages, choose the one which is best-suited for your business model.
6.   Build a scoring and comparative candidate analysis method: When conducting the interview process of an iOS and android developer company, it becomes difficult to choose that one amongst a pool of talented developers. Thus, it is vital to conduct a comparative candidate analysis based on well-researched hiring criteria. This will help in knowing who will be the ultimate choice. Additionally, it brings an evidence-based scientific angle to the table. Finally, implementing said measures guarantees your company to take a deft iOS app developer on board.
Key Takeaway
Hiring an iOS app developer is like an uphill struggle. However, considering the above-mentioned pointers will tremendously help you in finding the best-suited developer. AppStudio, the leading application development company, is the one-stop destination for business owners to hire exceptionally talented developers. Connect with our app developer team to know more.
Frequently Asked Questions
Q.1 Where can I hire the best iOS developers in Canada?
AppStudio is your one-stop solution to find exceptionally talented iOS developers having hands-on experience in building high-performing and robust applications.
Q.2 Name some of the hiring models for recruitment.
The list of hiring models include staff augmentation model, dedicated resource model, in-house recruitment model, off-shore model, on-shore model and many more.
Q.3 What is the in-house recruitment model?
This model includes hiring developers through an in-house HR team. In-house recruitment boosts the chances of you benefiting from the increased flexibility in hiring.
Check Out :