Since the first versions of Quicken and Microsoft Money hit the market in the 1980s and 1990s, respectively, the world of cost monitoring has come a long way. You may now use the web and phone-based mobile applications to take your financial awareness and readiness to a whole new level. If you need to keep track of your spending, one of them will most likely be a good choice. With the use of this app, you can easily enter all your transactions, classify your expense categories, and even examine your priorities.
While there are a lot of useful applications out there, the greatest ones are the ones you use. This entails locating an interface and keeping track of elements that interest you.
The more staff a company has, the more important this becomes because misplaced receipts are money squandered away. Businesses that use the best expenses tracker app to keep track of their spending are more efficient and lucrative.
7 Most-Popular Applications To Help You Keep Your Expenses Under The Radar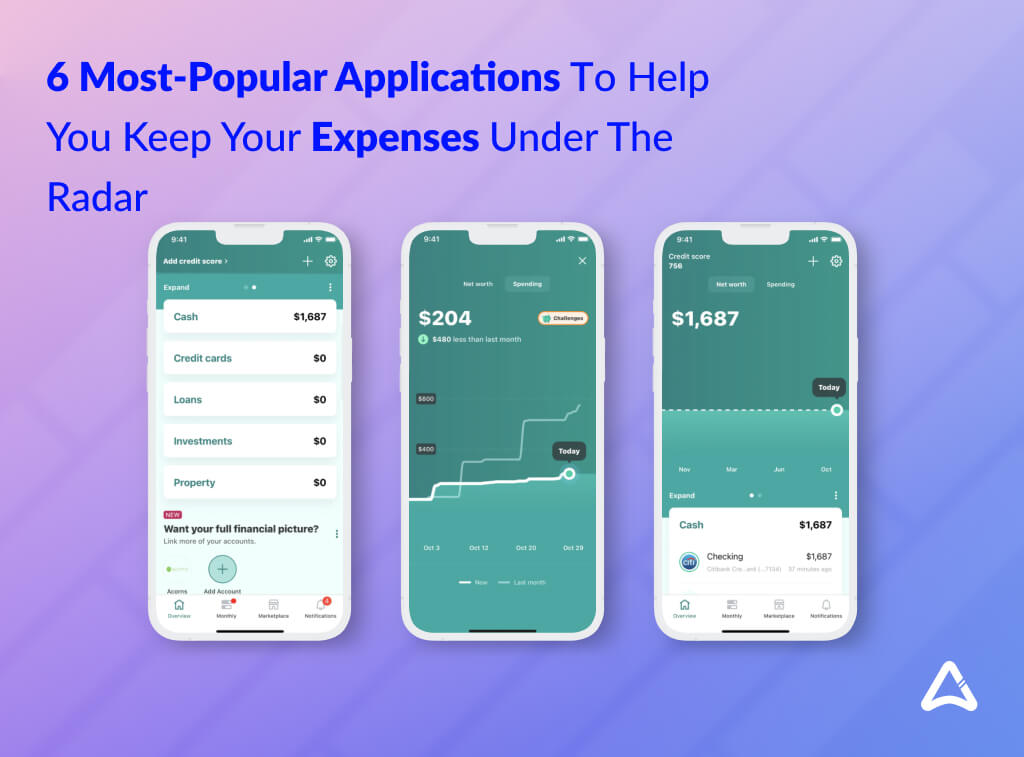 MINT
Mint, one of the most well-known personal financial tools, would be absent from any list of cost tracking apps.
The Mint application was brought to us by Intuit and is very popular among a range of business sectors, including but not limited to banks, financial institutions, private lenders, etc.
This app makes budgeting, cost tracking, credit monitoring, and bill paying easier. While Mint is one of the most well-known cross platform app development and comprehensive cost tracking apps, it isn't without flaws.
Since Intuit purchased the app in 2009, there have been a few issues in the programme, and new features have been sluggish to come out. Getting assistance if you discover a bug or a problem in your account might be difficult.
YNAB
Those prepared to adopt a new method of managing their finances should use the best app for managing expenses. YNAB stands for You Need a Budget and is based on the idea that households should only spend their money right now. This implies that using YNAB will necessitate a mental adjustment for many people.
The software can connect to various bank accounts, making it simple to keep track of and prepare for spending. In addition, the firm offers free daily classes and online guidance on money subjects and how to utilize the programme successfully.
The app's hefty price tag may be daunting if you're on a tight budget, but a 34-day free trial is available. Additionally, this is one of the best budget and expense tracker apps for college students; scholars are eligible for a free 12-month subscription with YNAB.
SupportPay
The premium services of SupportPay cost $7.99 per month or $79.99 if paid annually.
It is not completely a free expense tracker app, but it has a free version with fewer functionalities. The best feature is the automatic generation of certified spending records for tax, court, and other purposes. Couples who do not live together but share child-related expenses.
SupportPay is a unique spending tracker designed for parents who want to split the cost of raising a kid but do not live together. SupportPay is one of the benchmarks in the recent finance mobile app developments today. It allows the smooth execution of all sorts of online payments effortlessly.
Payments may be made immediately using this expense management app or manually inserting payment records.
QuickBooks Online
Regular monthly costs range from $25 to $150; depending on the package, it allows customers to produce invoices, collect payments, monitor inventory, etc. Upload receipts with a photo and the software will match them to current costs or create new ones for you.
Plans for QuickBooks Online start at $25 per month and go up to $150 per month for advanced plans with more features and the ability to accommodate up to 25 users. But you can always engage the android app development services and get your own QuickBooks look-alike app developed.
For the first three months, there are 50% discounts available.
Expensify
Cost: Up to 25 SmartScans each month are free.
Individual plans start at $4.99 per month after that.
The option to auto-submit reports for reimbursement is a standout feature. Workers who need to track mileage and job costs for reimbursement or tax purposes can benefit from this app.
Another iOS app development services tool that makes scanning receipts and capturing cost data simple is Expensify. Furthermore, it is less expensive than other solutions.
Data will be saved permanently, and the app will also track miles. Group subscriptions, which may cost up to $18 per user, include extra features like spending approval and accounting software integration.
Expensify has a lot of positive feedback online for being the best expense report app, and it appeals to customers who want to track their GPS mileage. The one drawback is that not everyone will find the UI intuitive.
Hurdlr
This expenditure tracking tool tries to simplify, automate, and streamline the process, allowing you to maximize your tax deductions. Hurdlr is one of the most popular android expense tracker apps created specifically for freelancers, realtors, hostesses, drivers, and couriers. It allows you to track mileage and expenses automatically so that you may claim every deduction owed to you.
In addition to managing your income and spending streams in one location, the program may offer real-time status updates of your profit before and after-tax.
You may also attach the app to your bank accounts, and it can even transmit your tax filings to your CPA automatically. Doesn't that qualify Hurdlr for the best expense tracking software?
Zoho Expense
Zoho is a business software startup, and it offers a small-to-medium-sized business cost tracking application (SMB). It has an inbuilt feature that automatically turns your bills and receipts into expenses.
It consolidates all your receipts and bills into a single report for better user clarity. Zoho also allows you to use your email box to import all your card transactions and other miscellaneous expenditures. It uses cloud storage, so the users do not have to stress about their payment receipts fading or vanishing.
For businesses, it's feasible to set spending restrictions and track an employee's spending and any policy violations. It is a good choice for a small business expense tracker.
Closure Statement
With the help of our experts on the subject matter, we have put together the top expenditure tracker applications in this blog, including the iPhone expense tracker tools in the collection through their paces to discover how well they work for business. The software's power, performance, and dependability have all been assessed. However, we keep an eye on how simple expense packages are to utilize in day-to-day office situations.
You may be searching for an expenditure tracking system that various personnel will use. Thus usability is an important factor to consider. We've also looked at the different degrees of assistance offered with cost tracking software. Contact us at AppStudio for further details and assistance building your multi-feature expense tracking application.
Frequently Asked Questions
What is the average cost for subscribing to an Expense Tracker App?
The cost of expense tracking applications varies substantially. Some are free, some provide a free 30-day trial, while others include both a free and a paid version.
Is Investing in an Expense Tracker App Worth It?
You choose the type of spending monitoring you want assistance with and compare the free and premium apps. If the features you want are costly, you must consider if they are worthwhile. Before investing in a premium version, it's good to start with a free or low-cost version and see whether you use it.
Nonetheless, none of the spending tracker apps is very costly, and if they save you more money than they cost, they will be worthwhile.
How Do We Select the Most Effective Expense Tracking Apps?
The compatibility of these six top cost tracker apps with phones and other applications, their features and tools, and how easy they were to use were all factors in our decision. We also looked at their objectives and whether or not they were met.
Check Out :