While our modern lifestyle has uplifted our standard of living, it has somewhere made us immensely entangled with chores that we hardly pay attention to our health. The unprecedented pandemic was a wake-up call for everyone to pursue a healthy lifestyle. Apart from following the conventional fitness regime of exercising, having a balanced diet and meditating, people rely on technology to be in the pink of their health. There are several apps for health, wellness and fitness that are tremendously aiding individuals to keep up with their lifestyle in several innovative yet healthy ways. We have curated a list of some of the best health apps for the users to streamline their health goals and display a prototype for organizations to set forth their businesses in this industry.
Various studies state that the global mhealth apps market will reach USD 236.0 billion by 2026. The rapid increase in number predicts that the millennials are gearing up for more and more fitness, health and maintenance management. Being a leading fitness and health app development company, we are indulged in meticulously creating fitness, wellness and health apps for iPhone and Android devices.
Best Health Apps to Integrate in Your Routine for Greater Benefits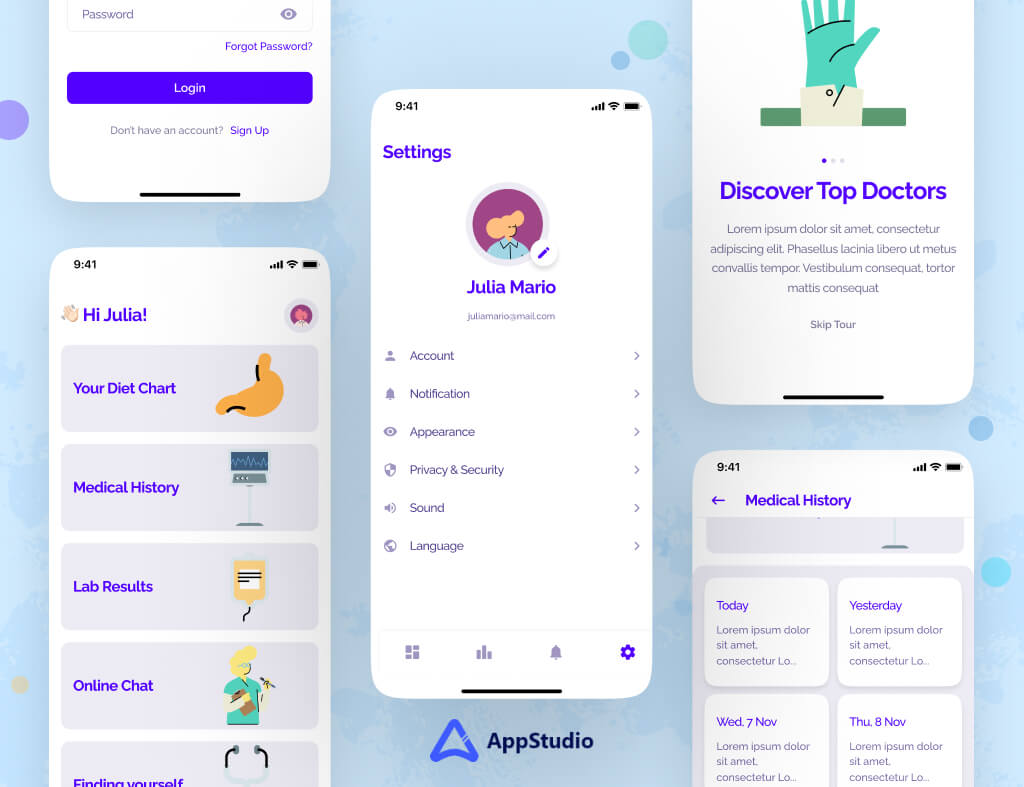 1. MyFitnessPal: With over 5 million downloads worldwide, MyFitnessPal is your best bet for the best free health app for android and iOS devices. Its basic functionality tracks a person's food intake and provides the users with specifically curated fitness goals. This wellness app also suggests various workouts/yoga while helping you manage your everyday diet. It also helps individuals skim through training plans based on goals like weight loss or as instructed by the personal trainer/instructor/physicians from a social network. Furthermore, the MyFitnessPal application renders a database of more than 11 million foods and an in-built recipe importer for health enthusiasts to find any recipe on the internet.
2. Headspace: This health tracker app comes in handy for people to manage stress, sleeping issues and anxiety. Headspace is a brilliant go-to option for individuals looking for SOS meditation options to practice their meditation. With over 10 million downloads, this portal offers a plethora of options with courses, real-time stories, expert gym training, mindful music, specialist advice service and much more. By subscribing to it for $12.99 per month and $69.99 per year, you can avail other mindful programs like strength training, yoga, Tabata, running, biking, jumping, jogging, etc.
3. Sleep Cycle app: The sleep cycle app is one of the beneficial subscription-based health and wellness apps. The app's primary mechanism runs on tracking a person's sleep via a smart alarm clock. The health and fitness applications track sleep quality and the sleeping heart rate. The USP is that it wakes a user during their lightest sleep phase in the morning, increasing their energy levels, breathing and making them ready to tackle the day ahead. These brilliant features come in handy for pregnant ladies. The iPhone and android app developers of this app have added another functionality that monitors a person's sleep routine while keeping a track on their sleep patterns data to have a better sleep the next day via the help of expert's advice. The total downloads of the Sleep Cycle app was over 5 million and you can subscribe for 29.99 European dollars per year.
4. Fooducate app: Fooducate is one of the best health apps for iPhone as well as android users who are rooting for weight loss. This app aids them in figuring out calories, water intake, workouts and macros. The app instructs users to opt for nutritive products as per their diet levels and bodies. It also encompasses a barcode scanner that scans around 25,000 food products to find the perfect match and be acquainted with its pros and cons. Thus, you can choose the healthiest of options based on a particular weight. This health tracker app, developed by an android application development company, has swayed millions of users to improve their energy levels, diseases, overall health and much more. With over 1 million downloads, this app's progress continues to proliferate.
5. Happify app: With over 5,00,000 downloads, Happify is a subscription-based application that offers science-based activities and stress busting games to do away with stress, heart diseases, cancer diagnosis, diabetes, skin illness, lung ailments and even accidents. This iPhone and Android health app assist users to overcome their negative thoughts and in turn gain more resilience gradually. Yoga and step-by-step weight training helps in the best manner in achieving the same. Leading expert app developers in the fields of mindfulness, diabetics, and cognitive-behavioral therapy for a better lifestyle and health. With over 5,00,000 downloads till now, this android and apple health app is aiding people to maintain and manage their health.
6. HealthTap app: HealthTap app enables users to connect with professional doctors virtually. This eliminates the hassle of skimming through the list of several doctors on Google. This app allows 24/7 accessibility from tablets. A user, without any hesitation, can easily consult doctors and receive prompt assistance for any ailment. By downloading HealthTap in their phones, patients can receive apt medical assistance and medications that may be related to allergies, pain, aches, or even resolve their cardio, carbs, and cholesterol problems by using a virtual appointment as per the app's schedule.
Wrapping Up
Healthcare and fitness apps have become a great aid to people of all ages. Be it millennials or boomers, they are using smartphones to schedule appointments, meet the doctors and connect with pharmacies virtually instead of making numerous rounds to clinics. However, for an application to be robust, secure and highly scalable, the application development should be utterly strong. AppStudio, a top-tier web and mobile app development company aces the game of building health and fitness tracker apps for android phones as well as iOS devices. We deploy avant-garde technologies, tools and tech stacks to build health apps that assist users tremendously.
Frequently Asked Questions
Q.1 Where can I hire health and wellness app developers?
AppStudio is a premier web and mobile app development company offering a wide range of healthcare application development services.
Q.2 What are some famous healthcare apps?
Headspace, MyFitnessPal, HealthTap app, Happify app, Fooducate app, and Sleep Cycle app are some of the commonly popular health and fitness apps to integrate in your daily routine.
Q.3 Do you use the latest technology for health and wellness apps?
At AppStudio, we are pertinent in creating flawless web and mobile apps that seamlessly blend with your business model. We use ultra-modern technologies and make the apps error-free.