Digitization has brought an immense transformation in people's content consumption habits. Binge-watching shows and movies on OTT platforms has become one of the most preferred means of indoor entertainment worldwide. Evidently, the use of OTT apps is surging high. As per Statista, the Over-the-top media revenue is anticipated to be valued at more than 210 billion US dollars by 2026. In 2020, it was valued at 106 billion US dollars which was 6.1 billion US dollars in 2010. The decade-growth is enough to say that OTT apps for android TV and iOS devices will never see any downfall.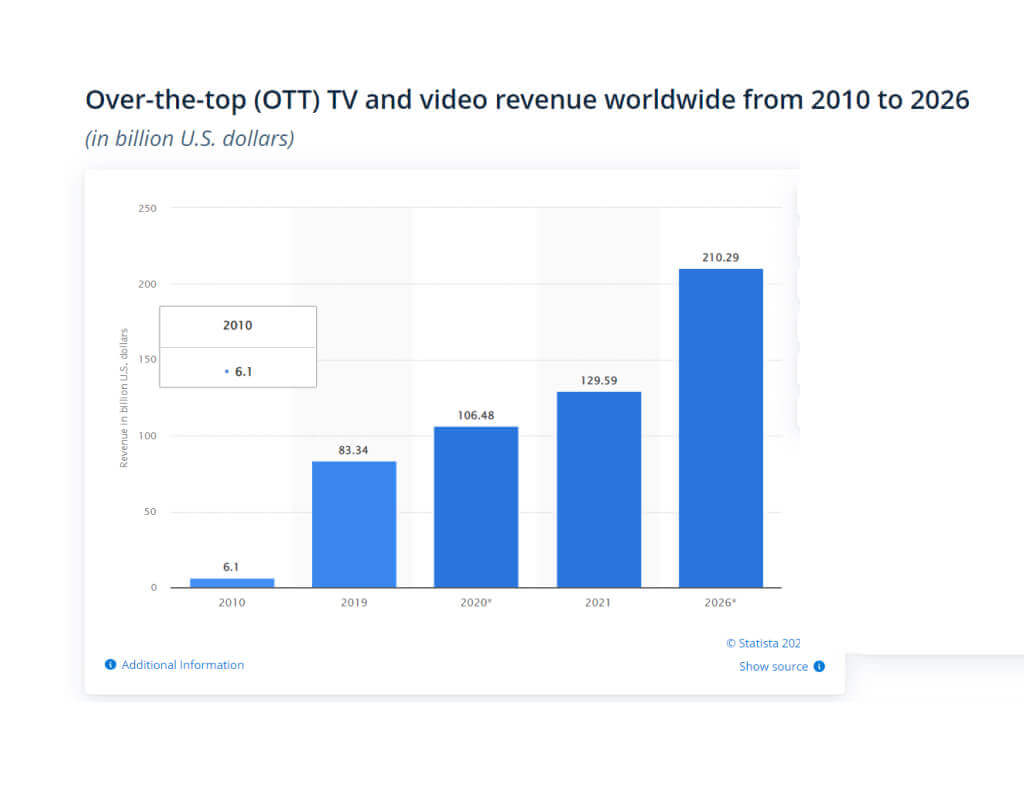 By Over-the-top, we mean the internet-based services enabling users to stream media content over the internet without employing any cable or satellite subscriptions. Around 170 million people were using OTT streaming apps in 2018. The popular on-demand OTT platform apps are Netflix, Disney Plus, Amazon Prime, and Hulu. They have captured the OTT market tremendously and are thriving on offering users a one-of-a-kind video streaming experience.
How to Launch an OTT App for Your Streaming Business?
If you are planning to kickstart an OTT streaming business, then your first task would be to hire a mobile app development agency for OTT app development. Remember that an ideal OTT app is the one that offers a feature-rich customized platform for a memorable user experience. Here are some of the other essential pointers to consider while building an OTT app for your streaming business. Have a look:
1. Align with your target audience's preferences: Providing an engaging viewing user experience with high-end quality becomes seamless due to the advanced streaming capabilities available. That being said, you can easily reach out to your audience through multiple devices like smart TVs, mobile phones, PCs, and tablets. Therefore, keeping a check on their preferences would make it easier for you to cater to their needs perfectly.
2. Offer personalized services: The key to maintain the customer engagement and retention rate is personalization. You can try out different kinds of strategies to keep the users hooked to your OTT platform app. For instance: try streaming a blockbuster movie on a particular day every week or display shows/movies of their most viewed genre.
3. Unique user environment: Every device offers a unique streaming and viewing experience to the users. It induces feasibility and flexibility to the users across the globe. Furthermore, employ streaming analytical tools with the help of your availed Custom Android Application Development Services. This will enable you to target and analyze every device's user and you can provide them with a one-of-a-kind experience and they can make any subscription purchase in a hassle-free manner.
5. Measuring your app's success: Make sure that you periodically update your app features. Then, control the app's efficiency using analytical tools and feature-rich video streaming services that are allowed under a single white-labeled streaming platform. Not only this, you can now easily collect insights like audience tracking data, live custom metrics, and much more while upscaling your revenues.
What are the Integral OTT App Features?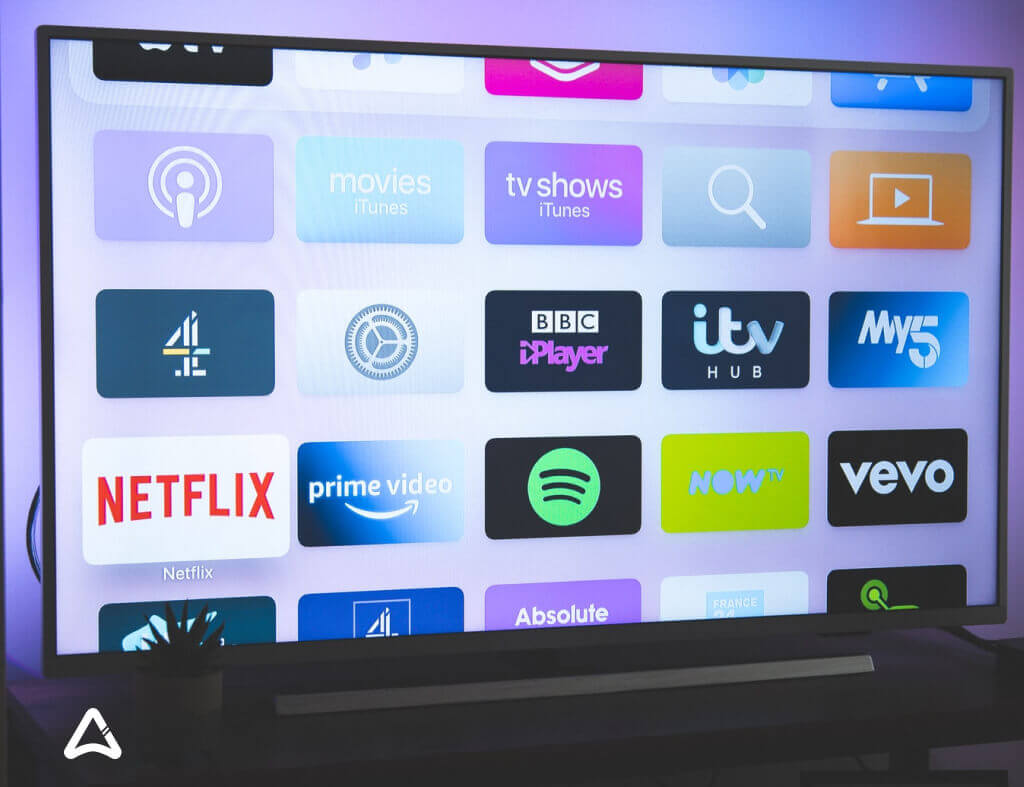 While planning to conduct OTT apps development, make sure that you are up for building an end-to-end streaming platform along with a dedicated IT infrastructure. Plan its creation in such a way that it is unique and stands out among the rest.
Concisely, OTT applications are not just building video displays. A streaming platform company should have an ideal OTT app instilled with the following features:
Easy app onboarding: Make sure that you complete the registration and verification process to improve the overall app user experience. This induces profile building within just a few clicks. Also, make it viable for them to log in via social media sites.
Search Feature: Do the branding of your video streaming platform navigational-friendly. So that the users can find their preferred content in the assemblage of plus millions. It's a must-have feature for personalizing with any genre, language, and other elements.
Multilingual Content: Since you may have customers from all geographical locations, don't forget to include multilingual content. Provide a personalized experience by offering streaming content in local languages too. A broad clientele base can be achieved by unlocking the streaming potential across several borders. AR app development can assist you in creating visually appealing content to enhance the user experience.
Watchlist: Watchlist integration is another must-have app feature that displays your users' favorite and recurring choices. Moreover, they can save their preferred content to watch later. This chief element will aid you in setting an in-app notification strategy and further monetization.
Payment Gateway Integration: Choose an all-inclusive payment gateway option to provide multiple payment options to your users. Your payment gateway would also depend on the type of operating system you would use, depending on what you avail of either android or iOS app development services. This will enable your customers to process in-app purchases set in mobile frameworks.
Push Notifications: Notify your customers when their membership is expiring or keep advertising new content they might desire to watch, which can come in handy for an in-app purchase. This would be a significant boost to your app engagement rate.
Wrapping Up
The resplendent fad of OTT platforms is revolutionizing the digital entertainment industry. While there's a vast scope of high ROIs in the streaming business, several mobile app development agencies thrive on building OTT applications that render higher yields to your business. AppStudio, a premier mobile app development company, offers stellar OTT app development solutions to diverse verticals. Our deft team of developers harnesses the power of avant-garde technologies to deliver multiple services like UI/UX design, AI app development, VR app development, and many more.
Frequently Asked Questions
Q.1 What are OTT Apps?
OTT app services, bypassing the traditional media allocation, offer distribution of a product through the wireless internet. Over-the-top means internet-based services enabling users to stream media content over the internet without using cable or satellite subscriptions.
Q.2 What are the Essential Features Required For an Ideal OTT Application?
Some in-app features like platform searchability, user profile, multilingual support, watchlist functionality, social-stack features, payment gateways, and much more are must-have features in an OTT app.
Q.3 How Much Will an OTT App Development Cost Me?
Generally, the cost of any application development depends on multiple features. While creating an OTT app, consider the following features: budget scale, time frame, number of USPs required, hosting server, streaming infrastructure built, and maintenance charges.