Artificial intelligence is ubiquitous. Be it the favourite Netflix show you binge-watch or the virtual shopping spree you are obsessed with, all this is from the courtesy of Artificial Intelligence (AI) and Machine Learning. AI has brought an immense revolution to cater to the need of diverse verticals.
The significant subset of AI is Machine Learning, which is the area of computational science indulging in analyzing and interpreting patterns and structures in the data, inducing learning, reasoning, and decision making. In simpler words, the Machine Learning applications empowers the users to insert algorithms in the form of vast data. The computer will then analyze the fed data to make data-driven recommendations and decisions based on the data's input.
Significance of Machine Learning Applications
According to several reports, investments in Machine Learning and other AI components are burgeoning every day. Renowned private business owners made investments worth $70 billion in Machine Learning applications.Furthermore, a survey by McKinsey states 82% of organizations have integrated total AI and Machine learning mechanisms to conduct business activities and received a substantial return on investment.
Machine Learning is a crucial part of AI that wow diverse sectors with distinctive features. From software development to mobile applications, the impact of Machine Learning applications is astonishing. Moreover, this subset of AI is paving the way for several potential markets by implementing software according to the users' behaviour.
Every organization put their heart and soul into providing the finest experience to the customers, thus integrating Machine Learning apps to enhance administrative activities and witness significant returns. However, a lot goes behind the building of an app by the developing team of a Machine Learning app development company.
This blog post will acquaint you with some profound Machine Learning app ideas to incorporate in your business and witness a boost in the profit figures.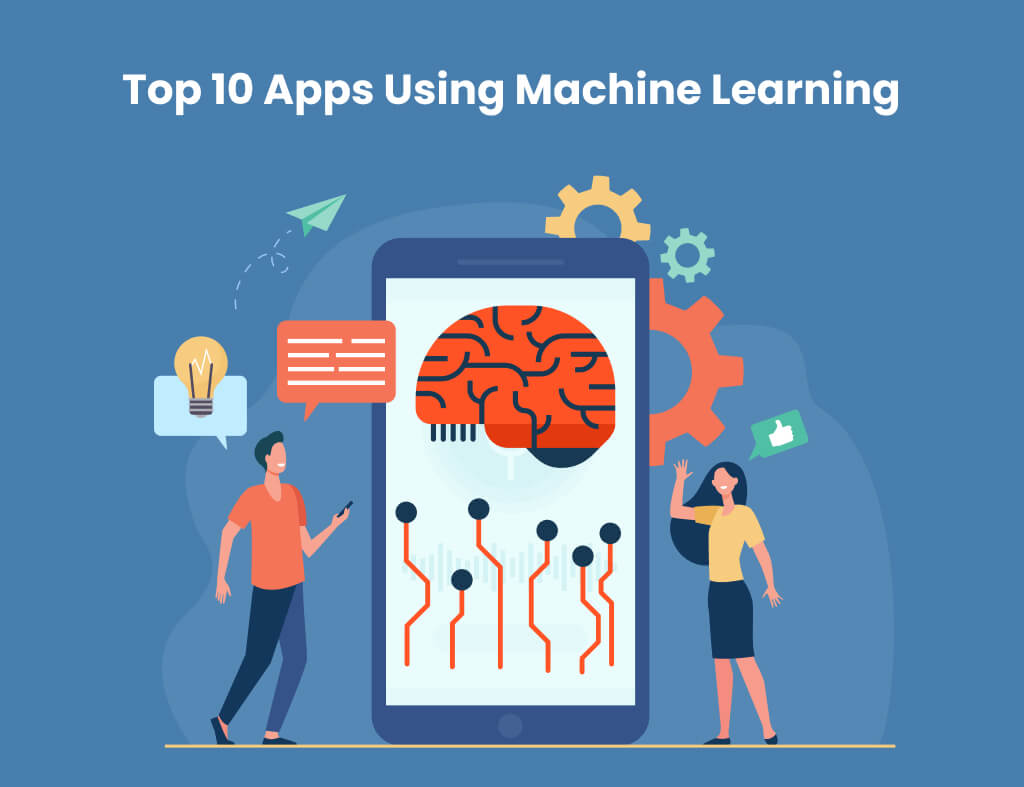 Machine Learning Applications in Healthcare Industry
Application for Potential Disease Outbreak
The outbreak of the unprecedented pandemic created turmoil in everyone's life. Covid-19 took a toll on everyone and numerous people lost their loved ones. This outburst induced the need for digital advancements to build a robust medical infrastructure.
Also Read – How Machine Learning Transforming Healthcare and Medicine?
The Machine Learning ecosystem is finely equipped in providing technical assistance to this sector. However, we need a machine learning app that will empower us in identifying and receiving alerts about potential threats and disease outbreaks. Building a web and mobile app by harnessing Machine Learning algorithms can assist in maintaining accounts of patients, examining the data, and alerting the users regarding potential threats.
Following are the prerequisites to build a Machine Learning mobile app:
– A compiled data of prevailing diseases and the causes, symptoms and essential precautions.
– A digital dashboard to record, edit and maintain the data of all the existing cases in hospitals.
– Integrate a cyber-security system to maintain the confidentiality of the individuals and healthcare professionals.
Machine Learning Applications in Industrial Sector
Gone are the days when people used to conduct every task manually. Thanks to the advent of machine learning web apps that have empowered industries and their staff to complete a task timely and accurately. The incorporation of Machine Learning applications into operations, work processes and even administrative tasks is the new normal. These avant-garde and robust web and mobile applications are a perfect match to enhance work management.
Give it a read – > Top 10 Machine Learning Applications in the Businesses
Machine Learning applications are a big aid to the manufacturing process, inducing the building of several apps while channelizing the production activity. Deploying Machine Learning based solutions to manage hefty procedures, skyrocketing efficiency and inducing cost-cutting is achieved via these apps. This robust AI subset is making its mark in every sector, from marketing and sales to administration and maintenance.
Machine Learning Applications in Retail and E-commerce industry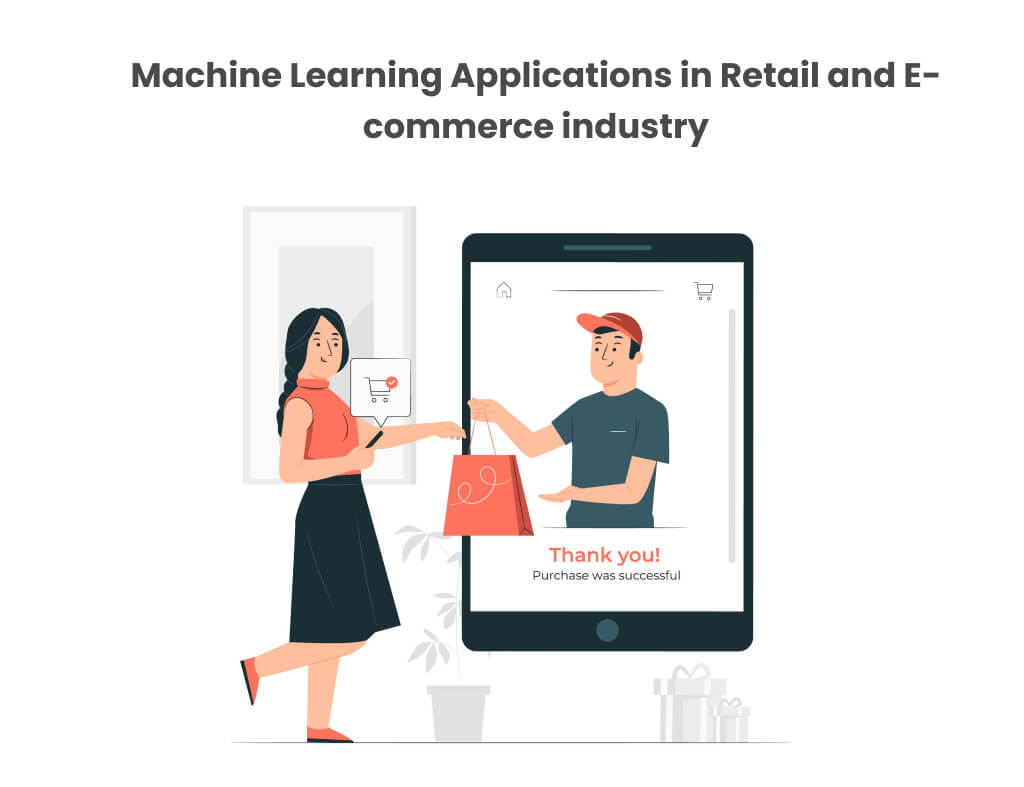 Creating personalized chatbots for e-commerce websites
The chatbot is a vital component of ML. The developers at AppStudio are diligent in creating flexible and adaptable chatbots, paving the way for fresh horizons for businesses. Additionally, the developers are extremely proficient in harnessing the National Language Processing (NLP) technology that drives machine-human conversation, imparting an easy and informative experience to the customers.
The chatbots ensure the smooth facilitation of organic customer interaction. While people think chatbots can only be used as a customer service tool, Machine Learning ensures that they can also be used as virtual assistants like Siri, Google Assistant, Alexa, etc. 
Building a personalized chatbot opens the door of abundant choices for e-commerce and retail industry customers. Furthermore, the Machine Learning chatbots can assist the customers in comparing two different products of similar niches based on collected data.
Machine Learning Applications for Travel and Hospitality Industry
Needless to say, the travel and hospitality industry is contributing substantially to the economy. Integration of Machine Learning will strengthen this sector additionally. It is creating an application that caters to users' needs for knowing more about travelling. We can achieve a better customer experience by gathering data and presenting it in a knowledge-based platform is a must nowadays. Several organizations are integrating ML solutions to uplift the user experience.
This application empowers the public to recognize the most-visited places based on numerous categories and provide insights about travel hacks and tips.
These Machine Learning applications help people recognize popular places based on multiple categories and provide insights regarding travel tips. In addition, these applications should be embedded with a feedback column so that users can navigate various locations conveniently.
These handy applications will serve you with an AI-infused travel system, generating customized suggestions and enabling people to book hotels and flights easily.
Machine Learning integration in the Banking sector
Several banking applications are already levelling up their platforms with Machine Learning solutions. For instance, Machine Learning applications can be a big aid in examining the transaction records and maintaining transparency.
Designing an ideal machine learning financial application empowers bank owners in collecting user data. This data may encompass the users' spending habits, setting financial goals, and providing multiple options to earn more money.
Wrapping Up
Machine Learning is majorly responsible for easing abundant activities in our daily lives. It has empowered several sectors like Banking, Healthcare, E-commerce, Industrial, Retail, etc. However, the development of an application is as important as its implementation. Thus, choosing a reliable machine learning app development partner that offers robotic process automation service is paramount. AppStudio, the most sought-after web & mobile app development company in Canada, thrives on creating robust and scalable machine learning app solutions.
We have a squad of exceptionally talented developers who are adept at delivering tailor-made solutions by harnessing avant-garde technologies. Our staff provides constant assistance to the clients and come up with spectacular ideas that align with your business goals. Get in touch with us to discuss your project.
Frequently Asked Questions
Q1. Where can I hire Machine Learning applications developers in Canada?
AppStudio is your best bet for integrating machine learning app development in your business.
AppStudio is a pre-eminent name for creating robust and highly scalable apps. We house a team of adept developers who are well-versed in creating a magical app experience for the users with the help of top-notch technology.
Q2. Is integrating Machine Learning in an e-commerce business a good idea?
Yes, incorporating chatbots in e-commerce websites can facilitate flawless customer interaction, inducing profitability. The skilful team of developers at App Studio are persistent in building flexible and adaptable chatbots, enabling the businesses to witness a substantial boost in their profits. Our developers are well-versed in deploying the National Language Processing (NLP) technology that drives machine-human conversation, providing an accessible and informative user experience.
Q3. In what sectors is Machine Learning used the most?
Verticals like Banking, Healthcare, E-commerce, Retail, Travel and Hospitality are reaching pinnacle by integrating machine learning applications.
Machine Learning algorithms are comprehensive and are utilitarian in numerous business types. At App Studio, we create personalized machine learning applications for diverse niches.