The after-effects of the unprecedented pandemic have affected the economy in several ways but have also paved the way for a plethora of budding opportunities for businesses. According to the Salesforce Shopping Index, the E-commerce industry has significantly boomed while contributing a 71% increase in global digital revenue. While there are several aspects involved in a successful transaction in the ecommerce and other industries, payment gateways and payment processors are the linchpins facilitating smooth transactions.
The demand for an integrated and multichannel payment source increases rapidly because of the spectacular convenience rendered. Online payment gateways and payment processors are setting a new baseline for growth by enabling organizations to render robust payment platforms to their highly functional, scalable, faster, and reliable customers.
According to Statista, the payment gateway market is anticipated to contribute 22.6 million terminals by the fiscal year 2025. A massive upsurge was witnessed as it was 3.6 million terminals in 2015. Around 7 quadrillion rupees are projected to generate the entire digital payments industry by 2025.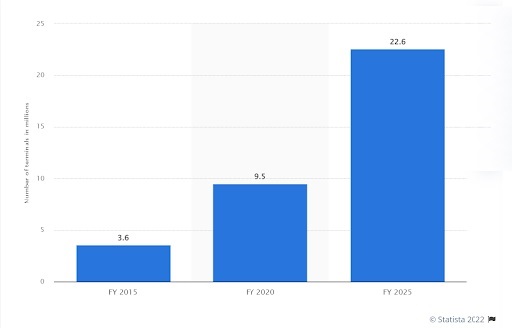 What is a Payment Gateway?
A payment gateway is a secure software that aids the ecommerce businesses process transactions on the respective websites and apps via credit cards, debit cards, PayPal, net banking and e-wallets. Different payment gateways ensure smooth and secure transactions made by consumers. Simply stating, the payment gateway authenticates the cardholders/buyers to make payment securely from their account to the seller's/merchant's account. This is a highly secure protocol, as the data is always encrypted safely. Hiring a proper ecommerce web development agency is the best way to integrate ecommerce payment gateway protocol in businesses.

The payment gateway has aided the entire ecommerce industry tremendously; here are some of the benefits of a payment gateway, have a look:
Hassle-free: Incorporating a payment gateway in your business is plain sailing. The merchant or business owner having an already existing website or application can easily set up a payment gateway.
Cost-effective: Payment gateways require little or no maintenance, making them affordable and monetarily feasible for business owners.
Easy to use: The payment gateways are not embedded with complex mechanisms and thus are easy to use. Users need not obtain any extra knowledge to operate and are comfortable using these gateways for their day-to-day transactions.
Quick checkout: Transactions that take much time can discourage customers from making digital payments. To curb the same, the fintech web development services providers meticulously design the payment gateway system that enables the merchant to customize the checkout page.
What is a Payment Processor?
While a payment gateway enables secure and smooth facilitation of transactions, a payment processor is the one that communicates and relays the information of the customer's debit card/credit card to the bank account of the business owner/merchant. In simpler words, payment processors act as a bridge between the bank of the customer and the merchant, transmitting the payment data across the two platforms. Moreover, the payment processor helps businesses create an in-house or third-party merchant account.
The payment processor also ensures the implementation of security measures in the payment transaction and eradicates potential fraudulent practices. Additionally, if any customer raises the problem of charging them incorrectly, the payment processor takes care of the accidental transaction. However, the fees will be incurred by the merchant.
Payment processors are supported by a software called POS. The POS system aids in easing out complex business operations. It is highly functional and easy to use, facilitating generating invoices of the products and services sold. Integrating POS application development and payment gateway, and payment processor would be a smart move.
Payment Gateway vs Payment Processor
There's a lot of discussion regarding the difference between payment gateways and payment processors. However, both encompass different qualities but are equally important for ensuring a secure and smooth transaction. However, some little differences can be understood from the following table:
| | | |
| --- | --- | --- |
| Parameters | Payment Gateway | Payment Processor |
| Role | In the Intermediary process | In the Interface |
| Payment Options | Only one | Multiple |
| Touchpoints digitized | Online touch points, including websites and apps | Both online and offline touchpoints |
| Payment Success Rate (PSR) | As much managed by the payment gateway | Substantially higher payment success rate |
| Integrated Solution | Yes | Yes |
| Permissions | Requires authorization of RBI under the Payment and Settlement Systems Act, 2007 (PSSA) | Requires requisite certification as per the norms of Payment Card Industry Data Security Standard (PCI-DSS) |
| Ownership | Public banks, Private Banks, Merchants, and Vendors | Fintech players |
Importance of Hiring an Apt Fintech Application Development Company:
Choosing a proper banking app development company that offers top-notch payment gateway development services is essential to provide your customers a hassle-free, secure and smooth payment experience. With numerous payment software development companies out there, it is vital to choose the one that offers the following services:
Experienced developers: A software development agency is not successful without a team of highly proficient developers that are adept at creating applications and payment gateway software for ecommerce businesses and financial institutions of all sizes.
End-to-end software development: Obtain end-to-end software development services that integrate highly scalable, bug-free and cross-platform friendly payment gateway software in your business operations.
Security & Regulatory Compliance: Choose an ecommerce website development company that adheres to all the security and regulatory compliance during the deployment of the payment software.
Quick turnaround: As they say, time is money. You wouldn't want to deal with a software company that takes more than usual to deliver your payment software. Hence, choose wisely.

High-end UI/UX design: Having a functional payment software/app is highly important, and so is having an impressive one. Encompassing visually appealing applications and software retains customers by providing a one-of-a-kind of experience.
Data Security: This is an imperative aspect that must be taken care of. Without the confidentiality and security of data, no customer will feel safe in doing any transaction with your website/app. Hence, make sure that you offer your customers the utmost safe and secure experience.
Wrapping Up
Payment gateways and payment processors are the cornerstones of eCommerce and other businesses. To give your customers an unparalleled experience, choosing an apt financial app development company is paramount. AppStudio, the best payment gateway development company in Canada, specializes in creating high-performance mobile apps for businesses and financial institutions to pave their way for success. Our applications are feature-enriched, robust, highly scalable, and secure. You can bank on us for impeccable services when you entrust us with your payment software development project. Contact us to know more!
Frequently Asked Questions
Q1. Where can I hire a payment gateway development design company?
Choose AppStudio to avail the best-in-class payment software development services.
AppStudio, the most sought-after financial web and app design company, has been acing the game of successfully delivering authentic and secure payment gateways to diverse ecommerce businesses and financial institutions with par excellence. Get onboard with us to impart a secure and one-of-a-kind experience to your customers.
Q2. What is the difference between a payment gateway and a payment processor?
Payment gateways and payment processors are two different aspects that aid in smooth and secure online transactions.
While a payment gateway is a platform that facilitates smooth and secure online payment processes by the customers, a payment processor securely transmits the payment information and data from the customer's bank to the merchant's bank.
Q3. What are the benefits of a payment gateway?
Payment gateways are easy-to-use, hassle-free, quick and cost-effective.
Payment gateways enable business owners to impart a secure and eased-out experience to their customers.