Every developed application is to be launched on Google Play and the Apple App Store. These platforms help developers to distribute and promote apps. The Google Play Store and App stores are the biggest source for Android and iOS users to download apps. But there are some prerequisites and general methods that developers must keep in mind while submitting their app on the App store. Check out the detailed requirements to successfully publish your Android and iOS app from this article.
The Checklist For The App Store and Google Play Store
The following list is to be checked in terms of what you need for uploading any Google Play and the Apple App Store: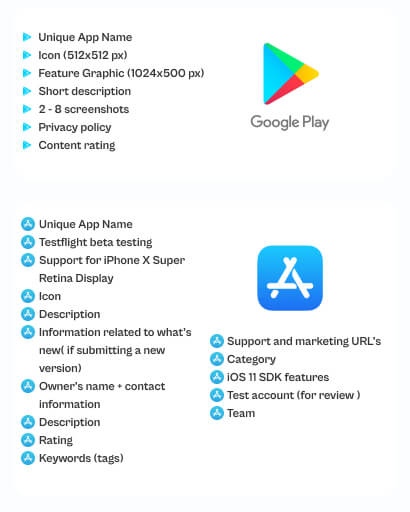 If you want your app to be active, you need to follow the app stores' guidelines. Also, these guidelines are not designed to restrict you but help you build an app that results in returning and attracting customers. These requirements allow stores to determine whether applications are performing as expected and their reliability. Remember that avoiding breaking requirements is always better than reworking your application to meet them after the fact.
Also, you should not be demoralized if you receive a rejection, as there is always a chance to troubleshoot and submit your request again. So if you are looking for a professional development team to build your app, Connect with AppStudio. Our experts will connect with you soon, and we will be happy to create a frictionless user experience for your goal.
Frequently Asked Questions
Q1. How much does it cost to put an application on the Play Store?
Q2. Do you have to pay to put an app on the app store?
An individual developer account, required for distribution through the app store, has an annual fee of US $ 99, regardless of whether your app is free or paid.
Q3. How long will it take for the App Store to approve it?
On average, 50% of applications are reviewed in 24 hours, and more than 90% are reviewed in 48 hours. If your submission is incomplete, review times may be delayed further, or your application may get rejected. Once your application has been reviewed, its status will be updated, and you will be notified.
Q4. Are all the apps on the App Store legal?
Applications that are available through the App Store are licensed to you, not sold to you. So, for example, Apple licenses any Apple app under the Custom EULA or Standard EULA. And your license for any Third Party Application under this is granted by the Application Provider of that third-party app.