Real estate is one of the propelling sectors, inducing massive revenue to the economy. It is a consumer-driven market involving a vital, expensive and life-changing transaction. This decade witnessed an all-time high in 2020 since the market started to climb from 2011. Statista says that the number of members of the National Association of Realtors (NAR) gradually amplified to 1.46 million in 2020. Experts say that this number could be achieved because of the integration of Virtual Reality in the real estate sector.
Furthermore, the paradigm shift in the consumer trends inclined towards digitalisation of the real estate market has prompted extensive opportunities to the realtors and utmost convenience to the consumers. The digital transformation has aided contemporary real estate professionals to rise in the competition by harnessing the power of the most favoured technology of Virtual Reality (VR) and Augmented Reality (AR) .
Why is Introducing Virtual Reality in the Real Estate Market Important?
The conventional way of selling and buying properties involves a lot of hassles of explaining, negotiating, visiting multiple houses and apartments. Not to forget the time invested in assisting the clients throughout their house-buying procedure. The traditional method is time-consuming and inconvenient for the realtors. The potential homeowners also get exhausted with the lengthy process.
Virtual Reality in the real estate market is transforming the decades-old method of selling houses and other properties. Realtors are inclining towards employing the power of VR technology to expand their business and receive more clients. A survey by the NAR states that 44% of property buyers search on the internet first.
Wondering how a virtual tour in real estate is possible? The advent of advancements in the software companies offering real estate application development services has made this happen. Let's dive straight into the detailed insights of how beneficial VR is for real estate.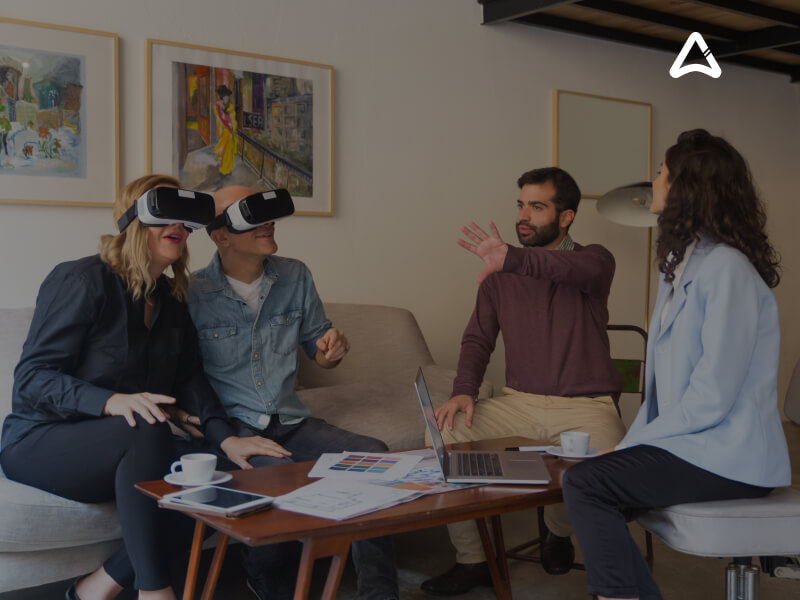 Why is Digital Transformation of the Real Estate Sector Necessary?
The immersive technologies can drastically transform the Market DOM index by providing an enhanced experience to agents, buyers, and sellers. Analysts state that several factors like – seasonal variability, property's condition, buyer's availability to see a property, and seller's time invested in showing the property to the client – influence the Market DOM index, in turn, inducing the saleability of a property. AR/VR saves time, money by eliminating the lengthy processes and aiding the realtors in maintaining the buyer-to-seller and buyer-to-agent ratios.
These immersive technologies are substantially aiding the potential property owners to take a virtual tour of multiple houses by just wearing a VR headset or watching an AR representation on devices like smartphones, tablets and laptops. This easing out of the entire home buying and selling process has engendered the probability of immediate success in the highly volatile environment. All this is possible because of the inception of virtual reality app development offered by several app development companies worldwide.
How is Virtual Reality Enhancing Customer Experience Through Virtual Tour and Staging?
Virtual Reality has empowered individuals to explore their home options with utmost accuracy and convenience. Reports state that 90% of the potential buyers start searching for homes on the internet first, including 50% of the searches through mobile apps. Wondering how staging a property with AR/VR actually works? Have a look here:
A property's virtual presence highlights the Point of Interest (POIs), enabling potential homeowners to understand the property better.
Realtors should accurately present their imagined property through VR, or else the buyers would be unable to correlate, and the virtual visit would also be in vain.
Realtors using state-of-the-art technologies creating immersive experiences are the most likely to achieve high-profit figures by enabling the customers to make more educated selections and providing a rich buying experience.
Staging a property via VR can be easily achieved by hiring a VR and AR app development agency delivering robust solutions by using the latest technologies and tools. Integrating Virtual Reality into commercial real estate skyrockets the sales percentage and renders a one-of-a-kind experience to the customers.
Additionally, current market trends suggest that if realtors invest 1 to 3 per cent in virtual home saving, it can yield them 8 to 10 percent of the sale price of one residential property as their profit. Moreover, realtors are going the extra mile to enhance their customer experience by leveraging storytelling techniques to convey the intricacies of the property they are vouching for. The risk of incurring losses in case of the property's rejection by the buyer is eliminated in virtual staging.
Read Also : – Advantages of Virtual Reality Technology in Business
Benefits of Integrating VR in Real Estate
As discussed, the immersive technologies are creating a win-win situation for the realtors and the buyers; let's have a quick look at some imperative benefits that VR technology provides in Real Estate: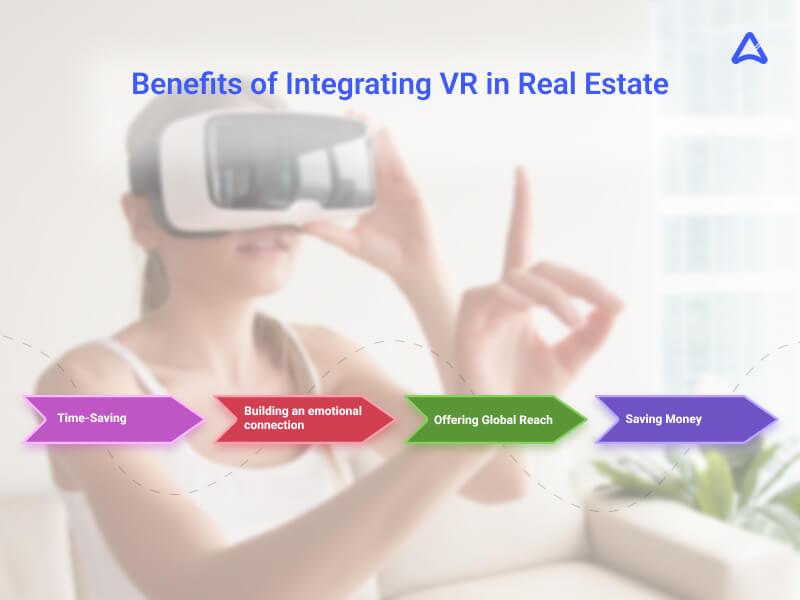 Time-Saving: As they say, time is money. VR has eliminated the hassle of travelling from one property to another by introducing immersive 3D tours. Also, the buyers don't stress losing good potential properties due to lack of time. And by harnessing the power of VR technology, real estate agents can save their and customers' time significantly.

Building an emotional connection: Virtual house tours let your clients visualize every bit of the property without any hurry, unlike conventional visits. Customers can easily focus on all the details of the house. The virtual tours induce an emotional connection towards their potential home and increase the customer retention rate for the realtors.
Offering Global Reach: Traditionally, the real estate agents are bound to work for a relatively small client base of the geographical barrier. No matter where the client lives, VR makes it possible to reach out to them. Availing a VR development service via a trusted mobile application design company enables the realtors to showcase their properties to even long-distance buyers.
Saving Money: Generally, investing in any technology gives an idea of heavy investments. However, investing in VR technology enables realtors to save money in the long run by channelizing the power of 360-degree videos and computer graphics.
Winding up
Virtual Reality technology is already all set to revolutionise the entire real estate sector to retain customers effectively. Several small & large real estate agencies have already infused immersive technologies in their businesses to provide an enchanting experience to their clients. However, having a robust and appealing portal/app is essential to make all this possible. If you are looking to upscale your real estate business, the leading mobile app development company AppStudio is your best bet.
We offer custom-built web and mobile app solutions to cater to the needs of real estate companies worldwide. Our highly proficient developers are adept at creating novel applications that facilitate purchasing and selling properties with utmost convenience. We harness the power of disruptive technologies like Artificial Intelligence, Augmented Reality, Virtual Reality and Big Data while integrating imperative features like chatbots and virtual property inspections. Still in doubt? Contact our VR development team to know further details!
Frequently Asked Questions
Q.1 How Can I Create a Virtual Tour For My Real Estate Business?
You can create a virtual tour by availing virtual reality app development services from a trusted app development company. It is the best way to enable your customers to receive 100% satisfaction while buying their dream house.
Q.2 Where Can I Hire a VR App Development Company For My Business?
AppStudio is the odds-on favourite when it comes to offering robust and scalable applications to a broad base of clientele. We harness the power of avant-garde technologies and tools to deliver a bespoke experience to the end-users.
Q.3 Where Can I Receive Guidance To Upscale My Real Estate Business?
AppStudio holds years of experience in developing the most exemplary applications. We thrive on guiding our clients throughout with the help of our exceptionally talented experts. We offer constant assistance to our customers from the beginning of the project till the end.