Angular is the Type Script open-source framework used for the development of mobile applications. This cross-platform framework continuously grows with Angular solutions. It encompasses the ability to perform various development operations and enhance the app with the required functionality.
To create an interactive website, you need to appoint angular developers to collaborate on this robust framework. Angular developers can create Single Page Applications (SPA) with multiple intuitive design features.
What is Angular?
Angular is a medium and framework for developing one-page client applications using HTML and TypeScript. Angular writes in TypeScript. It incorporates core and optional features as a collection of the TypeScript libraries that you import to your applications. To learn more about Angular development, it is necessary to understand which is more powerful, Angular, AngularJS or Angular React.
Which is More Powerful: Angular vs. AngularJS vs. React Native?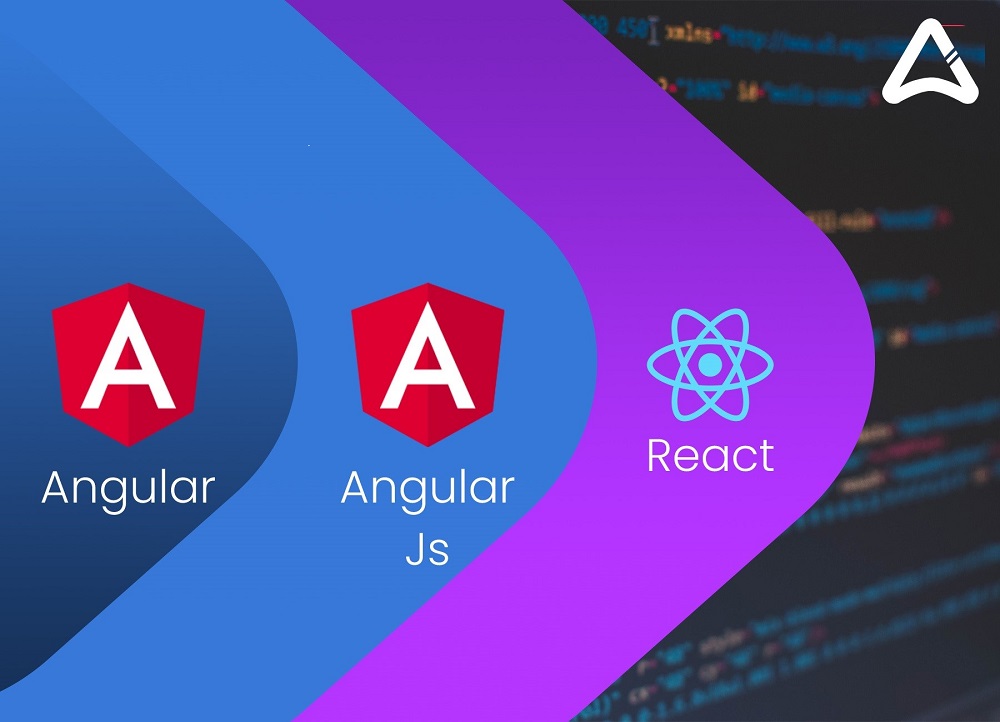 About Angular:
Angular is a full-length toolkit that needs to create large-scale applications. Leading companies like Xbox, Forbes, BMW, and many more choose Angular for front-end growth. Angular comes with a built-in Material Techstack and comes with a range of pre-built material design modules. It has component-based architecture and has a steep learning curve if compared.
About AngularJS:
AngularJS is a JavaScript MVC platform client-side to build a dynamic web application primarily based on HTML and JavaScript, so there is no need to learn a new syntax or language. AngularJS brings with it an extremely specified and complex three-layer structure: Model, View, and Controller.
About Angular React:
React.js is an open-source JavaScript library for the development of desktop, web, and mobile app user interfaces. This means that users do not have to wait for a server response to create a new page. It's a much seamless interface, which is especially essential for mobile apps. React native developers use different code editors, such as Sublime Text, Atom, and Visual Lab.
List of Top 10 Angular Development Companies in Canada
AppStudio is one of the leading angular development company in Canada. With a dedicated team of experienced mobile app developers, they are the most sought-after destination for building personalized apps for various devices and platforms. They offer high-quality dynamic apps for clients across the world. This fast-growing company specializes in MVM framework, HTML & CSS, TypeScript, RxJS, and open-source technologies. You can find more details about them on the AppStudio clutch review. They offer a wide range of software development services under one roof.
Services
Mobile App Development
Game App Development
iOS and Android App Development
iOT Application Development
AR & VR App Development
Flutter App Development
Zazz
Zazz is considered the best mobile app development company among businesses looking for a reliable digital partner offering end-to-end angular development services. From developing high-traffic real-time chat applications to creating custom angular development solutions, Zazz offers comprehensive services to many businesses from different industries. They have a successful track record for building useful web and mobile apps. They follow a unique, proven approach to ensure that all projects are completed on time and meet quality standards.
Services
Android and iOS Development
UI/UX Design
Data Science Development
Flutter App Development
Nodejs Development
App Incubator
App Incubator is a global leader in building angular applications. They specialize in creating efficient and sophisticated single-page apps that meet specific business needs. They develop high-performing, real-time applications that offer users a seamless navigation experience. Their developers have in-depth knowledge and extensive experience building scalable and secure apps that work smoothly across devices. From startups to industrial giants, they offer customized angular development solutions to businesses of all sizes.
Services
Web Development
Android and iOS Development
UI/UX Design
Product Strategy
React Native Development
IoT Development
Hyperlink Infosystem
Hyperlink InfoSystem ensures that your PHP development project is successful. They ensure that you remain linked when evolving in order to deliver the best possible outcomes. The primary approach is the planning and design of the solution so that it can create an implementation that exceeds the expectations. They have a team of professional developers who have an in-depth knowledge of personalised technologies.
Lift interactive Inc
It's the top web design and web development company. Their professional web designers design exciting, brand-focused design answers that impress and provide an excellent user experience. They solve problems, define strategies, design, and implement solutions. They believe in the creation of a website that will help make your brand unique.
Find Out Top 5 New Features of Angular 8
Coldfront labs
Coldfront labs builds web applications using the Drupal open-source CMS framework along with a number of other tools. The organisation creates a responsive interface to help clients navigate the website and produce specific outcomes.
Digital Echidna
Digital Echidna works with businesses to enhance their communication across a variety of digital channels and improve their online marketing presence. Their team is an excellent blend of technical expertise and creative flair that enables them to move beyond the website and create new online communication opportunities and engagement opportunities.
Kinex Media
It is a technologically advanced digital business that offers the most outstanding web design services, web creation, and e-commerce. They have the vision to provide companies with innovative digital products and help their company develop into a global brand.
ImageX
ImageX is a multinational technology & network agency. Their support and development team helps ensure that the website stays safe and is continually expanding across the network. They test as they develop, using best practices to ensure your website is sustainable for the long term.
OPTASY
OPTASY is a full-service web development company that creates professional, award-winning websites designed to suit your needs. Their team has grown of committed people, all experts in their areas of expertise, who clearly understand the value of their job, the value of being the best, and the advantages of success.
Closing Note-
Angular is offering many benefits for the development of intuitive and knowledgeable mobile applications. AppStudio, best app developer in Canada, has successfully built Angular applications and understands the framework development specifications. We can give you committed and skilled Angular development from a diverse pool of highly talented developers. Contact us for a customized experience.