React Native has bagged immense popularity amongst all the open-source UI software frameworks. Tech giants like Facebook, Instagram, Skype, Pinterest and many more are inclining towards React Native technology as their go-to solution. While meeting the tech needs of developers, this framework enables the companies to gain a competitive advantage in the market.
React Native is the hot-favorite framework because of the way it can manage native views utmost conveniently. Developers can conduct the app development process by employing JavaScript threads instead of conventional HTML or CSS. They can write the native codes quickly by harnessing the power of Swift for Android devices and Objective-C for iOS devices. Integrating such codes will create a robust and highly flexible React Native app development platform.  
The number of frameworks and libraries for JavaScript (used to run codes by React Native) is growing exponentially. While there are numerous tools available out there, React Native is by far the most reliable and robust framework to make applications and software. Here's a sneak peek at the statistical data of the cross-platform frameworks that software developers use.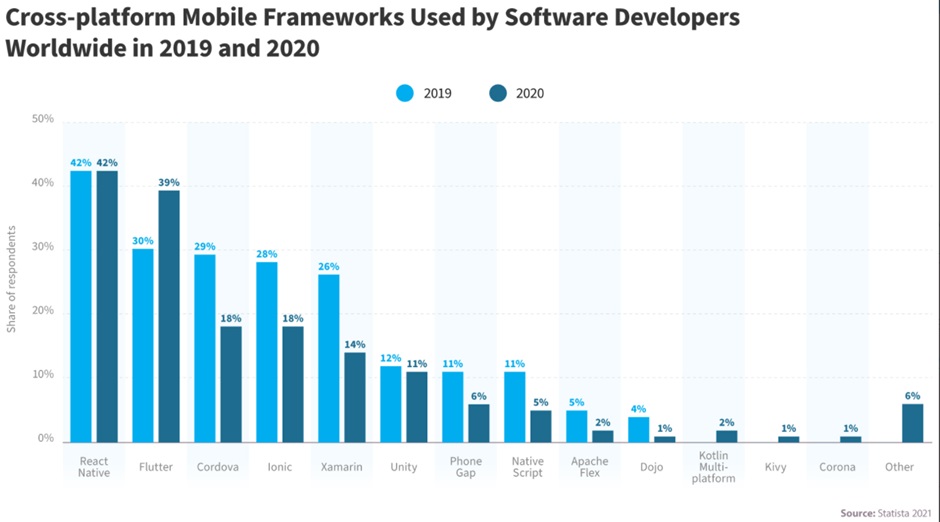 List Of Pre-Eminent Companies Employing React Native App Development
| | | | | |
| --- | --- | --- | --- | --- |
| Facebook | Google | Microsoft | Bloomberg | Pinterest |
| WhatsApp | Uber | LinkedIn | Instagram | GitHub |
| Pixar | Twitter | Airbnb | Uber Eats | Discord |
| Skype | Salesforce | Walmart | Tesla | Wix |
| Discovery VR | Gyroscope | Soundcloud Pulse | Huiseoul | Adidas Glitch |
How To Choose the Best-In-Class React Native App Experts?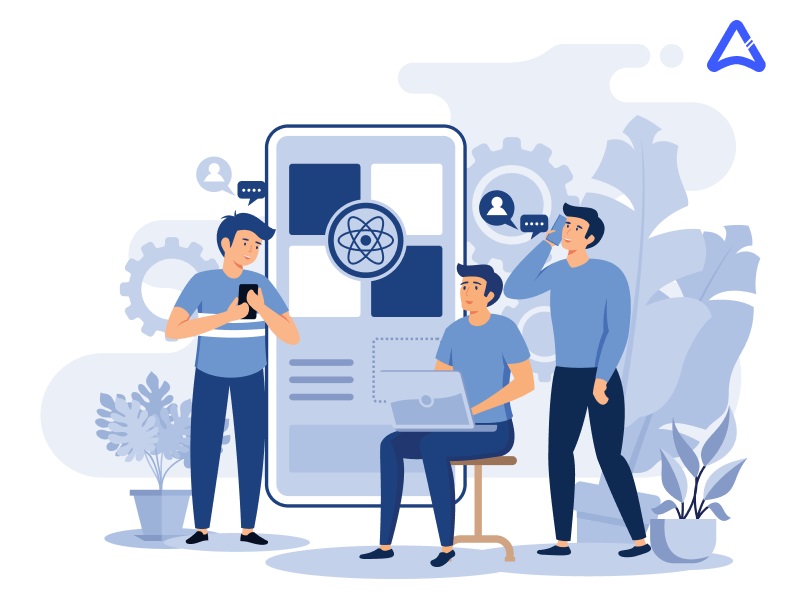 While it is vital to pick a suitable and robust framework for app development, it is equally important to opt for experienced and highly proficient experts to conduct mobile app development with React Native Framework. Having said that, here are some valuable tips for business owners to pick the best from the lot while planning to hire a react native app development company or expert:
1. Invest Optimum Time: First things first! Make a strategic plan to select the best-suited app service provider. Make a list of top-tier companies offering app development by React Native. After shortlisting the best agencies, skim through their offerings portfolios, react native app cost. Verify the said factors and if any company's services align with your business, then do thorough research of the chosen react native mobile application development company. AppStudio is one of the leading React Native app agencies offering innovative and scalable digital solutions to augment your business prospects.
2. Decide on the budget: Every company has different offerings and costs. So, while selecting a company for app development, estimate your budget beforehand. There may be multiple deciding factors like the approval from the owner or adhering to the stockholder's convenience. Furthermore, make sure that you have already considered the other organizational costs. This will prevent you from spending more than your assessed budget and averts your capital from being diminished.
Also Read -: is React Native Good For Mobile App Development?
3. Verify the service provider's portfolio: Going through the service provider's portfolio you have selected is of utmost importance. This facilitates your staff to have an insight into their previous working experiences and performances. Learning the portfolio of your potential react native app provider also enables you to learn about the success rates of previous projects while helping you in knowing whether your previous customers are happily satisfied with the services or not.
4. Run a background check: An in-depth background check induces credibility. Evaluate the reputation of the companies by checking their reviews and feedback on different portals. You may find both positive and negative reviews, and the final call will be yours to take! Also, ask your acquaintances for recommendations who had previously used any of the React Native Services.
The steps mentioned above will enable you to choose a premier app development agency.
How is using React Native Beneficial For Your Business?
As discussed above, examples of best react native apps can be seen in the world's leading business organizations. Consequently, some vital benefits make React Native the most sought-after framework in the digital world. Have a look:
A standard base for development: Generally, iOS and Android employ distinct codebases. Businesses need to hire two separate developers for both iOS and Android platforms with other frameworks. But with React Native, you need not create separate apps for iOS and Android. Developers, by channelizing the strength of this framework, can reuse the standard layer of functionality across multiple operating systems. To integrate stellar react native mobile apps in your business, avail React Native android app development services from AppStudio.
Framework's Lucidity: React Native allows business owners to have a wide range of services due to its vast readability. Consequently, inexperienced developers can also work on this framework very conveniently. However, android app developers need to be well-versed with a plethora of coding techniques with the other frameworks.
The statement of the programming style: React Native utilizes a declarative programming paradigm. Simply put, the developers convey the intent they want to accomplish to the application they are working on. Nonetheless, imperative programming requires the developers to explain how the things will be aligned accordingly. Such a type of programming methodology tends to refrain from overall flexibility in the occurrence of events.
Structure-based on component: The React Native structure eases out the mobile app construction with a web-based reaction-based methodology. The component-based framework enables the developers to build even more detailed apps. That being said, the production of React Native applications is meticulously crafted on a web-based approach and agility.
Better Reloading: React Native framework enables you to achieve your business goals in no time. The reloading of the application is quicker, and you don't need to recompile it to achieve your target. React Native offers two kinds of reloading alternatives such as Live Reloading and Hot Reloading. While the former allows you to reload and create a backup after each edit, the latter enables you to reload just the edited file instead of the entire app.
Wrapping Up
The React Native framework is a substantial necessity to build sophisticated apps. Businesses that aim to make a mark on the internet through their products/services should hire an android and iPhone application development agency to witness a boost in their customer retention and engagement rates. AppStudio is one such web and mobile app development agency offering best-in-class react native app solutions to cater to your business needs. Our deft developers are well-versed in building robust and secure applications that streamline your business goals.
Contact us for further details!
Frequently Asked Questions
Q.1 Do companies prefer using React Native apps to augment their online presence?
Yes, tech giants like Facebook, Instagram, Skype, GitHub and many other huge companies are preferring to choose React Native as their go-to option for app development.
Q.2 Where Can I Find React Native Experts?
If you are looking for the finest React Native experts in the industry, then AppStudio is your best bet. We are home to extremely talented and experienced developers and designers who hold specialized knowledge in harnessing the power of React Native framework.
Q.3 Does React Native Framework Build iOS-Based Apps?
React Native is an all-inclusive framework that facilitates creation of apps that are compatible with both android and iOS apps.