On-Demand app Technologies have been designed to meet our daily needs and make our lives more comfortable; apparently, they have successfully fulfilled their required functions. Just a couple of buttons touched on the smartphone screen can satisfy almost any request from its owner. Today's users and even millennials want the most modern and sophisticated things to the core. We invite you to participate in the race for customer satisfaction and create an application on demand together with us.
On-demand Application – Definition
The on-demand application is a mobile application that operates with a consumer and a business as a mediator. It allows consumers to request and aspire to offer any service in minutes. The app links customers to multiple service providers and vice versa, and in return, charges a fee for a particular service. Like Uber for taxis, Zomato for food delivery, and Airbnb for cars.
The key objective behind on-demand application development in the application industry is to make the customer experience simple, saving time and cost, unlike the offline retail user experience.
Economy on-demand: Yesterday, Today and Tomorrow
In 2014, Business Insider predicted that the on-demand economy would flourish for years to come. From a scientific point of view, this stage of economic development is defined as the economic activity of technology companies responding to consumers' requests with the immediate provision of goods and services.
The figures demonstrate that this region keeps on advancing:
86.5 million Americans use mobile applications on demand.
Investments in mobile application development on demand were $ 10.293 billion in the fourth quarter of 2017 alone.
By 2025, revenue from on-demand application development will be $ 335 billion.
If we talk about service-on-demand application customers, their number will reach 56 million by the end of 2018 and 93 million by 2022.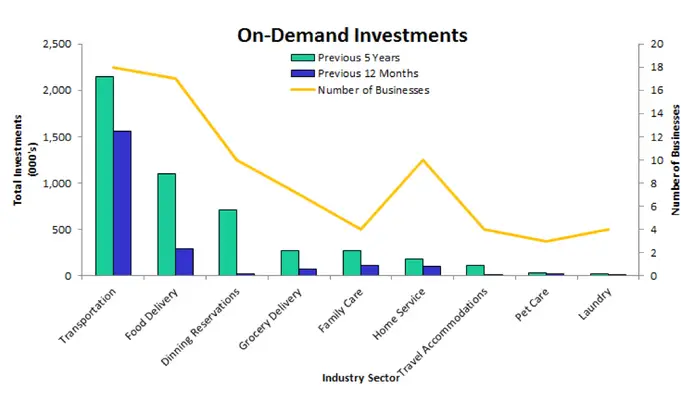 What does this mean for startups?
This means that the terrain for on-demand application creation is now blessed like never before. The theory of unlimited need for users is as relevant as ever. All that needs to be done is to get a great idea of the on-demand delivery app, find out how popular it will be with modern users, and move towards implementation. To make this easier, AppStudio will inform you about the development process of the on-demand application.
How does an on-demand delivery application work?
The on-demand delivery app is inspired by private grocery delivery and transportation companies that make shopping easy for customers. Whether it is a business-to-business or business-to-customer application, the primary goal is to meet the delivery needs of the end-user. Users can request any service or product; they need it, and they deliver it, such as beauty services, products, taxis, etc. Here, the user can be anyone, from a person to a company, and the service provider can be a company or company. The entire process flow is explained in the steps below.
On-Demand App Development Process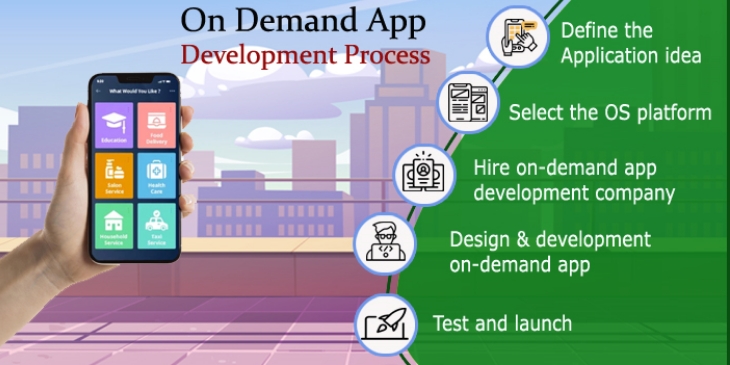 Technologies We Use to Develop On-demand Applications
Technologies used to develop on-demand mobile applications. Each on-demand solution is designed with a technological edge using modern and premium technologies and platforms for the best service results.

Features of On-demand Apps
As a leading mobile app development company, we will explain the features of on-demand apps. However, this segment is divided into two different sections. Let's have a look:
MVP Features of On-Demand App Development
Real-time location tracking
When customers can understand the planned execution, the expected arrival to the interface in real-time, then they trust you more. So implement location-based solutions for on-demand taxi booking apps, food delivery, grocery delivery from grocery stores. Also, alcohol delivery, and any other service you provide.
In-app payments
Since payment is an important part of an on-demand service, make sure your online payment gateways are fast, secure, and reliable. This consideration of functionality for MVP application development or on-demand application development helps users make payments in the application itself with multiple payment options, including wallets, credit cards, debit cards, etc.
Ratings and Reviews
While it gives users the option to share their opinions about the service offered and the products used, as a business owner, you can obtain information about users' tastes, desires, and behaviour to improve operations.
Push Notification
To easily inform users of every operation in the application itself, push notifications can prove to be a miracle. It helps users stay updated on the website about all activities, such as accepting the reservation, cancelling the reservation, the arrival of the service provider and new offers.
Enhanced Features of On-Demand App Development
Account registration
Regardless of whether using an online media account or phone numbers. However, users can deal with their accounts after a straightforward registration procedure with a safe information facility. This also helps companies maintain user data and application insights.
In-app messages
An on-demand delivery application must have an internal messaging mechanism to contact the task manager and the customer. While users can communicate about services, raise inquiries when they need them, service providers can send messages to users for delivery and exact location.
Interactive dashboard
The admin can manage all the activities carried out on the platform on-demand, such as reservations made, reservations cancelled, total earnings per week or month with the help of a single dashboard.
Analysis and reports
As a business, to obtain information such as the number of services available, cancelled and repeated, this functionality helps you obtain useful data to escape all bottlenecks and improve services. It also shows which segment of the business is doing well and which segment is struggling.
The amount Does it Cost for On-demand App Development?
Therefore, the cost of developing on-demand applications will be individual for each project. The fundamental factors that influence the cost include:
The number of characteristics necessary to carry out;
The complexity of the design;
The technologies used;
The platform/platforms for which an application is created;
The potential challenges brought about by the particularity of the thought.
Why AppStudio For On-Demand App Development Services?
By delivering the diligent work of involving on-demand application development, we will offer you benefits like:
Endless customization to suit you better
Every business is different, and so should your application. That is why we offer our customers various application development customization features and develop applications best suited to their business. Our mobile app developers note your business requirements and easily integrate them into our extensive application development procedure.
Rich and powerful user experience
One of the crucial aspects of a successful application is the way it appeals to the end-user. However, we use industry best application development practices and ensure high customer engagement. Extensive testing, easy navigation, and quick setup are key features of all on-demand applications developed by our expert hands.
Quality is our top priority
As long as we meet all of your on-demand application development requirements, we keep quality at the centre. Each application goes through an extensive testing and development process beforehand delivery. Each application can address your business goals and provide your consumers with excellent access convenience, payment convenience, and decision-making convenience.
Final Words
Every On-demand app development company promises to meet the basic needs of users. The phase that started with some basic services, such as taxi services and food delivery, eventually expanded and slid into many other industries, such as education, healthcare, and housework, which have deep origins. All of this makes it a profitable business venture to invest in on-demand application providers. So if you have any commercial product ideas, we are one of the leading mobile app development companies that excel at creating unique and attractive mobility solutions. For a free consultation with our experts, please contact us in due course!
Frequently Asked Questions
Q1. What customer base do you work with?
We are here to help all businesses prosper. No matter your ideal model, how big your business is, and how you want to enter the on-demand domain, we have your back. Our on-demand experts have extensive experience working across several use cases, making entrepreneurs the best in their industry.
Q2. What is the range of your on-demand mobility solutions?
Our on-demand mobility solutions revolve around on-demand concept ideation through market understanding, a proper design and development process to promote quick turn-in and out-time for end-users, and ultimately the maintenance process of the app that ensures your app idea is turned into a go-to app on demand.
Q3. What should be the revenue model for my On-Demand application?
The ultimate goal of any mobile application development for on-demand services is monetization. Depending on your app idea, there are different ways to monetize your mobile app on demand.
Q4. What is the future of On-demand applications?
As all On-demand application development agencies can foresee, the future of on-demand applications is in the concept of being present in a variety of different industries. We can estimate that, in the future, On-Demand application development solutions will be embraced beyond switching. In addition, we can now see that the On-Demand domain is being introduced with several technologies to improve the user experience.