The Internet of Things (IoT) has revolutionized the world in unexpected ways, and the automotive industry is no exception. IoT's impact on the automotive industry is nothing but exceptional. GlobeNewswire's independent market research named "Automotive IoT Market by Platform-Global Forecast to 2025″ found that the automotive IoT market is expected to reach $541.73 billion by 2025. This growth will be at a CAGR of 16.4 per cent from 2019 to 2025.
The automotive industry is leveraging the power of IoT technology, and the results are beneficial for both the consumers and manufacturers. There are multiple ways IoT can improve the business's operations in the automotive industry and offer exceptional services to their customers.
If you're a motor vehicle manufacturer, you can take advantage of this powerful technology to improve your offerings and minimize risks. Go through this blog post to learn about the benefits of using IoT in the automotive industry and be the industry leader in the world of smart, connected automobiles.

Benefits of Using IoT Technology in the Automotive Sector
The power of IoT has changed the way businesses operate in many industries, including manufacturing, healthcare and retail. The latest addition to this list is the automotive sector. The incorporation of IoT is making vehicles smarter, more connected and more intelligent. This exceptional technology can be fruitful for automobile manufacturers in many ways. Now is the time to realize the benefits of IoT in the automotive industry and make the most of it for your business.
1) Predictive Maintenance
When it comes to the maintenance of cars or any other motor vehicle, there are two approaches – preventive and predictive. The former approach is when the customer realizes that it's time to take the vehicle to the service station for oil or bearing change, whereas the latter is achieved through IoT. With the implementation of IoT, one can track the status of all system monitors in real-time. And, based on that, you can determine when your vehicle needs maintenance.
For example, car manufacturers can choose IoT mobile app development to produce vehicles integrated with this smart technology. It enables easy data collection on a vehicle's performance using sensors, analysis of that data to evaluate the risk of malfunction, and then notifying the user for maintenance.
2) Connected Vehicles
One of the most important benefits of IoT in the automotive industry is communication between vehicles. By integrating sensors on the vehicles, IoT can help connect cars and enable vehicle-to-vehicle (V2V) interaction. Vehicles can share relevant information, like route, speed, and location via Dedicated Short-Range Communication (DSRC) which can help prevent accidents. In an emergency, the system can notify the driver to take preventive measures or slow the vehicle down (for self-driving vehicles) to avoid a collision.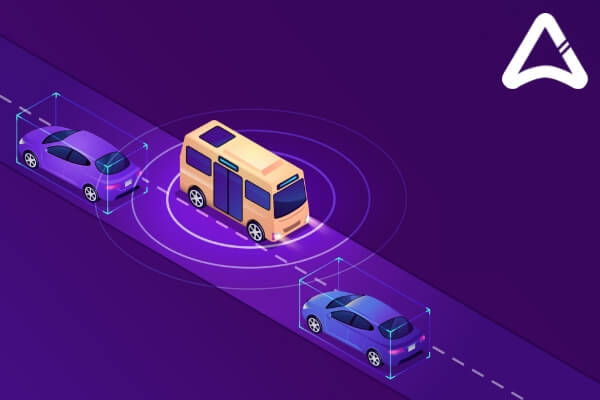 3) Increased Safety
IoT has the power to change the way people drive. The leaders of the automotive sector can implement IoT-based sensors into vehicles to increase the safety of drivers. Apart from monitoring traffic patterns and making sure the weather conditions are suitable for driving safely, IoT technology in vehicles can ensure driver's safety. It can analyze driver's behaviour and monitor driving habits and the driver's health in real-time to reduce the chance of accidents. Since most accidents result from human error, IoT solutions can help in tackling these issues. IoT-based systems can predict the driver's action, monitor heart rate and drowsiness and alert them when they feel sleepy to keep mishaps at bay. Advanced IoT solutions can also connect with the smartwatches of the drivers to get real-time health-related data and ensure their safety.
4) In-Vehicle Infotainment
There are many answers to an important question like how can the automotive industry use IoT. Besides maintaining the vehicle and preventing accidents, IoT solutions are excellent for keeping the driver and passengers entertained while traveling. Being a leading software development company, we are witnessing a rise in the demand for applications compatible with car infotainment systems. Though these applications work only when connected with a smartphone or device with internet access, it is expected that they will run autonomously in the future. In fact, Google and Apple have launched their car-centric operating systems named Android Auto and CarPlay, respectively. These operating systems will offer in-car streaming for passengers to watch movies, listen to songs and play games in their vehicles.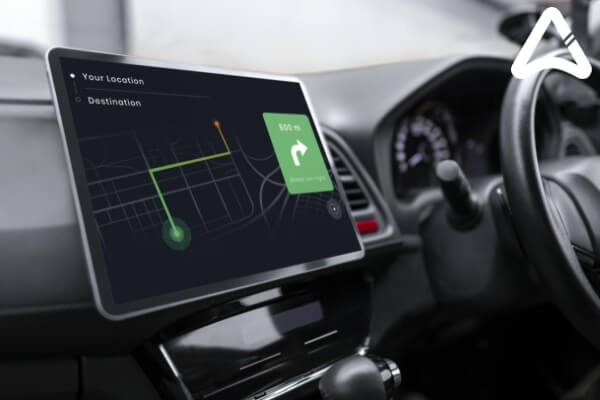 5) Car and Smartphone Integration
Internet of Things can bridge the gap between cars and smartphones. Interestingly, it is one of the top technology trends in the automotive industry. When you connect your car with your smartphone, your vehicle can access or share data, download app updates & connect with other IoT-based devices. It will facilitate onboard Wi-Fi connectivity, exchange data with the car manufacturers, get insights about the vehicle's health, predict technical faults, and do many other tasks for the drivers. It won't be an exaggeration to say that IoT's impact on the automotive industry is immense.
Check Out – COVID-19 Impact on The Internet of Things (IoT) Market 2020-21
6) Improved Engineering
Internet of Things is useful for manufacturers in getting valuable insights regarding important business components that can directly impact sales, like the vehicle design & the services offered.
The information collected on the basis of how drivers interact with the vehicle. what particular functions are most used or unused, manufacturers can modify car design. They can create a model that includes useful functions while eliminating the unwanted ones. As far as services are concerned, IoT enables interaction between the manufacturer and the end-user and keeps them informed about errors in the car's system. This helps offer personalized services, like technical support and maintenance updates, to the driver in real-time.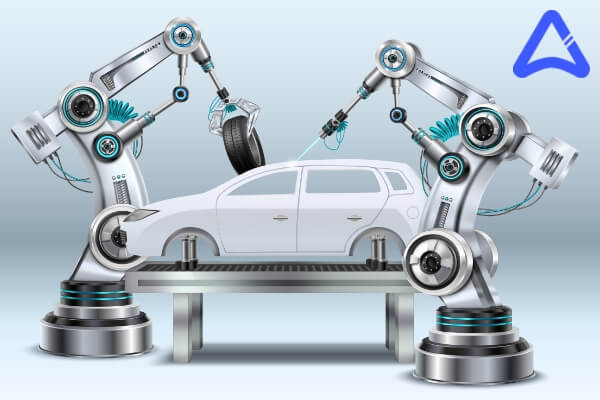 7) Smart Infrastructure
The benefits of IoT in the automotive industry is not limited to cars. Roads and infrastructure are also imperative parts of the network. With IoT integration, drivers can get access to smart infrastructure with improved road safety. For example, swarm intelligence systems aid in coordinating with traffic operators to reduce congestion & devise plans to alleviate traffic conditions. With AI app development solutions and IoT systems, provincial and federal governments can implement smart solutions. For example, the government can build intelligent road lighting, create smart parking management systems & detect road maintenance needs based on accident statistics and the data shared by connected vehicles.
Top Industries Leveraging the Power of IoT Technology
IoT is one of the driving forces for the growth and development of many industries. After all, connected things have brought a revolution and changed the way we function. Internet of Things plays a crucial role in ensuring safety, streamlining processes, and minimizing risks, more companies from various sectors will be willing to invest in this disruptive technology. The following graph is proof that spending on the Internet of Things has drastically increased across all verticals from 2015 to 2020.
IoT holds significant potential across different industries & the number of IoT-based devices to be installed is expected to increase in the coming years. As IoT prepares to spread its wings, the industry leaders keep pace with this trend for digital transformation. The top industries that are using and can benefit from IoT are-
Energy – asset performance and process optimization
Healthcare – remote monitoring of patient's health and wearable fitness bands
Manufacturing – remote equipment management and machine optimization
Retail – smart inventory management and automated stores
Transportation & Logistics – enhanced supply chain visibility and fleet management
Hospitality – personalized services to guests with IoT integrated gadgets
The Final Word
The Internet of Things (IoT) is setting new milestones every day in the automotive industry. It will safeguard and enhance businesses with smart solutions and connected devices. IoT's impact on the automotive industry will expand, and more IoT applications are expected to be discovered in the future. If you're a car manufacturer, it is the perfect time to implement IoT technology in your cars, not only for convenience, entertainment, safety & comfort.

To make the most of IoT technology, you need a reliable digital partner. Contact AppStudio for a wide range of software development services. We offer sophisticated IoT app development solutions to clients worldwide.