The pandemic caused industries around the world to suddenly switch to remote workforces to protect employees. While that transition brought with it several challenges, it also offered some unique opportunities. Many companies took stock of their workflows and realized that the time was right to incorporate robotic process automation to optimize their processes.
When we look at RPA statistics, 2021 saw a massive increase in RPA investments worldwide. It includes pilot programs and the full implementation of new automated workflows. As more companies invest their money in this technology. Also, recognizing RPA trends will be important for companies that want to get the best return on their investment.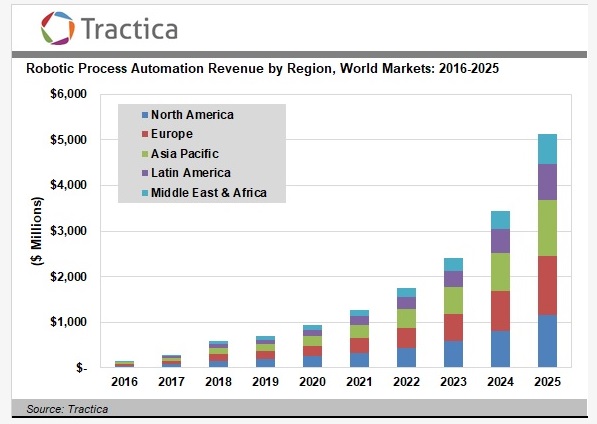 Also Read – Business Benefits of IoT Technology in Automotive sectors
What is Robotic Process Automation?
The primary goal of implementing robotic process automation technologies is to mitigate time-consuming and repetitive tasks performed by humans. Implementing RPA enables software robots to take over the mundane tasks ideally performed by smart workers by reducing errors, being cost-effective, and allowing resources to focus on the most important tasks that require human intervention.
The robotic process automation market is thriving with the fusion of artificial intelligence and machine learning technologies for its development. RPA development services & solutions are capable of repetitive, rule-based, and time-consuming tasks. This means that when companies adopt RPA, they can channel their resources and achieve maximum ROI.
Top 10 Key RPA Trends to Follow in 2021
RPA Trend 1: Focus on Safety
As use cases expand outward from pilot programs and RPA is used in internal and external processes, security must be a high priority. Further optimization through robotic process automation will mean that companies will have robust data sets available to obtain key insights. Please note that this data must be protected.
Whether it's to ensure confidentiality in industries like healthcare or to protect customer data from hackers and identity thieves, the security framework around your processes must meet the highest industry standards.
2. RPA Trends will Continue to Show Strong Growth
Although the mobile app development agency states benefits of RPA may lag as organizations struggle with constant repair cycles. And automation downtime, the priority and accelerated maturity of RPA programs. However, in response to the pandemic will continue as companies maintain the mantra of doing more with less.
2020 can be defined as the year of Robotic Process Automation appropriation. So, it is safe to say that 2021 will be the year that organizations will seek to get it right and shift their focus towards better design, planning, and delivery of automation. However, it delivers the returns in which the technology was sold.
3. Greater influence for IT
In 2021, the attempt to make automation accessible to the citizen developer has exposed damaging problems with the fragility of automation, security, and value delivery. The answer will be greater leniency in IT to assert greater ownership of shared automation and contribute. Its technical expertise on the limitations of automation and the complexities of robust RPA development and delivery.
4. Scaling RPA will remain a Challenge
This year, RPA trends passed the pilot stage with companies that are committed to automation. However, organizations will struggle to scale RPA across the enterprise to leap pilot projects to a sizable digital workforce. The inability to scale will primarily result from the significant maintenance and RPA support load required to service the considerable portfolio of automation they have in production.
5. Cloud & RPA-based Applications
As RPA scales and its use expands to more cloud-based applications, the complexity of RPA workloads will increase. As a result, it won't be strange to see bot workload sharing across platforms and multi-RPA vendor orchestration.
RPA ROI will continue to increase as more companies increase RPA uptime to get the most value from their bots. Maximizing the use you can get from RPA is the definition of working smarter, and the benefits will be clear.
6. Accept the Change
Looking at the latest trends in RPA, it is clear that any company that has resisted embracing automation up to this point is behind schedule. RPA is key to getting the most out of your team and optimizing processes in a growing number of business areas.
Even though some companies had slightly bumpy roads with the implementation of RPA. The availability of competent and knowledgeable RPA providers is expanding. And as more companies embrace industry best practices. The kinds of problems some people had when incorporating automation last year will essentially be a thing of the past.
7. Intelligent Processes
While RPA trends were adopted in 2020, it is likely that in 2021 RPA will be more fully integrated with artificial intelligence and machine learning tools. The distinction between bots like software and digital workers will become more apparent. RPA bots will focus on tasks based on rule-based logged processes. Meanwhile, AI that mimics human action will help perform more complex tasks.
This will also help connect islands of automation and help achieve more seamless process automation and interconnectivity between departments. Additionally, RPA's increased cognitive AI app development will avoid bottlenecks. However, that can arise if a UI change is not immediately programmed into the rules that a bot follows to achieve its purpose.
8. Focus on RPA uptime
In 2020, companies learned the hard way that automating more processes does not necessarily translate into automation success. So in 2021, organizations will maximize RPA uptime and bot availability to capture the full expected business value of their automations. Expect this metric to be front and centre of analytics dashboards and reporting reports for all automation teams.
9. The Rise of RPA CoE
The heavy burden of RPA maintenance and support will see more organizations follow automation best practices and establish RPA Centers of Excellence (CoEs). The increased growth and popularity of RPA CoEs will serve to better standardize and govern RPA to minimize bot errors, maintenance, and lost business value when bots are taken out of production.
10. More Acquisitions in the Automation Space
Consolidations and acquisitions will increment in 2021 and will keep on expanding for the following three years. Automation vendors will move to unite their foundation to address all aspects of the robotization esteem chain usefulness, stopping to offer the best standalone capacities.
Also Read: Examples of Top 10 Machine Learning Applications in the Businesses
Top 3 Future Predictions for Robotic Process Automation( RPA)
Centralized Automation Platform
As per a digital transformation company in the coming time, RPA is expected to become the repository for automation, just as Youtube is a repository for videos. Therefore, it's fair to mention that RPA will become a single or centralized automation platform over the period.
Elimination of Procedures
This is perhaps the greatest advantage of executing RPA. IT services offer robotic process automation as a data-driven technology and help companies manage repetitive, time-consuming tasks or activities. The automation market is relied upon to develop with simple-to-execute RPA models that will robotize business desk work by 2025.
Increased Automation of Smart Processes
RPA is designed to automate structured data with a set of predefined rules. Yet, as innovation propels, the component or function of Machine learning is incorporated into the RPA solution that makes ready for SPA bots. In addition, SPA enables RPA bots to take advantage of the capabilities of other emerging technologies, including artificial intelligence & big data.
Final Thoughts
As of late, RPA bots and savvy mechanization (AI) solutions have become important to endure and flourish. Organizations should adapt to the situation that emerges in these pandemic and post-pandemic times. RPA can open new skylines for every business and carry new potential to your organization to offer a superior and customized client experience.
AppStudio is a well-known application development company that offers thorough IT solutions for meeting the most mind boggling and different business necessities. In addition, we offer high-quality robotic process automation services to our global corporate clientele. Would you like to find out about our services and solutions? Just contact us, and our expert consultants will hit you up in a matter of seconds.
Also Check:-