Amongst the technological disruption in several vital industries, Healthcare is the one that has the fastest adoption of technological changes to revolutionize the diagnosis and treatment of the body. IoMT (Internet of Medical Things) is one such technology that offers a multitude of benefits, leading to the enhancement of quality and deployment of medical devices. Modern healthcare system facilitates offering data security, convenience for patients and reduction in costs.
IoMT has empowered the healthcare sphere with improved digitized clinical and pharmaceutical processes with a significant increase in information precision. On a real-time basis also, this technology has proved to be of great help. IoT-based gadgets have helped in maintaining refrigerator temperature and speeding up emergency care and related tasks.
A Quick Fact Check on Healthcare Domain & IoMT:
As we have discussed, the Internet of Medical Things has brought a transformation in the healthcare industry with evident improvement in medical workflow management. Here are some of the facts that prove how healthcare has changed after the integration of revolutionary technology. Have a look:
The global market of the IoMT segment, as per Frost and Sullivan's analysis, has a value of $22.5 billion. It will soon reach 72.02 billion at a CAGR of 26.2%.
The 'All the Research' suggested that the global IoMT market had a value of USD 44.6 million in 2018. It is predicted to reach USD 254.6 million in 2026, increasing at a CAGR of 24.4% during the forecast period (2016-2026).
A study by the Business Research Company states the global healthcare devices market will grow at a CAGR of 6.1% from 2021 and reach $603.5 billion by 2023.
A report by Statista states that the digital medical market can reach around 660 billion dollars by 2025.
As per Aruba's research, there are six in ten healthcare organizations that are already making use of technology-based medical devices. Out of these, 64% are IoT through patient monitors and 41% are X-ray/imaging devices among the chief devices connected to the network.
How are the Popular IoMT Devices Aiding the Medical Industry?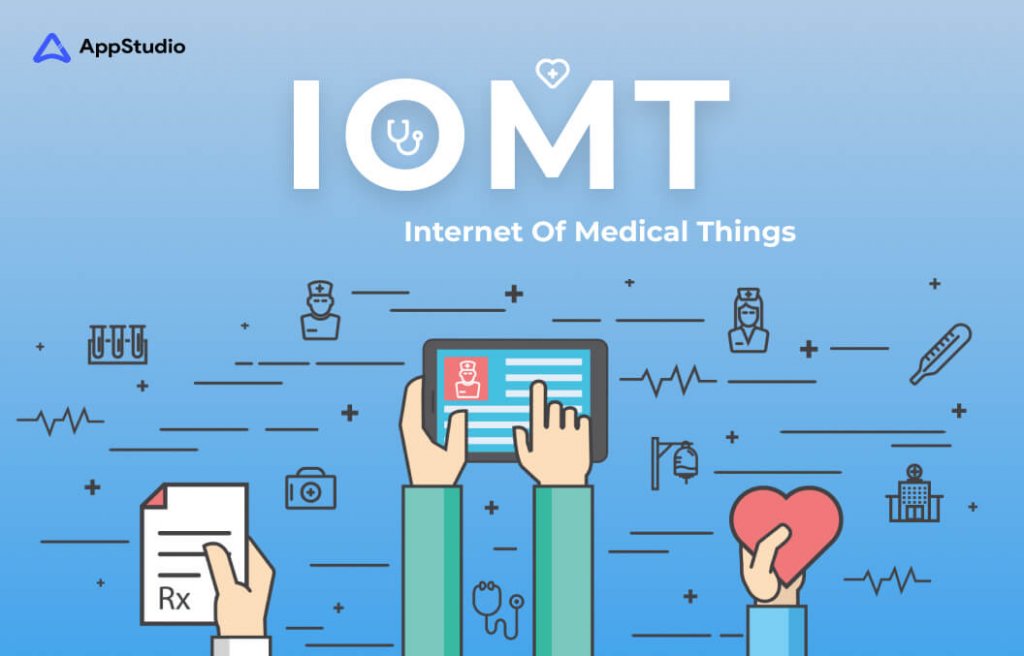 The market for Internet of medical things applications encompasses smart devices like medical monitors, kiosks, wearables, telehealth, smart pills, etc. As per a report by Deloitte, the medical technology available in the IoMT market currently exceeds 5,00,000. These technologies are offering enhanced outcomes to patients, healthcare providers and the entire medical sector. Here are some of the IoMT devices aiding the healthcare sector:
1. Remote Patient Monitoring Devices: This is a big aid to the doctors as well as the patients. Healthcare app development companies build powerful applications and software to facilitate real-time patient monitoring, quick remote medical assistance and conducting effective treatment processes. The IoT technology also enables the building of devices like smart inhalers, pacemakers, blood glucose monitors, and many more. Remote patient monitoring devices have aided patients to receive treatment from the comfort of their homes. Meanwhile, the doctors collect essential telemetry data like heart rate, blood pressure, glucose levels, breathing quality, calorie intake, etc. Using these devices streamlines the diagnostic processes and saves substantial time and effort.
2. Fitness Wearables: Fitness wearables are swaying users with consumer-grade tracking devices that help in storing, transmitting, and analyzing the user's physical activity by leveraging sensor technologies. The commonly popular fitness wearable devices are smartwatches, smart shoes, and wristbands. These devices are perfect for tracking fitness goals, training, workout sessions, napping, and much more.
3. Smart Pills: Smart Pills are fundamentally medicines infused with digestible sensors to keep track of how the patient's body is reacting to the consumed medication. These sensors get automatically activated as soon as they reach the stomach and transmit the data to the wearable patch that is attached to the patient's arm.
The data then goes to the smartphone application that medical professionals can access and analyze via a common network. The FDA has approved the sensors and they are safe to be discharged through the patient's GI tract.
5. Point of Care Device: These IoMT devices are taking the healthcare sphere to the next level. The Point of Care Device facilitates patients with a seamless self-serving diagnosis experience and evades the need to visit hospitals repetitively. These versatile devices help users learn about multiple health conditions. It is helpful in testing glucose levels, pregnancy, diagnosing infectious diseases, and used for preliminary or in-house treatment.
6. Clinical Monitors: These ultra-modern clinical monitors assist in analyzing the vitals of patients and then storing them digitally in Electronic Health Records (EHR). This vital data can be then uploaded to the cloud and used for future consultation sessions. These clinical monitors pose a great aid for healthcare professionals to optimize their operating processes. One of the best examples is the digital stethoscope that records heart sounds and transmits them to the respective mobile apps.
Wrapping Up
IoMT has made it possible for patients to receive treatment in the comfort of their homes. Moreover, healthcare professionals are highly assisted with sensor-integrated medical devices to know about the status of any patient by tracking, analyzing and treating them remotely. At AppStudio, we have a team of experienced tech professionals who have left no stone unturned in offering exemplary healthcare app development services.
We offer futuristic IoMT-based services like EHR & EMR software development, medical web design & development, remote monitoring software, medical practice management application, pharmacy management application development, revenue cycle management software, and much more. If you are a healthcare establishment, a top app development company AppStudio is at your service. We help you in integrating feature-rich applications to offer a seamless user experience. Our healthcare app developers ensure security and compliance by adhering to HIPPA and GDPR. You can connect with our team to know more about services and the healthcare industry's overview.
Frequently Asked Questions
Q.1 What Process Do You Follow For Integrating Healthcare Software in Our Medical Establishment?
At AppStudio, our healthcare app architects follow a fine tuned structure for app development. It is an intricate step-by-step procedure that majorly includes – Discover, Strategizing and Architect; Design and Prototype; Development; Quality & Assurance and Testing, Scale and Measuring.
Q.2 Will You Involve My Team in the Healthcare App Development Process?
Yes, we involve our clients in our seamless app development process to have a view of the app development's progress. We employ agile techniques that divide the app's development life cycle into several sprints. This enables everyone to have a clearer view and you can share your valuable feedback.
Q.3 What Does Your Healthcare App Development Team Comprises?
AppStudio is an end-to-end healthcare app development company encompassing highly proficient and experienced tech professionals. We have design architects, system engineers, project managers, senior technical project managers, technical leads, a Q&A team, and deployment & cloud architects who will spare no effort in delivering nothing less than perfection.