"The sweat is the footprints towards a better you!"
This random quote on workout is likely to motivate you if fitness is your Ikigai and a good diet is an inevitable part of your lifestyle. However, these excerpts about the significance of consistent exercise may not be just as effective for every person. That's where fitness and diet management apps come into the picture.
Fitness, for some people, is a matter of indecisiveness while some people deem it an essential lifestyle choice. But many diet and exercise platforms have come a long way in influencing people around the world to take their health more seriously. Many apps have their distinct user base, but MyFitnessPal tops them all in terms of popularity and reach.
In this post, we are going to talk about MyFitnessPal and how its various functionalities led to the title of Canada's most-used fitness app. We will also explore how this diet and workout application managed to attain a massive user base worldwide with some of the best features for exercise and calorie management.
Let's begin with a quick history and app overview!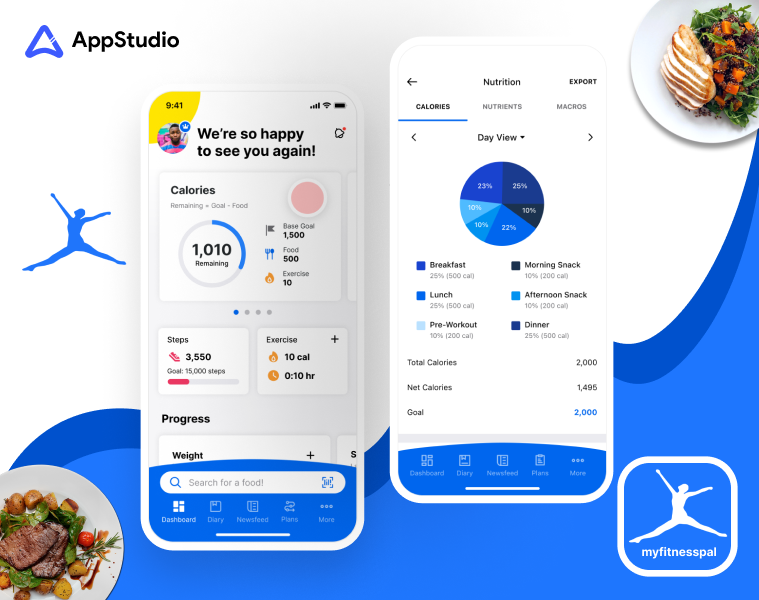 Image source
https://play.google.com/store/apps/details?id=com.myfitnesspal.android&hl=en_IN&gl=US&pli=1
MyFitnessPal – How Did It Start & Where Does It Stand Now?
Available for both Android and iOS devices, MyFitnessPal was brought into the market in 2005 by the Lee brothers. It was initially designed to count calories and track the user's physical activity. Here's how the journey has been for one of the world's most used fitness and diet management mobile apps:
2005 – Creation and launch by Mike Lee & Albert Lee as a generic physical fitness platform.
2015 – Acquisition by Under Armour. Lee brothers accepted a deal of $475 million from the athletic apparel giant Under Armour. At that time, the platform already had 80 million application users. After the acquisition, its new company decided to add a few more features and provide them in the premium subscription.
2017 – Lee brothers departed from this platform to work on more projects that could deliver the same impact among the audiences.
2018 – MyFitnessPal made news after 150 million user accounts were hacked. It was stated that the matter came out as a data breach initially, but it was a much more severe problem. The company somehow managed to overcome this ill fame and persevered through the notoriety.
2020 – The globally acclaimed fitness platform was acquired by Francisco Partners via a $345 million deal.
2021 – After being acquired by a private equity firm, this physical fitness tracking app collaborated with Sprouts Farmer Market. This partnership helped the mobile app expand its territory in the healthy eating domain.
In addition to calorie consumption and exercise log, the app now offers access to some healthy diet ideas and quick recipes. By the end of 2022, MyFitnessPal had more than 200 million application users. If we look at Android downloads only, there are over 100 million worldwide users currently using the platform.
Image source
https://apps.apple.com/us/app/myfitnesspal-calorie-counter/id341232718
Industry Stats that Justify the Supremacy of MyFitnessPal in the Market
People living in Canada and the United States prefer MyFitnessPal over other platforms as it has the largest database that simplifies food logging. The mobile app is the frontier of fitness tracking platforms, but this is not the primary component behind its popularity.
From 2015 to 2022, the platform obtained a gigantic database of healthy recipes and the number of calories in various foods. Users can simply mention the food or scan a bar code to log what they eat. Some stats accurately justify the ascendancy of MyFitnessPal. Some of these stats are given below:
There are over 1,00,000 health and fitness apps collectively on App Store and Play Store. Currently, the market value of this booming industry is more than $96 billion and is expected to grow more by 2030.
2020 saw a sudden surge in the popularity of fitness apps bringing the market to $1.1 billion. With a CAGR of 17.6%, it will continue to expand exponentially.
World's biggest publications including Forbes and Time Magazine have stated that MyFitnessPal is the most effective weight loss mobile app in the market.
The app is available in more than 15 languages covering Danish, Polish, Japanese, and Filipino. At present, the app is actively being used by 200 million smartphone users.
MyFitnessPal has managed to consistently draw a revenue with 50-60% increase every year. In 2016, it made $51 million after formulating a premium subscription plan for its users. In 2021, despite the 2018 data hack, the application thrived and made $171 million in revenue.
Despite the presence of prominent competitors like Strava & Fitbit, MyFitnessPal has remained the most preferred fitness and weight loss management mobile app in Canada and other nations.
Top Features of MyFitnessPal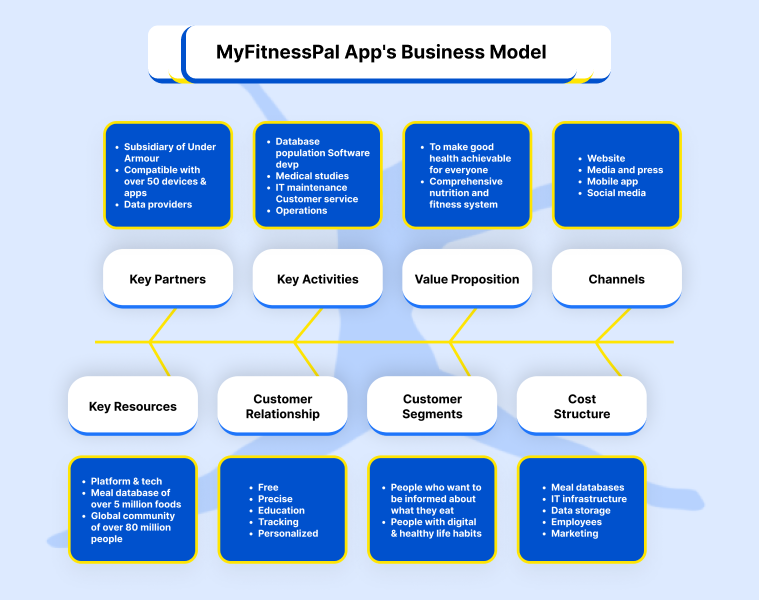 1. Basic Features
After registration, the app suggests an everyday net calorie goal as per the weight loss target.
Users log their daily meals and details of exercise in the application. Based on that data, the app calculates the total amount of calories you have left for the day.
According to your daily calorie consumption and exercise record, the app tells you how far you have reached your weight loss goal.
This app stores the food information you add. Thus, you don't need to refill this information repeatedly. The app will retrieve the data based on prior submissions.
In addition to this, fitness seekers can also easily update their nutrition goals on the mobile app and receive recommendations.
2. Premium Features
Detailed food analysis – The extensive assessment of calorie consumption on the mobile app lets you analyze the right food while highlighting the edibles that may be affecting adversely your fitness target.
Macronutrient setup – MyFitnessPal not only lets you log your food consumption but also keeps a close watch on macronutrients.
Goal customization – You can conveniently customize your weight loss and fitness goals on the mobile app while changing your meal information.
Home screen dashboard – Premium MyFitnessPal users don't need to tap on the mobile app to check nutrients and exercise goals. They can add the dashboard on the home screen and check the data instantly.
Data export – MyFitnessPal is one of those responsive and compatible platforms that let you connect to other applications and wearable devices hassle-free.
Custom calorie goal – You can customize the log of meals on the application and set new goals daily, weekly, and monthly.
Fitness Plans – If you have an upcoming event for which you need to get fit, the app can offer a relevant fitness plan with a workout regime.
Recipe coaching – You can explore healthy recipes that don't encompass calories and can be prepared easily using simple ingredients.
Meal barcode scanner – MyFitnessPal users can use a barcode scanner integrated into the application and assess the number of calories in packaged food.
Intermittent fasting – You can also make adjustments for intermittent fasting and check your progress over the period.
Workout regime – App users with premium subscriptions get access to workout content. This feature is available only for those who use the platform in the English language.
Food timestamps – Android and iOS users can analyze on MyFitnessPal how their meals are affecting their energy levels and workout impact.
You can enjoy all these benefits of MyFitnessPal ad-free with a premium upgrade!
Build Your Own Fitness & Personal Care Brand with AppStudio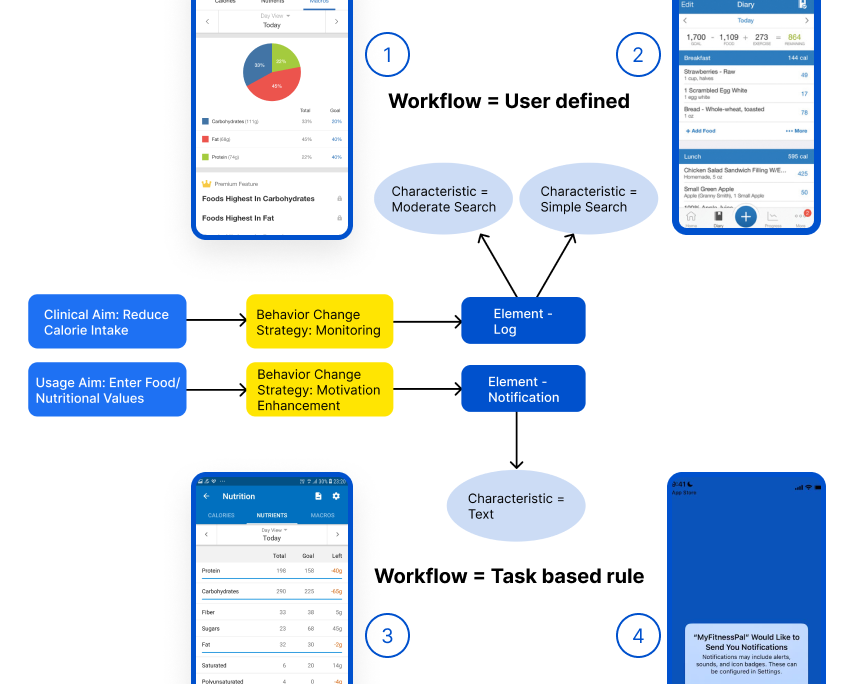 Do you know what made FitnessMyPal the most preferred fitness & nutrition mobile app in Canada and overseas? An idea that evolved with the strategic implementation of digital technologies. A system that Mike Lee built for his own health goals turned into a highly efficient and full-fledged nutrition tracking and physical fitness application.
If you have a similar idea for a fitness venture, you must know that an app like this will need an approx budget of $20,000 – $80,000. The maintenance and scalability costs depend on the type of agency you hire for app development. Moreover, the suite of features similar to that of MyFitnessPal might result in additional integration and third-party customization charges.
You can also consider partnering with AppStudio for custom fitness, diet, & nutrition app development services. Our technology experts who acquire prior experience in the niche can prepare a budget estimate for your personal care mobile app. In addition, we also help you choose mobile app patterns such as native and cross-platform applications.
Not only do we create a transparent application design roadmap, but we also ensure to engineer a digital product that can stand out with its impeccable performance. To learn more, get in contact with the AppStudio team today!