We have been entangled in a hectic lifestyle in the quest to live a superfluous life. While people go the extra mile for their jobs, businesses, families, and acquaintances, they tend to ignore their health. It becomes daunting to specifically take time to follow a fitness regime or watch out for a healthy food routine. Thanks to the advent of several apps for health and fitness that empower people to focus on their health in the hustle and bustle of life.
He who has health, has hope; and he who has hope, has everything. – Thomas Carlyle
The health, wellness, and fitness applications bestow health enthusiasts to keep up with their lifestyle routines. Everyone can easily manage several factors that induce potential diseases. While Fitbit, health bands and other health-monitoring devices are already swaying users with their novel features, there are some splendid health tracker apps that everyone would want to incorporate into their daily schedule.
BBeing a premier android application development company, we are deeply aware of the dire need for health and wellness apps. These applications will not only assist the end-users but would also be a great app idea for business individuals. If you are an organization dealing with the healthcare and medical sector, here are some useful health tracker app ideas to integrate into your business and witness the highest yields.
List of Some Amazing Apps for Health and Fitness to Integrate in Your Business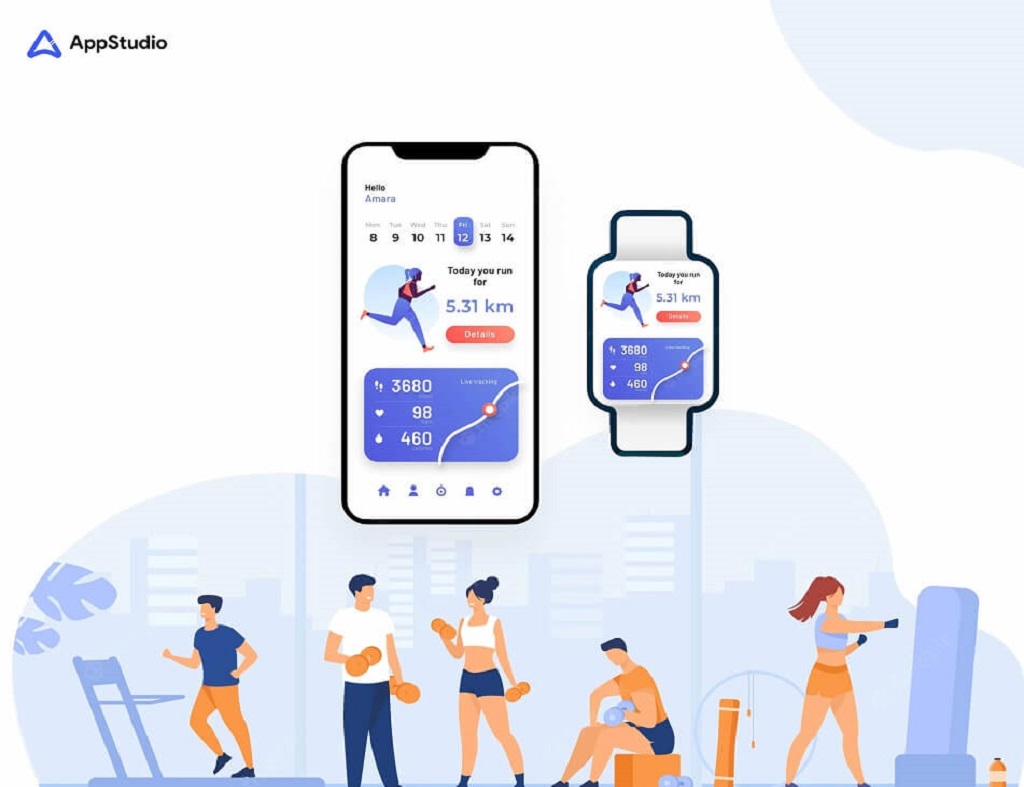 HealthTap App: The HealthTap app is a famous telemedicine app that enables users to consult healthcare professionals virtually. This eliminates the hassle of searching through the list of numerous doctors on Google. Patients receive 24/7 accessibility to prompt medical assistance and medicines via this app from their phones and tablets. The patients can receive a cure for treating ailments like pain, allergies, pain, multiple aches, and even resolving their cardio, carbs, and cholesterol problems by using a virtual appointment as per the schedule displayed in the app. HealthTap app is swaying users with its distinctive features and health benefits offerings. This is evident with the 1,000,000 downloads and a 4.4-star rating on Google Play and the Apple app store.
Nudge App: Make way for one of the best free health apps for android and iOS phones! Nudge app is an online health maintenance platform enabling individuals to connect with the finest coaches. These mentors possess hands-on expertise in making people meet their desired lifestyle changes. The personal trainers and athletes mentor fitness enthusiasts to bring a drastic change in their lifestyle via modifying day-to-day activities like eating habits, weight training level, body shape, performing yoga, essential foods products to consume, and making them prepared for life challenges and tasks.
Moreover, this daily health-providing tips app is easily compatible with third-party applications like Garmin and Withings. Users can know the overall performance and health data for 30 days. Nudge app is a fine example of fitness and health app development with the ability to track distance, sports activities, heart rate, and much more.
Fitbit Coach App: With over 1,000,000 downloads, this Android and Apple health app is one of the most sought-after fitness tracker apps for android phones and iOS devices. The users can enjoy dynamic workouts with the constant tracking of their fitness goals. Other physical activities, like running, weight training, jumping, yoga, dodging, etc., are tracked by this Fitbit Coach app. Moreover, this app suggests some healthy products and offers customized guidance via workout videos and advertisements. This multilingual application supports French, English, Portuguese, and German.
Lifesum App: Lifesum app is your one-stop destination to receive a food profile, diet plan, calorie counter, macro calculator, and healthy recipes under one head. Moreover, Lifesum also educates its users about the smallest of wrong habits, even while eating out in restaurants. Know about consumable food, dairy products, setting a card, and much more. Know about consumable food, dairy products, setting a card, and much more. Make a huge difference in people's lives by integrating this comprehensive health app for iPhones and Android devices.
With over 40 million users, this app is linked with Google Fit Health and collaborates with the overall fitness data. Lifesum also includes in-app deals, making users go gaga on the exciting deals, eventually boosting engagement and customer retention rate. Hire android app developers to create an all-inclusive application like Lifesum.
Noom App: Being the leading nutrition and one of the best health apps for iPhone and Android devices, the primary focus of the Noom app is to induce weight loss. This app meticulously plans a customized plan and service as per the needs of an individual. For example: If a person wants to update their existing diet plan, then the Noom app will help them to know about vital components like protein consumption, consuming other nutrition-enriched products, and knowing the body's vital needs for vitamins and minerals. Whatever the person's weight, this app will give solutions accordingly. With over a massive 10,00,000 downloads, the Noom app is on the top with more than 4-star ratings on both Google Play and App Store.
Headspace: Being one of the best iOS and Android apps, Headspace comes in handy for people having trouble managing stress, sleeping issues, and anxiety. This health tracker app is an amazing go-to option for individuals seeking SOS meditation options to calm themselves down and have a peaceful time. With around 10 million downloads, Headspace is a brilliant offering of custom iOS app development services. Individuals can find mental health aid in this app by availing numerous options including real-time stories, mindful music, expert gym training, specialist advice service, and more. People can subscribe to it for $12.99 per month and $69.99 per year. Headspace also offers other mindful programs like running, strength training, biking yoga, Tabata, jumping, jogging, etc.
Winding Up
Healthcare and fitness apps are tremendously aiding people of all ages. Be it the elders or the young generation, using smartphones to schedule appointments, meet the doctors and connect with pharmacies has become inevitable now. Fitness apps have also become an imperative part of everyone's schedule, apart from these vital activities. Thus, it is a perfect investment to make if looking for ways to expand your business. Get on board with the top-tier web and mobile app development company AppStudio to witness robust, scalable, and secure app development solutions. We have aced the game in building next-gen medical, fitness, and wellness apps for both Android and iOS devices. We leverage the power of state-of-the-art technologies, tools, and tech stacks to build digital products that assist users tremendously.
Frequently Asked Questions
Q.1 Where can I hire health and fitness app developers?
AppStudio, a leading custom mobile app development agency, is your best bet for hiring health and fitness app developers. We offer an array of healthcare and fitness app development services across the globe.
Q.2 What are some famous healthcare apps?
Headspace, Noom App, Lifesum app, HealthTap app, Fitbit coach, and Nudge app are some of the most popular applications topping the list of best health and fitness apps. If you wish to create apps similar to these, connect with us immediately.
Q.3 What technology do you use for building health and wellness apps?
At AppStudio, we diligently build impeccable web and mobile apps that seamlessly blend with your business model. We use the finest technologies and tools to render high-performing and error-free apps.