Apps help simplify life in many ways. So it may come as no surprise that you can use iPhone & Apple Watch apps to achieve your New Year's resolutions. We think it's likely many of you will be managing money, eating healthier. Also, exercising, or starting a new hobby somewhere on your 2021 list.
With that in mind, we've put together a collection of apps to help you with your New Year's resolutions. We hope they help you to keep your resolutions on track from the very beginning.
New Year's Resolutions With iPhone Apps: How to Achieve Your Goals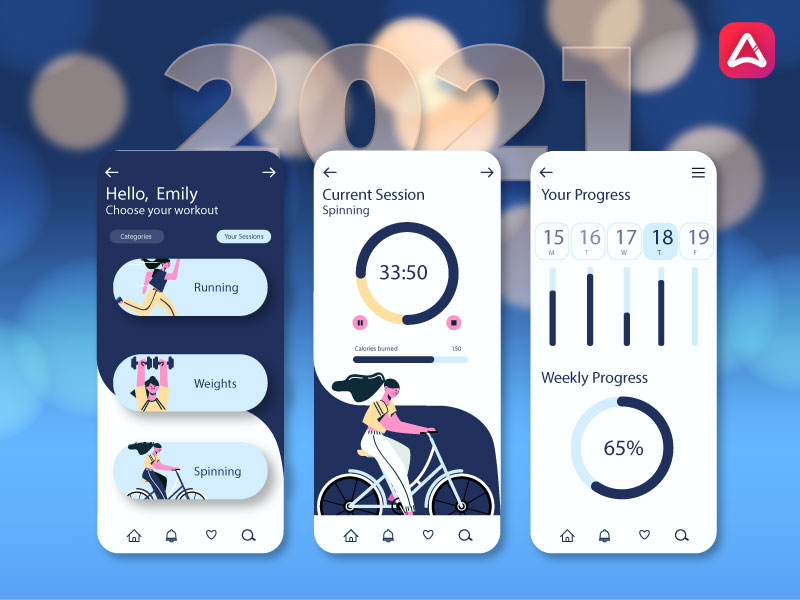 The iPhone and Apple Watch can be great tools to help you stick to your bigger goals in the new year 2021. Below we'll take a look at some great apps for reaching your New Year's resolutions with the iPhone and Apple Watch.
Habit Tracker
The new year is a great time to cultivate new habits that can add value to your life, be it a fitness regime, reading, saving money, or something else. Way of Life is a one-stop habit tracking app that will help you decide and keep track of all the habits that will make your year better.
There is a simple and intuitive interface plus a short tutorial that guides you through using the application. Track your daily habits with one quick tap, then see your progress over time. As per a trusted mobile app development company, it offers many other features such as reminders with flexible scheduling, custom messages, etc.
Habit Streaks
Habits are things you don't realize you're creating until you suddenly have them. Habit Streak aims to make you more aware of the two. Also, it keeps you on track to reinforce the good and throw out the bad.
Regardless of what you're trying to do, whether it's staying fit, reading further, learning a new skill, or doing anything. It takes more than a day, also, you can report on your activities and build a chain of habits. At first, you don't want to see your hitting end, but it eventually turns into a routine like anything else.
QuitNow
The past year has taught us how important it is to take care of our health, and smoking is a significant prohibition. The best decision you can make for yourself and your loved ones is to quit smoking, and here is an app that promises to help.
This breaks down the lofty goals of quitting smoking into actionable tasks and connects you to a supportive community. It helps you celebrate every step you take on your stopping journey and strengthens you with reminders.
Apart from that, it offers a health indicator from WHO to explain how your body improves after you leave tobacco. It is specially design to help you stay motivated to break bad habits. Talking about fitness, so let's learn about Apple Fitness+: all about the future in your space.
Digit
Finances are a whole area that you should be in control of every year, and this app is an excellent resource to help you do that. You can set your financial goals, such as saving, and Digit will help you make it happen.
It analyzes your expenses and income to find what you can save and then directs you towards creating or achieving your goals. It also monitors your check balance and helps you avoid overdraft fees when necessary. Furthermore, you can invest in your dreams or retirement years by letting it match you with a portfolio that fits your abilities.
It also helps you find the right IRA account for tax-profitable retirement savings. It is like having a personal digital finance assistant for free.
Recap New Year's Resolutions With iPhone & Apple Watch Apps
We know all of you are trying to remember that what matters isn't the tools you use to track progress. A leading iPhone app development company states it's really about being consistent with the daily actions taken to create new habits.
Apps can be part of achieving New Year's resolutions with iPhone & Apple watches, and the apps mentioned above are great. But clarity, accountability, incentives, and follow-up will make a real difference. Cheer for the new year and achieve your goals!
Summary
We are the best Apple watch app developers in Canada, Toronto, and worldwide. Our iOS app developers have expertise in developing innovative apps. We are also known as a leading app development agency and provide excellent app development services worldwide.
As above, we discussed the top iPhone and Apple Watch apps that helped achieve a new year's resolution. After reading an entire article, you will encounter any issue, contact with iOS app development team. Our team of developers will assist you with the best of their knowledge.
Enjoy A Great Year With These New Year's Resolutions Apps!
Even though you can start a new habit at any time, the beginning of the new year has a specific fresh energy that supports and inspires you to be better. This New Year's resolutions app is a handy companion that can make a difference if used properly. So, comment below. We want to know what do you want to achieve this year? Appstudio wishes you health and happiness in everything you do.
Check Out :
iPhone App Developers in Canada
HealthCare Application Development Agency
What's the Yoga App Development Cost in 2021?
Mobile App Developers Company in Canada
Incredible Apps for Health & Fitness