Salesforce had grown to be more than anything we could have imagined when we first conceptualized it. Having a robust yet efficient CRM system continues to be standard practice in all areas. In a dynamically evolving organization, a relationship management platform becomes essential if trying to remain competitive.
More than 20% of high-performing small business service teams are already using predictive analytics in line with this trend. Let's examine some of the benefits of choosing a sales force for your business in 2021:
What is Salesforce?
Salesforce is a cloud-based CRM software that helps your business grow into a leaner, more effective, and efficient organization on all bases. Having been on the market for a long time, Salesforce has become one of the comprehensive and most innovative CRM solutions. Apart from that, it is capable of fulfilling all your business needs.
How Does Salesforce Prove Helpful?
Salesforce is one of the most popular CRM solutions available on the market. Salesforce app development is a one-stop solution for various tasks related to customers and businesses such as lead generation, data management, increasing sales. Also, it helps in creating events and campaigns, tracking customer life cycle, better customer experience, etc. Despite this, if you want to know more about how salesforce can be advantageous for small businesses, stay tuned and move to upcoming segments.
Benefits of Using Salesforce For Small Businesses in 2021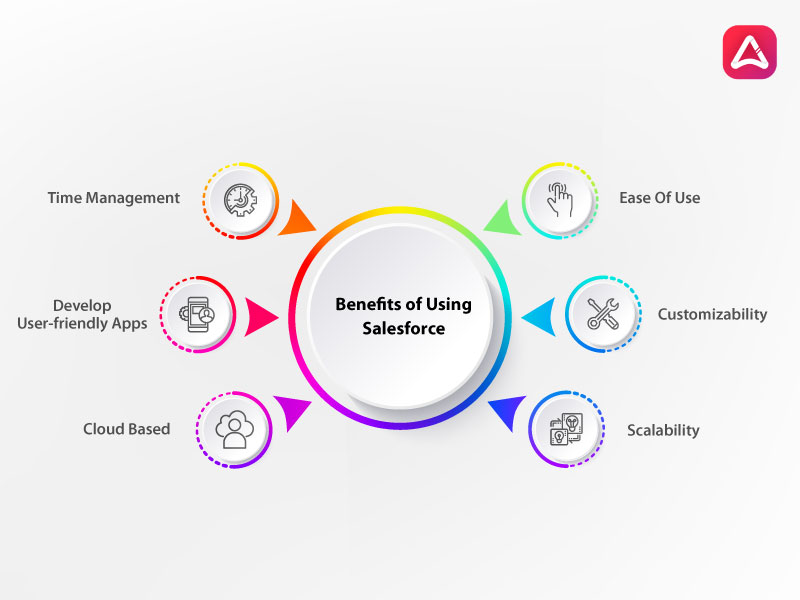 Here are some of the benefits of Salesforce that permits you to transform your customer handling process and enhance your business.
Easy to Use
This is one of the main benefits of driving the adoption rate of Salesforce. Sales Representatives have better visibility into accounts, opportunities, contacts, tasks, all from one place. They have an entire view of the customer, which helps them close deals faster and make better business decisions. It's easy to navigate between modules, and you can collaborate with your colleagues too.
Customizability
Highly customizable is another area where Salesforce scores significant brownie points among its competitors. While most requirements can be handled via configuration. However, there is sometimes a need to add/expand existing functionality to reflect your business needs accurately. For Salesforce customization, technical expertise requires on Visualforce pages and Apex Code. For many users, Salesforce's greatest strength is its customizability – integrating your applications, custom fields, third-party Salesforce extensions, objects, etc., To provide you with a complete solution.
Develop User-friendly Apps
A Salesforce consulting firm with expertise in Salesforce Development can help you create custom applications to meet your company's various business needs. However, from process automation, data analytics, and regulatory compliance to new product development, customer support, and enhanced collaboration. A leading mobile app development company states the multi-tenant platform, cloud-based architecture, and enhanced integration features. Moreover, it allows you to create solutions that define your business's success.
Scalability
When you choose a CRM system for your business, you will not only make the decisions for today. But, the solution must also be scalable enough to meet the needs of your business years later. Salesforce is highly scalable, and its customization factors help to adapt and modify to all future specifications.
Time Management
With comprehensive customer information and lots of planning resources, you naturally benefit from effective time management. You have all the information you need to prioritize work for your clients, and that means you can also organize tasks for different accounts according to the same criteria.
Along with that, you can use the built-in calendar tools to visualize better your schedule for the year, month, and day. That means you can keep on the ball through all the steps of maintaining your potential advantage.
Cloud-Based
Salesforce takes flexibility to the next level. You can use it anywhere and anytime. It has pioneered a secure and advanced cloud infrastructure and offers unmatched cloud solutions for Sales, Analytics, Marketing, and Support.
Use the Salesforce CRM System for Organizational Growth
From sorting through emails and forwarding them efficiently, to automatic management of the databases associated with each client, CRM systems are essential for organizations to grow and maintain efficiency. Regardless of which sector a company applies to, a platform like Salesforce CRM helps maximize efficiency at a scale that wouldn't be possible without it.
Because all data is centralized and always up to date, new employees can pick up and work right where they were before. In addition, with middle layer applications, clients in an organization can work directly with staff, helping to shorten communication gaps and minimize lost share of the conversation. Excelling at these tasks is why Salesforce is known as an eminent CRM Software for Small Businesses.
Is Salesforce Good For Small Businesses?
The platform benefits don't end here, but they are limitless when you deploy and configure them. You need the right Salesforce consulting service to help you take advantage of Salesforce customization and configuration.
There are expert Salesforce consultants who provide ready-made business solutions to take your business to a new level. With so many benefits, Salesforce is your best implementation partner for growing your business while maintaining effective relationships with your customers.
So, if you want to increase customer retention rates and increase your business, contact Salesforce team, who will help you through this and build a Salesforce-based SaaS application that fits your needs best.