Augmented reality is still somewhat exotic in the IT world, although there are already many products available of AR. Not surprisingly, the list of the best augmented reality companies has to be short, when you have a short list to choose from.
Therefore, a large number of people are looking for a trusted app in the augmented reality market to resolve the issue such as how to choose the best AR development companies in 2020. After considering it, we have come up with this flawless write-up. Here, we will disclose multiple things to consider before selecting the best AR development company.
Simply, move forward to the upcoming section, where you will get to know more about AR. Let's start:
What is Augmented Reality?
If reality is found with overlays retrieved from the Internet or from a corresponding database. With an Internet-enabled device, usually a cell phone or tablet, an object is the target in the real world. This object can be recognized by the GPS function of the cell phone or by QR codes or special barcodes.
The associated data is retrieved from the Internet and displayed on the device screen. Technology is used in various ways, whether in the construction of industrial plants, in technical service, or in the sale of consumer goods.
After understanding all the major or minor things related to AR. Most of the people start searching for proficient AR app developers. So, move further to know about this in depth.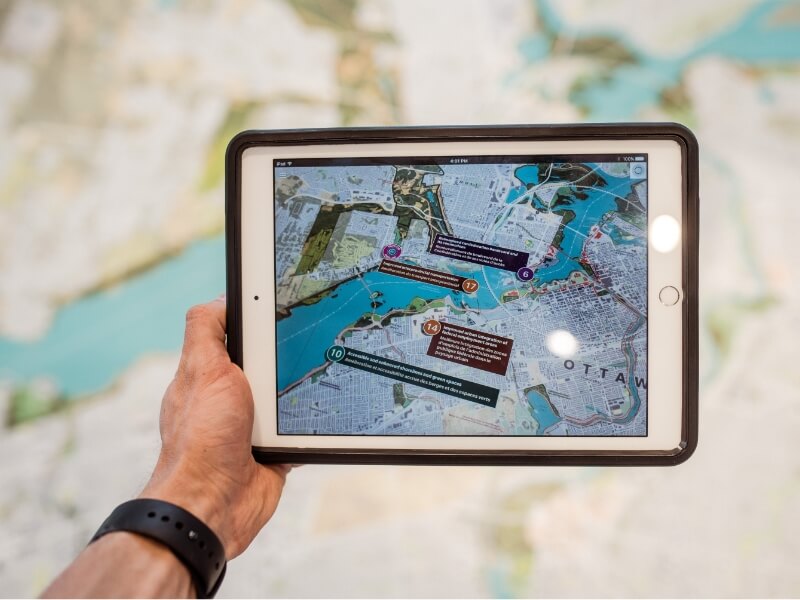 What Are the Types of AR Applications?
AR mobile application development consists of two distinct types. Initially, you have to decide which one makes the most sense for your business.
Based on markers
Augmented reality marker-based applications use device camera image recognition technology to detect markers or patterns. Once that happens, the app superimposes digital information on the marker. The orientation to AR objects depends on the positioning of the marker.
Based on location
Location-based AR applications use GPS and other position detectors, such as digital compasses or accelerometers. They can detect your location and create augmented reality images that you can interact with. You can view instructions through location-based AR mobile apps.
Projection Augmented Reality
Projection-based AR applications are using advanced projection technology that can be used to simplify complex manual tasks that could be part of the manufacturing process.
Super Imposition Based AR
This type of AR completely or partially replaces the original view of an object with a specially enlarged view of it. You can see a component in real life, but when you apply AR overlay, you will see that same object instead, but dramatically different.
How to Choose Best AR Development Companies in 2020 – Top 10 Ways
If you want to create an AR app then, you are probably at the stage of choosing the best augmented reality developers. But, before proceeding further, read the below-mentioned a few things that you need to consider.
1. Find out if the provider works with companies your size.
2. Precisely explain your budget for the app development project.
3. Check out that the provider is flexible to expand or reduce your equipment based on project requirements.
4. You need to check out if the provider is flexible to expand or reduce your equipment based on project requirements.
5. Ask about the communication channel of the provider's team. For example, does the team follow an agile methodology? Is it based in your country or abroad? Is the team working on your AR development accessible?
6. Check if the provider team says no to impractical demands or deadlines. Because, the professional developers will always tell you when your demands are unfair and guide you through several aspects of the development procedure properly.
7. Determine what exactly you need design services and an AR development company provides those services.
8. Clearly understand the different components of AR application development cost. Does the seller work on a fixed price model or on a time and material model? Are there consistent hidden charges?
9. Explain your goals and what you need to achieve. Therefore, it has values to compare with and you can combine the specialities necessary to meet those goals with the services offered by the provider.
10. Find out whether the provider is available for long-term support, technical consulting and training, and similar maintenance services or not.
What's Next?
After considering all the above-stated points now, we would like to let you know about an app development company named AppStudio. Selection of this AR development company experts is the perfect choice. Because its team of professionals offers a comprehensive service for creation.
Additionally, they have many years of experience and also worked with multiple brands, marketers, creative agencies, and entrepreneurs to produce a world-class Augmented Reality application.
Plus, it can deliver outstanding results in minimal time. So, get in touch to start your next high-performance AR application development project.
Final Words
That brings us to the end of this detailed coverage of the leading augmented reality company. Above here, we have laid out how to choose the best AR development companies in 2020.
In case you are looking for Virtual Reality developers, be sure to check the list before making an instant decision.