The three biggest challenges while developing a fintech mobile app are technology stack, financial logic, and user experience. Without a powerful tech stack, the app won't be able to handle user queries and traffic, and it will fail.
Without robust and seamless financial logic, the app won't be able to calculate and derive the numbers, and without an intuitive and immersive user experience, there won't be any engagement and interaction with the users.
With decades of experience in conceptualizing and developing fintech mobile apps for some of the biggest brands, AppStudio is a name to reckon with in this domain. The fintech-centric mobile apps developed by the AppStudio team are top-notch in terms of service quality, range of services, and client feedback.
This is the reason hundreds of businesses and global brands have partnered with AppStudio and trusted them to launch their mobile apps in the financial domain, and edge past their competitors with a delightful user experience.
Unleashing Fintech Ideas: Taxation Made Easy & Seamless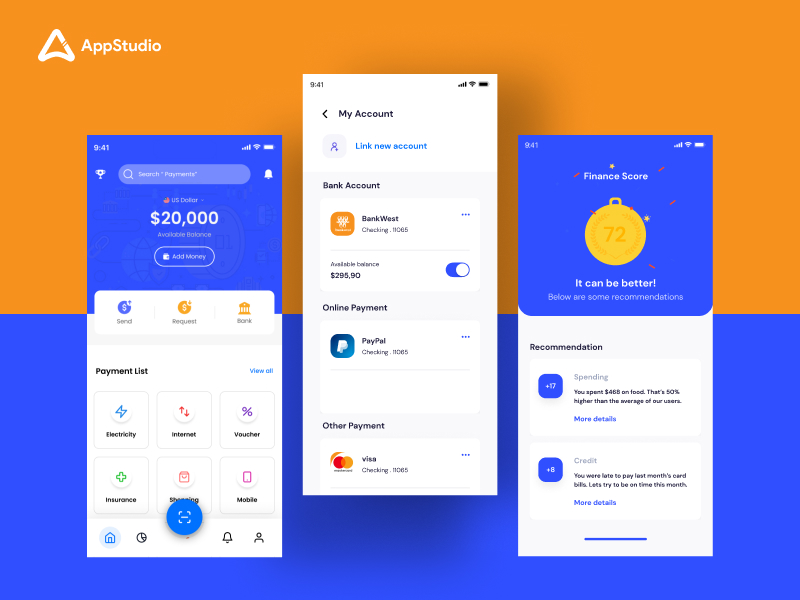 When a leading fintech services provider contacted AppStudio to develop a mobile app that made taxation easy and simple, their team delivered a powerful, scalable, and robust application, which is triggering a financial revolution across US and Canada.
With TaxVolt, a fintech mobile app developed by the AppStudio team, users can seamlessly and accurately file income tax returns, and save their time and resources.
Not only this application completely removes the need for manual work, but it can also precisely calculate the taxes to be paid, and helps the users to e-file tax-related documents, without any hassles.
Fintech Is About Execution & Delivering Precision: AppStudio's Expertise
Fintech mobile application development is about seamlessly executing ideas and delivering precision for ensuring consistent results.
This is what AppStudio did when they developed Settlyt, a next-gen fintech application, which helps friends and acquaintances to seamlessly place & manage bets, with full control and flexibility for both parties.
With this innovative and unique fintech app, AppStudio introduced never seen before deployment of financial logic, and acumen, which created stronger friendship bonds on the foundation of friendly bets and finance.
Triggering Business Growth & Empowering Communities
AppStudio understands that the overall growth and development of society happen when communities and small businesses are empowered.
With this strong conviction and belief, Team AppStudio developed ViewGem, a community-centric application that helped customers discover local businesses and hidden gem deals on food, entertainment, services, and more.
Not only did this app-enabled the users to save more money on every transaction, and introduced them to the most trusted and recommended local businesses, which that in-turn empowered the entire community and ecosystem.
Why AppStudio For Fintech Mobile App Development?
AppStudio has a stellar track record and history of understanding and conceptualizing cutting-edge fintech mobile apps, that ensure:
High-level security of data and transactions
Intuitive and engaging design that inspires action
Personalized and customized user experience
Seamless user journey
Easy 3rd party integrations for enhanced services
Creative alerts and push notifications
Digital payments across all platforms
Money remittance features (if required)
Strong financial logic
And more.
If you have a vision of launching a fintech mobile app, then AppStudio is the team that can help you to materialize your vision, and empower your business to grab a slice of the ever-expanding fintech market.
Click here to schedule a no-obligation, free consulting session with AppStudio Mobile Engineers.