The emergence of blockchain applications has brought a spectacular revolution in the global economy. Be it fungible tokens like cryptocurrencies or non-fungible tokens (NFTs), the financial landscape of online transactions is now mostly encrypted, authenticated and unique. As a result, the popularity of online marketplaces for digital collectibles is winging its way. NFT marketplace, working as a public blockchain platform, is one such system that is soaring high in the current digital dynamics.If you wish to set forth in this market, gain an upper hand by knowing all the imperative details like what are NFT marketplaces, how to create and use them effectively.
You must be amazed by knowing that the most popular NFT marketplace OpenSea witnessed an all-time high trading volume in 2021. It was three times the value of the online game Axie infinity. Furthermore, as per Statista, all the listed marketplaces function differently. Axie Infinity, Decentraland and NBA Top Shot are the sought-after NFT games relying on metaverse or collectibles. On the other hand, OpenSea and Sushiswap perform more as decentralized exchanges, where individuals can easily buy crypto or NFT. Lastly, Solanart and CryptoPunks are platforms specializing in crypto art, unique pictures or artwork enriched with NFTs.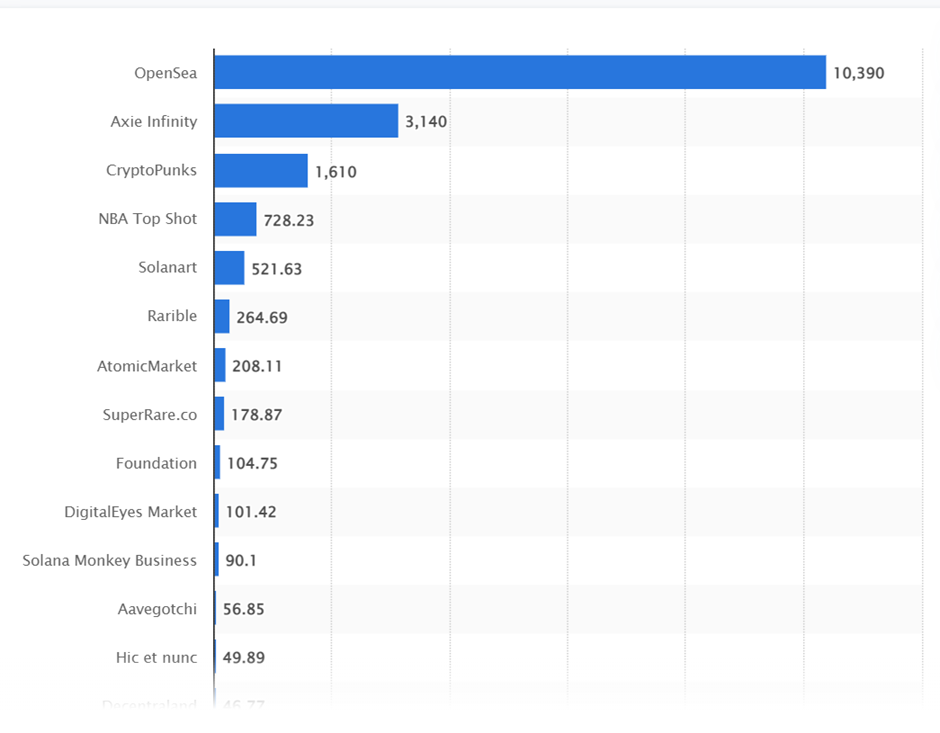 What is an NFT Marketplace?
Simply put, an NFT marketplace website enables the users to create an account, upload digital artworks and make sales. Typically, the niche marketplaces are the most desired compared to the standard ones. This is because they satisfy the clients' needs, specializing in selling online artworks while encompassing a specific target audience.
How do NFT Marketplaces Work?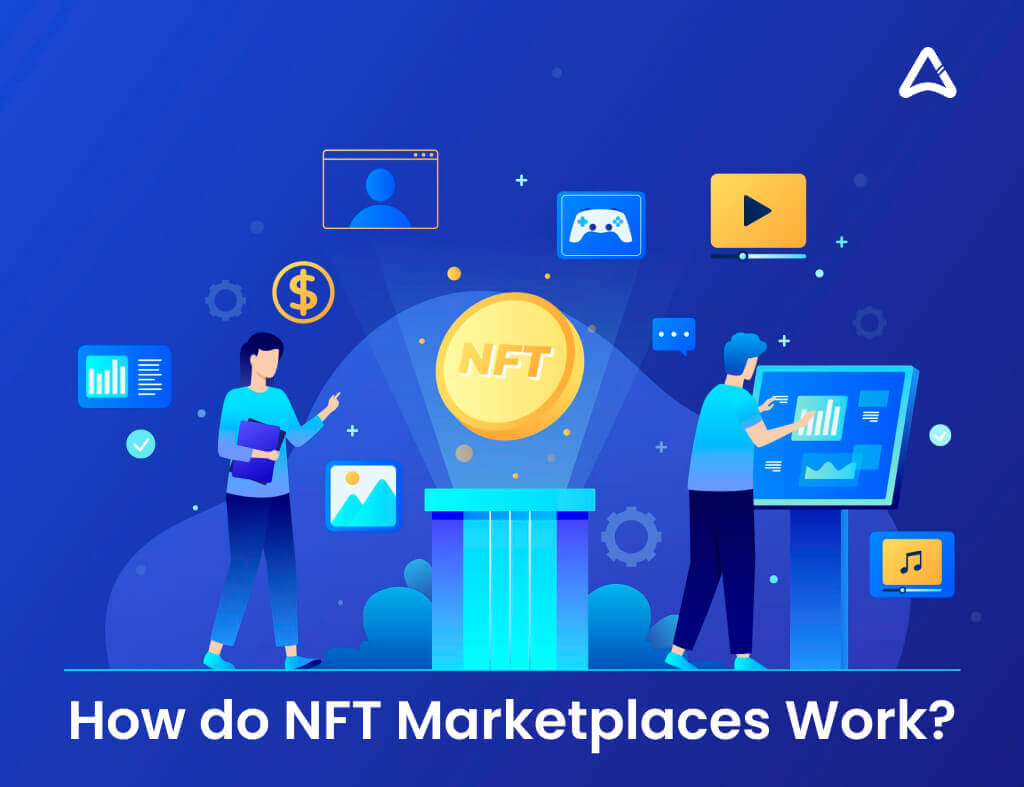 To attain a better functionality of NFT marketplaces, follow the below-mentioned steps:
Create an NFT while aligning with the preferred parameters
Wait for the completion of the moderation once you list all your digital goods for sale

Once the option after buyers will now put their bids accordingly
Once the auctions are complete, the NFT Marketplace transfers all the cryptocurrency and digital products.
An NFT marketplace app or website employs particular transaction protocols, known as smart contracts. The said protocols then maintain the connections between the sellers and buyers. In addition, these smart contracts possess identifying data associated with an NFT. Therefore, the procedure of buying and selling tokens turns out to be user-friendly and hassle-free.
Benefits of Building an NFT Marketplace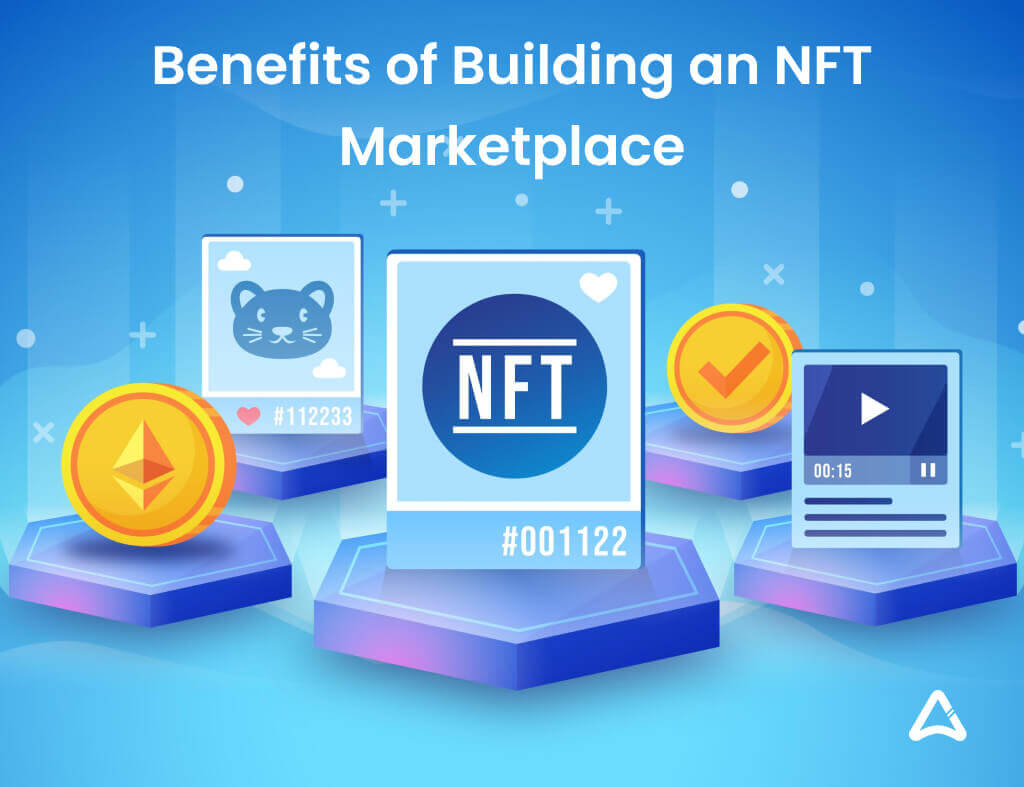 Be it NFT art marketplace or NFT marketplace app, there is so much buzz about this marketplace development these days. This is because of the authenticated model, security strength and ease of processing an NFT marketplace offers. Several renowned blockchain application development companies are always on their toes on providing stellar NFT marketplaces development solutions to bestow the end-users with more significant benefits.
March 2021 witnessed a significant upsurge in sales worth $220 million. It contributed to around half of the all-time NFT sales to that date. Suppose your interest in investing your resources in the democratized economy of NFT is growing. In that case, you can easily create a feature-packed and competitive marketplace by availing of NFT software development services.
That being said, let's now move on to the essential benefits that an NFT marketplace art, website or app offers:
Versatile Development Methods: The scope of growth in the opportunities of NFT marketplaces is high. Once you are intrigued with creating this online platform, you'll find an abundance of diversified platforms to build it on. You can always opt for out-of-the-box ideas while creating a platform and making it personalized, user-friendly and result-oriented for an all-inclusive experience.
Implementing Different Blockchains: Technically, blockchain is an underlying technology behind the NFT marketplace concept. Therefore, one should utilize it by integrating various processes and functionalities in the respective marketplace. You can also opt for using it for data authentication, currency conversion, trading, and even execution of condition-bound protocols.
Product Awareness: Though the concept of NFT marketplaces is exceedingly popular, there is a substantial audience who are unaware of the use and benefits of the same. The questions like how to create an NFT marketplace, its advantages and many other queries can be solved by spreading appropriate awareness. You can encash this opportunity by making more and more people embrace this technology and make it their favorite trading station.
Easy Development and Deployment Process: The development and deployment process of an NFT marketplace can be as simple or complex as any other application type. You must create a comprehensive infrastructure to satisfy the users' demands of buying or selling NFTs on your platform. Moreover, you may also allow third-party integration to empower your users in adding, converting, paying or remitting funds. However, one might need technical help to achieve the said processes.
Revenue-generating Business Model: The NFT marketplace value is rapidly growing while providing you with abundant opportunities to earn your revenues. The NFTs are a renowned, credible, and secure way of harnessing the power of your business capability. Nonetheless, you still need to have a well-planned business strategy and a perfect execution plan to outsmart other contenders in the market. This begins from understanding the precise needs of your audience regarding the type of NFT marketplace they want.
Wrapping Up
These marketplaces are taking the world by storm. With the increasing popularity day by day, it won't be a surprise that the power-packed NFTs will top the digital sphere. If you wish to invest in a dynamic yet revenue-generating online platform like NFT, choose us as your app development partner. AppStudio is the most sought-after blockchain and fintech app development agency indulged in creating best-in-class web and mobile app solutions. We cater to the business needs of diverse verticals by harnessing the power of avant-garde technologies, tools, frameworks and tech stacks. For detailed information, connect with our team, and they will take you through the entire process.
Frequently Asked Questions
Q.1 Name Some Commonly Popular NFT Marketplaces.
Some of the favored NFT marketplaces are OpenSea, Nifty, Rarible, Sushiswap, Solanart, SuperRare, Foundation. Here you can buy and sell digital art and other virtual collectibles.
Q.2 How To Earn Money Via An NFT Marketplace?
There are two ways in which the NFT marketplaces generate revenue. You will witness a deduction of the seller's fee first, followed by an addition of the buyer's fee to the total cost.
Q.3 How Much Time Will It Take To Develop An NFT Marketplace?
It depends on several factors like complexity, features, platforms, tech stacks used, etc. Considering the said factors, it may take approximately 4–6 months for our DEFT team of developers to build a stellar online marketplace platform.