The aftereffects of an unprecedented pandemic induced an immense digital transformation in the healthcare sector. This gained momentum and has bestowed healthcare professionals, hospitals, and patients with several novel healthcare solutions. Telemedicine app development is one such favorable outcome of digital advancements. Evidently, there has been a significant rise in the use of telemedicine apps after the covid-19 occurrence.
Several reports state that the growth of the telemedicine market gained pace in the 2000s and was valued at $49.9 billion in 2019. Furthermore, the telehealth app market is anticipated to reach $194.1 billion by 2023. The end of 2023 will witness a massive surge in revenue of $459.8 billion.
The pandemic led to a significant increase in telemedicine application users, where 82% used these apps for the first time. These figures revolutionized the telehealth sector. A recent study by the Spyglass Consulting Group conveyed that 88% of healthcare providers are inclined to invest in telemedicine apps.
Indeed, the telemedicine market is the best bet for entrepreneurs to invest in. If you want to venture into a flourishing business like telehealth, now is the right time. With a unique app idea and assistance from a reputed medical app development company, one can gain the competitive edge to sustain in the highly concentrated market.
With all that being said, we are here to help you understand the entire telehealth market scenario. From basic knowledge of the telemedicine app sector to know about the technologies used and the telemedicine app development process – know it all with AppStudio.
What is a Telemedicine App?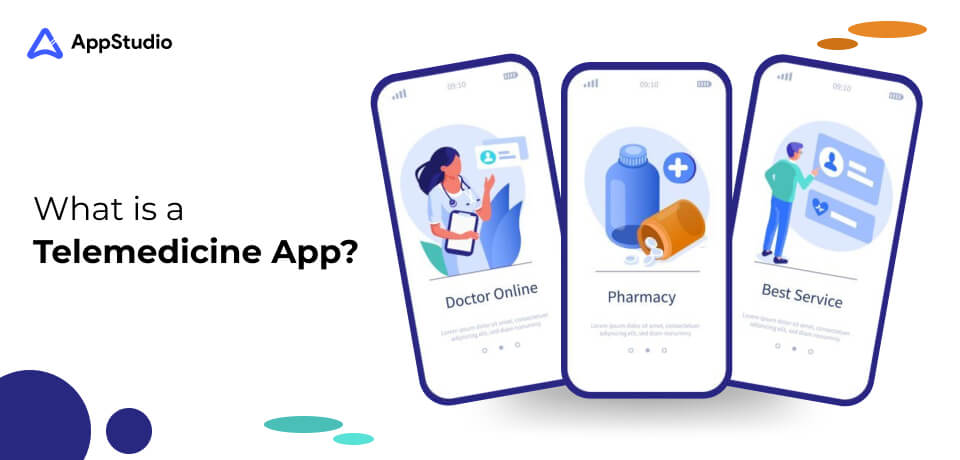 The global lockdown restrictions led by the pandemic induced a situation for both patients and doctors to obtain and provide healthcare services digitally. Telemedicine refers to providing remote clinical services backed up with technological support, enabling the patients to communicate with their doctors and vice versa.
A telemedicine app or software is a communication channel between healthcare providers and patients. From choosing the best-suited doctor to consulting them online, these telemedicine applications have equipped users to undergo hassle-free consultation and treatment.
With the ease of things available in just a few clicks, availing of numerous services in the comfort of our homes is a cakewalk. Telemedicine apps have modified the work operations in the healthcare sphere. Whether delivering the medicine to your doorsteps or sending customized suggestions about doctors and hospitals, the best telemedicine apps have provided the utmost convenience to all.
Benefits of Telemedicine App Development Solutions:
Telehealth app development has been proved to be beneficial for hospitals/clinics in several ways:
Comparatively less waiting time and hospital's load of managing numerous patients are managed due to the real-time telemedicine appointment element.
Decluttering patients leads to a decrease in the threat of transmission of infectious diseases, especially in the laboratory.
A substantial rise in the number of patients in the hospital due to the hassle-free way of availing healthcare services.
Healthcare professionals, especially doctors, can consult the patients even if they are not at the clinics/hospitals.
Online telemedicine services enable patients to dodge risky commuting during the pandemic.
Technological Trends of Telemedicine App Development in 2022
Telemedicine app/software development is backed by a few eminent technologies that contribute to the app's smooth functioning and eventually provide a memorable user experience. Let's look at the widely used technologies, the linchpin of telemedicine development, popularly used by app development companies to build robust and error-free apps.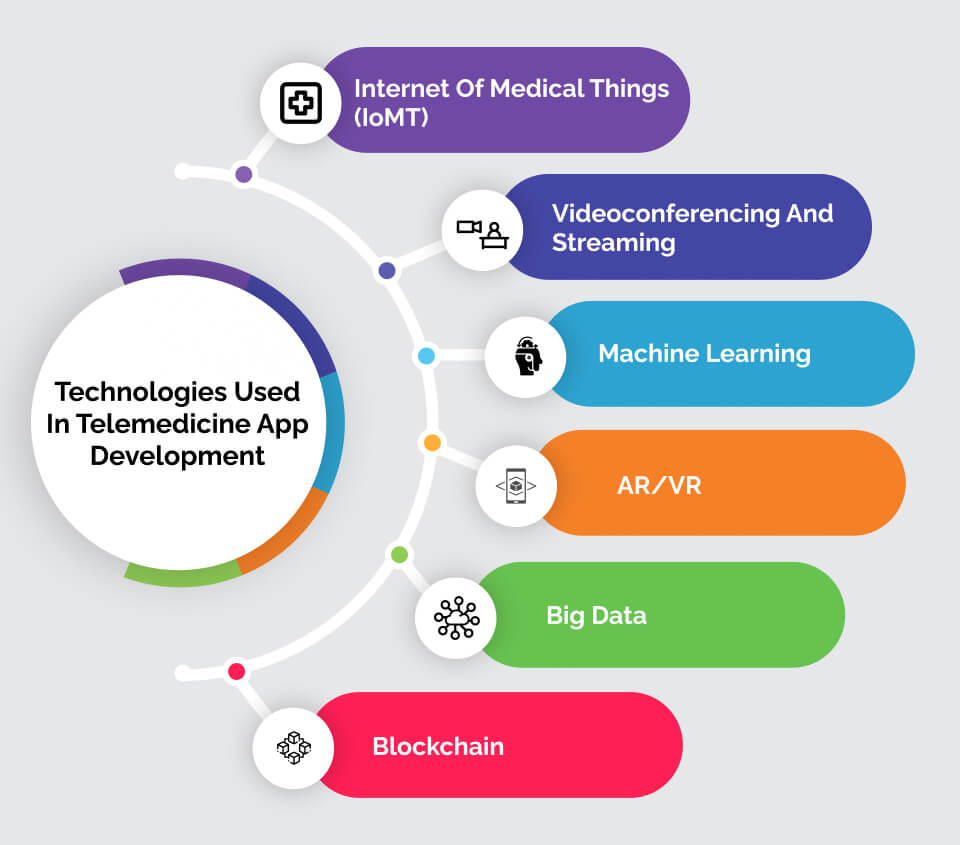 Internet of Medical Things (IoMT): IoMT is a major contributor to the popularity of telemedicine apps that has uplifted the medical infrastructure tremendously. IoMT helps doctors to monitor chronic diseases while analyzing the physical and psychological state of the patients. The increasing popularity of telemedicine apps for doctors is rapidly growing because of the ease offered by these innovative devices. Telemedicine apps and related devices aid in conducting numerous medical tasks without much effort.
Videoconferencing and streaming: Videoconferencing and even live streaming are imperative factors that play a major role in developing the top telemedicine app. Video calling features facilitate communication between doctors and patients while sharing patients' important information with medical experts.
Augmented Reality and Virtual Reality: VR and AR offer an enhanced learning experience to healthcare professionals, especially medical students. Their learning has become much more efficient, safe, and accurate. Doctors also benefit from AR and VR technology as they facilitate improved patient outcomes and convey to the patients about the medical processes in a better way. AR and VR are applied in various medical areas, giving successful results.
Machine Learning: Machine Learning (ML) is handy for treating chronic diseases and enhancing medical data management. Healthcare staff is also assisted by this technology to align workflows. Platforms backed by ML bestow the patients with a personalized experience. A significant rise in the quality of services offered by healthcare institutions has also been observed.
Big Data: While discussing the recent technological telemedicine app development trends, we cannot forget to mention Big Data. It goes without saying that every telemedicine app developed by a telemedicine app development company has to deal with huge chunks of data, including numerous medical reports, records, documents, statistics, and so on. This is when Big Data steps in. This technology ensures the seamless accessibility of apps to reliable databases. Not only this, but the Big Data analytical tools also are a huge aid. These tools play a major role in improving the quality of treatments and accuracy of diagnostics, eventually reducing costs.
Blockchain: Blockchain is emerging as a comprehensive next-gen technology aiding various sectors. In the healthcare segment, this technology helps in ensuring traceable, immutable, and secure transactions across the network. Users need not worry about the sensitive data protected by multiple checks executed by the blockchain network. The encoded health records are directly stored in the blockchain. Only the pre-approved and authentic users can gain access to the stored data with the help of private digital keys.
Understanding The Process of Telemedicine App Development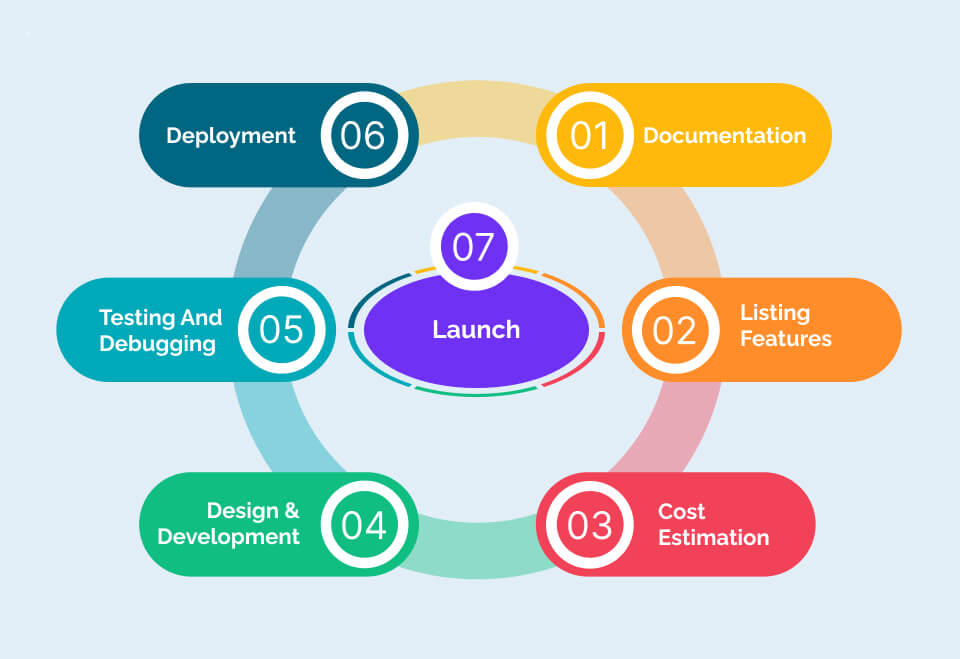 Wondering how to build a telemedicine app? Here's a breakdown of the crucial steps involved in telemedicine app development. Here you go!
Step 1: Envisioning and Documentation
First things first! Pen down all your requirements to fulfill your envisaged app idea. This process will include researching market facts, competitor analysis, idea productization, and target audience identification. Based on the gathered information, create a scope of work document, a list of product backlogs, and a detailed description of how the telemedicine app can effectively help patients and healthcare providers. However, don't forget to find the most reputed android/iOS mobile app development company to assist you in creating the most unique, robust, and high-performing telemedicine application.
Step 2: Finalizing the list of features
An app's most important pillar is its features. Thus, creating a list of essential features for your app is vital. Note that the features may differ for the patients' and doctors' apps. The lists may include:
For Patients' mobile apps:
Video conferencing and chat
Registration
Search & filters
Account management
Push notifications
Payment
In-app calendar
Ratings
For Doctors' mobile app:
Doctor's profile
EHR Review
Appointment management
E-prescriptions
Step 3: Estimating the project's cost
Once the features are decided, you need to plan on the budget with the android application development services company you have chosen. While several factors influence the cost of an app, AppStudio thrives on creating the most popular telehealth apps under your budget.
Step 4: Design & Development
Developing an app with a splendid design and flawless user interface is paramount. Once you have taken an on-demand app development company on board, the wireframe and mock-up designs are next to be worked upon, along with UX design and backend development. Ensure that your app agency keeps you in the loop during the entire app development process and be ready to take your constructive feedback.
Step 5: Performing thorough testing & debugging
Once the development is successful, it is important to run a test check to ensure that all the features are properly functioning. In case you find any error, debugging would be required. Furthermore, verify that the telemedicine application is compatible with all platforms and offers a smooth user experience to doctors and patients.
Step 6: Deployment and mock trial
Once the app is verified as error-free, the next step is to deploy it on Google Play and App Store. After successfully deploying the app, wait to take the demo. If you are satisfied with every bit of the telehealth app, go ahead with the final step.
Step 7: Launching
The last but very crucial step is to launch the app, the pilot-roll out of your telemedicine application. Once it gets live on platforms, make sure to ask for feedback or conduct surveys from your target audience and make amendments accordingly.
Why Choose AppStudio for Telemedicine App Development?
We at AppStudio, precisely understand the dire need for 100% robust and accurate healthcare solutions. Thus, we create high-performing applications with a systematic approach that bridges the communication gap between doctors and patients, simplifies the workflow, and eliminates inaccuracies. Our team's in-depth knowledge and exceptional technical know-how make us the most sought-after mobile app development agency.
If you have questions like how a telemedicine appointment works or want to know about telemedicine app costs, our team is there to assist you.
Or, if you are seeking to venture into the telemedicine sector, connect with our team for further details.
Frequently Asked Questions
Q.1 How to Create a Telehealth app?
Telemedicine app development is a long and intricate process involving documentation, listing features, cost estimation, design & development, testing & debugging, deployment and launching of the app.
Q.2 How much does it Cost to Develop a Telemedicine App?
Several factors, like the nature of the app, type of the app, target audience, type of features, type of technologies used, etc., influence the cost of telemedicine app development.
Q.3 What are the technologies used in creating a telemedicine app?
Blockchain, IoMT, AR/VR, Big Data, Machine Learning, etc., are some of the eminent technologies used to create telemedicine apps.