The buzz of Podcast apps is growing exponentially, with more and more listeners and marketers apportioning a more significant amount from the media budget on the audio platform. Consequently, advertisers, media advocates and listeners have become increasingly involved in the podcast industry, with an anticipation of taking the vertical to the pinnacle in the upcoming time. Currently, some of the best podcast apps, embedded with incredible features, are already swaying the users.
The podcast industry witnessed a significant surge during the pandemic. While 32% of Americans used to listen to at least one podcast every month in 2019, it rose to engage 37% of podcast app listeners in 2020. There were around 100 million people hooked to podcasting in 2020, which is predicted to reach 125 million by the end of 2o22. According to Statista, Spotify is commonly popular and one of the best podcast platforms, with 25% of users above the age 18. Meanwhile, 20% of iPhone users are hooked to podcasting, with a maximum of adult users.
Evidently, the prominence of podcast applications is currently at its peak. Having said that, we are here to discuss some of the renowned podcast apps that are significantly consumed by people. Here we go!
List of Some of The Best Podcast Apps That Are Worth Listening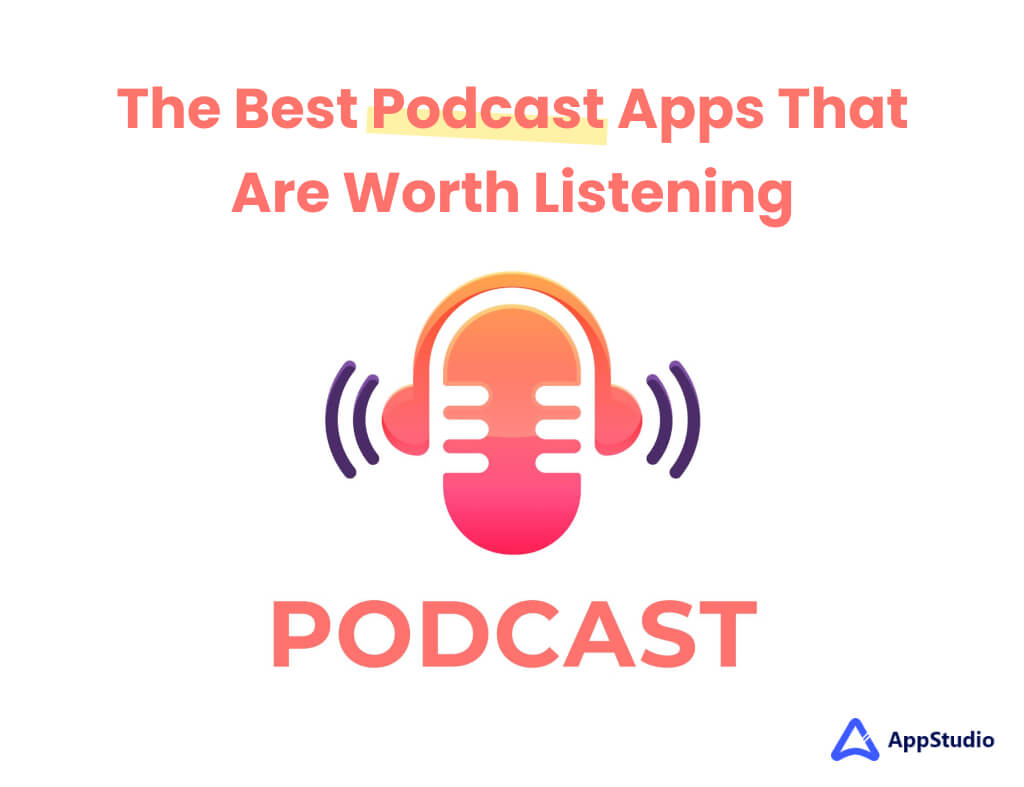 DoggCatcher:
DoggCatcher is an ideal android app development instance for people looking for a podcast app where they only need to pay once. This application offers several standard features like variable playback speeds, customizable playlists, offline playback, and the device's automatic deletion of played episodes. The USP of this podcast android app is that it doesn't ask for any specific upsells, ad-removal, etc. Therefore, it is topping the list of the most-sought after podcast listening applications.
Himalaya: Courses and Stories:
Being a newbie to the podcast ecosystem, Himalaya: Courses and Stories commenced as a podcast player app for podcast creators. However, now it also emphasizes on offering inspirational content while imparting enhanced learning and personal growth to users. Under the ownership of a Chinese firm Ximalaya, users have to subscribe to it at the price of $11.99 per month and $69.99 per year for an unlimited catalog. In the span of five-to-ten minutes, Himalaya offers profound audio lessons and learning. Change Your Day Job, How to Think Like a Lawyer, Mindfulness for Everyday Living are some of the commonly popular show titles.
Overcast:
Overcast is one of the pre-eminent products of iOS app development, containing splendid and unique features. The USP of this podcast app is clip sharing. Clip sharing lets users tell their acquaintances about their favorite podcast by sending a short video or audio clip. People can create smart playlists of specific episodes they want to hear. The basic version is free, and users need to pay $9.99 per year for the premium version. Nonetheless, you may find numerous ads in the accessible version and no prominent features for free.The good news for all Apple users, this app also aligns with Apple Watch.
Downcast:
Make way for one of the best podcast applications for iPhones, Macs, Apple Watch and CarPlay – Downcast. Which means an all-inclusive app for Apple users! Not only this, users only need to pay for the applications once and be the owner forever. The price for iOS is $2.99, whereas for macOS, you need to pay $4.99 once. Subscribing to the podcasts is easy as you can either browse directly or add them via a URL feed. The rich settings enable you to automatically start your most sought-after shows from a specific set time. This lets you do away with lengthy introductions or closing advertisements. From the list menu, you can very conveniently look at the podcast shows you have downloaded or subscribed to. Individuals who only use Apple devices, need not download the web app.
Luminary:
Luminary, recently launched in early 2019, is available on all Android, iOS and Web-based devices. It is an aesthetically designed free podcast app and player application that is revolutionizing the podcast industry by eliminating ads from podcasts. To buy the premium version of this premier app development product, users have to spend $4.99 per month or $34.99 per year to listen to original shows. Luminary has some fantastic shows including celebrities like Lena Dunham, Trevor Noah, Karamo Brown, Roxane Gay, and many others. The selling point of this podcast player is that few podcast networks are withholding key shows from this platform. The said list includes 'The Daily' by The New York Times.
Acast:
Here's the free podcast player application for listeners hooked to podcast apps and creators striving to showcase their skills. It is compatible with android, iOS and macOS devices. Acast enables numerous creators to host their content and work with their team, empowering them to earn money and receive exposure for their talent. Listeners can find their favorite podcasts with the option to change their region while skimming through several podcasts. The geographical options Acast renders you are France, Denmark, Australia, Ireland, Sweden, Germany, Norway, the US and the UK. If you don't choose the region, popular shows as per the location will be automatically shown.
Winding Up
Nearly all the aforementioned podcasts applications have a few features in common. An ideal podcast application must allow the users to subscribe to any show so that you stay notified about the new episodes appearing in your podcast feed. Apps that empower users to control the number of content downloads on their devices and other enhanced features is the most sought-after one. All in all, a podcast application that lets your customers build playlists, offer numerous benefits for free or with a nominal charge is swaying the users nowadays. AppStudio, a leading app development company, offers magnificent android, iOS and cross-platform application development solutions. We create robust and secure podcast apps that offer a one-of-a-kind experience to the end-users. Contact us now to know more!
Check out our Blog
Riding The AR Wave
Frequently Asked Questions
Q.1 Are Podcast Applications Famous?
Yes, podcast apps were the most used in the pandemic and people are still liking and using these apps on a daily basis. Apart from entertainment purposes, individuals and children are also gaining huge benefits in terms of knowledge and lifestyle learning.
Q.2 What are The Famous Podcast Applications?
Downcast, Overcast, Himalaya: Courses and Stories, Dogcatcher and Luminary are currently some of the best podcasts recording apps.
Q.3 Where Can I Hire Developers For Podcast App Development?
If you are looking to create a stupendous podcast app for your business, then AppStudio is your best bet. We are known for creating stellar applications that take your business prospects to the next level.