iOS app development is one of the strongest pillars of the entire app development ecosystem. It is a process of building applications for the tech giant Apple's hardware like the iPhone, iPad and iPod Touch. While the software and iOS apps are written in the eminent programming languages Swift and Objective-C, it is then deployed to the AppStore for the users to download.
Increasing Popularity of Apple and iOS Applications
Every year in January, the tech giant Apple articulates its Statistics to display the outstanding performance of its AppStore and iOS apps. This year's statistics are enough to convey the popularity of Apple's apps. While there are around 2.2 million applications existing in the App Store currently, around 2,540 applications are launched on the App Store each day. Back then, in 2020, customers spent an estimated 72.3 billion US dollars on in-app purchases, subscriptions and premium apps in the App Store.
Every iOS application development company thrives on developing the most popular iPhone apps. As a result, iOS app creators attract countless businesses searching for an excellent digital transformation and high ROI. Investing in iPhone app design development is indeed a lucrative option as the tech giant offers consistent performance and innovation to its end users. However, everything goes in vain if you are not able to find an iOS app design and development agency.
Here's when the end-to-end mobile app development company AppStudio takes charge. We completely understand the high-quality and revenue-generating nature of iOS applications. Hence, we offer the most secure, robust and highly scalable app development solutions to diverse verticals. Moreover, our deft team of developers and designers have aced the game of channelling cutting-edge technology to deliver apps that can let you stay ahead of the competitive curve.
Still in a dilemma about why AppStudio should be your go-to iOS app development agency? Read on to know!
AppStudio – Blending Ingenious Ideas with the Finest Technologies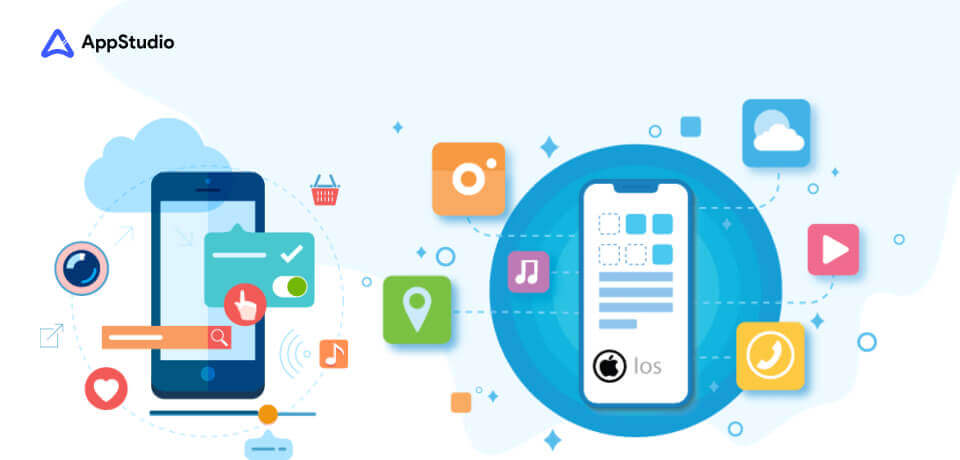 We at AppStudio have a prime motive to align your business, offering robust and result-oriented app solutions yielding fruitful results. We are fortunate to be a part of Apple's preferred iOS development vendors, indulging in their development betas and contributing to the overall ecosystem. So whether it is about integrating a digital product in your business or just knowing about any latest app trend – AppStudio, the leading mobile application development company, is your all-time tech companion.
Be rest assured to choose us as your mobile application development company because we are:
Adaptive to the latest trends and technologies: Given the highly saturated market, it becomes inevitable to keep up with the market trends and employ up-to-the-minute technologies. AppStudio's creative minds are adept at bringing ingenious ideas to the table. By employing avant-garde tools to create unparalleled digital products that scream excellence and innovation.
Outstanding Brand Promotion: With a proficient team of Business Analysts, Digital Marketing Professionals and experts, AppStudio thrives on taking its client's business to the pinnacle. Our squad works diligently to understand the precise needs of your business and then derives strategies accordingly. This leads to a substantial upliftment of the brand's image.
Customer Engagement and Loyalty: AppStudio always works on the principles of imparting a one-of-a-kind experience to the end-users. We achieve the same by offering impressive iOS development services to boost your business prospects and improve customer engagement and loyalty. Our vivid, highly engaging and enticing apps retain the end-users, skyrocketing the profitability of our clients.
Enhanced tactics: We build iOS apps to empower businesses to digitally give a new face to their brand. Our team closely works with the entrepreneurs to help them in reaching out to countless users. Business owners can witness a significant shift in their business activities' appeal, value, productivity and efficiency. Partner with our app development firm to integrate high-performing applications into your business.
Our Must-Avail Custom iOS App Development Services
Being an award-winning iOS app development company, AppStudio has a tremendous number of iOS app downloads. Our experienced team pulls out all the stops in building feature-packed applications for clients across the globe.
Our Wide Array of App Development Services Encompass:
Custom iOS app development: If you wish to hire an iOS app developer from AppStudio, be assured of receiving the most unique, personalized and must-have iOS apps. Our team precisely understands the nature and type of your business and then works on your app idea accordingly. After that, our coders create flawless applications that represent your entire brand.
iOS game app development: AppStudio has the best game designers and developers with immense expertise in creating enticing gaming apps. We have experience crafting interactive games of all genres like arcades, sports, role-playing, puzzle and simulation. We use avant-garde technologies, tools and tech stacks to inject high-end features and make the games more interesting.
iPad app development: AppStudio is your trusted partner to avail applications compatible with iPads. Our iOS app designers and best app developers are well-versed at harnessing the power of Swift and Cocoa, the tools that let them craft apps smoothly. So witness one-of-a-kind iPad applications and bestow your customers with an incredible user experience.
Wrapping Up
When you choose AppStudio as your app agency, experience high-quality applications while not worrying about the cost of iOS apps. Our extensive team of developers, designers and business analysts work together to help you dodge the intense competition in the market. If you want to expand your business and seek a digital transformation, AppStudio is at your rescue. For further details, connect with our tech enthusiasts.
Frequently Asked Questions
Q1.What Language is Used To Make An iOS App?
iOS App developers at AppStudio are adept at leveraging the strength of state-of-the-art technologies. To make error-free and high-performing iOS apps, eminent programming languages like Swift and Objective-C are employed.
Q2.Why should I use AppStudio for iOS App Development?
AppStudio employs agile methodology to make error-free, robust and highly scalable solutions to skyrocket your business prospects.
Q 3. How Much Would it Cost to Develop An iOS App?
The cost of an iOS app depends on multiple factors like nature and type of the business, type of the app you want, the platform you choose and much more. At AppStudio, our experts will guide you throughout the app development process and the potential cost to be incurred.