As the pandemic progresses without a vaccine to curb it, worldwide, the available technology is on the front line of the battle against Covid-19. From drones that help monitor quarantines and move supplies to robots that take care of patients and disinfect means of transport, technologies are helping us. The use of Artificial Intelligence and blockchain technologies to predict the progress of the virus and handle large flows of information to telemedicine, gene editing, and nanotechnology for the direct attack on the virus have been multiple. They are helping amidst the Covid-19 pandemic.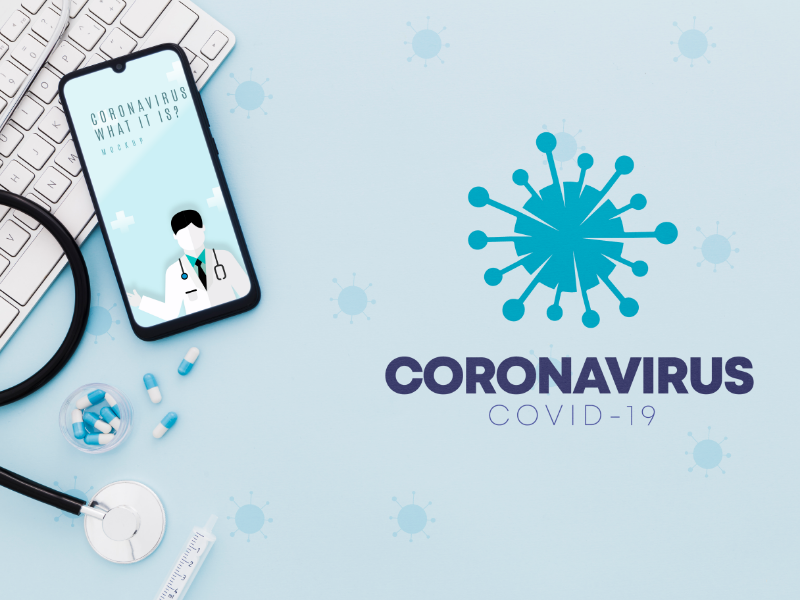 1. Artificial Intelligence
AI technologies have played a critical role in predicting the spread of the virus, and indeed systems based on digital technologies alerted a week before the WHO decreed the emergency outbreak that it would spread beyond China. It has been used to help detect people with coronaviruses through Covid-19 visual sign detection, to monitor body temperature changes in real-time using portable sensors, and to provide a data platform for open source to track the spread of the disease. They have also been exploited to create new molecules that could serve as medications, and several Covid-19 risk assessment algorithms have been developed for use in healthcare settings. However, a report says, the effectiveness of these artificial intelligence applications will depend not only on their technical capabilities but also on how their implementation pathways will be monitored following established algorithmic standards, legal principles, and ethical safeguards. AI and machine learning are the most significant advantage of the human race amidst the COVID-19 pandemic.
2. Blockchain
According to the analysis done for the European Parliament, blockchain applications can monitor disease outbreaks over time by creating "ledgers" that are safe and updated hundreds of times per day. Data Science is also being implemented to curb the effect of this deadly virus by evaluating the spectrums and graphs related to its spread. Most of the development companies are working day and night to provide statistics secured by the blockchain technology to curb the pandemic. Banks also have an option to mitigate their business due to the Covid-19 pandemic by converting their systems to more secure online systems using blockchain.
3. Mobile Apps amidst the COVID-19 Pandemic
Mobile apps are one of the sophisticated technologies helping us to curb the impact of coronavirus pandemic by designing new tools. Mobile apps like fintech are giving new investment opportunities to business people where there is no risk and can quickly mitigate their losses. As an app development agency, we are taking the help of IoT and AI to develop new mobile apps that help governments and private enterprises explore new opportunities. Mobile apps using IoT are helping authorities identify red zones and then quarantine the people effectively.
4. Telemedicine Technologies
Telemedicine technologies allow doctors to see and diagnose patients remotely through a two-way audiovisual communication system in real-time. It includes "visits" through computers, tablets, and smartphones with a webcam, chatbots, and automated algorithms. It offers several crucial benefits: it allows hospitals to stay clean for confirmed cases, reduces virus transmission rates by eliminating the risk of exposure, and enables more patients to be cared for.
5. 3D Printing in Covid19
Given the high risk that demand for medical supplies such as respirators, ventilators, and respirators will exceed the amount, three-dimensional (3D) printing plays a vital role as disruptive digital manufacturing digital technologies. Its main advantage is that parts needed in small quantities can be produced at a low cost since only the printer and design drawings are required to replicate the parts with local materials.
Today manufacturers around the world are joining forces to create ventilation valves, breathing filters, test kits, masks, and ultimately new products, such as plastic door handle adapters that allow easy opening of the elbow to prevent further spread of the virus.
Check Out: – The Future of AI & Machine Learning in Healthcare
6. Drones
The softwares of these devices are being rewritten to adapt them to multiple functions, not only to facilitate the tasks of imposing measures of containment and social distancing but also by releasing crucial human resources. It also helps to minimize their exposure to the virus, thus reducing the possibilities of contamination. Drones in Covid19 are delivering medicines, food supplies, and even sanitizing the streets.
7. Gene Editing Digital Technologies
The novel CRISPR-based editing tool, which allows researchers to target inactivated mRNAs and genes without changing the genome, was created using the enzyme CRISPR-Cas13.
8. Synthetic Biology
What progress is there on this matter? A vaccine, developed through synthetic biology, would not only be "scalable to a billion level," but would also work even without refrigeration. Synthetic biology is a field in which we experiment with different classes of CR-9 and COR0-19 to evaluate the possible chances of delivering a highly competitive solution.
9. Nanotechnology
It is one of the digital technologies that help us mitigate the pandemic and its effect on humans. The nanoparticles are assisting scientists in controlling viral infections through different processes. These particles easily bind to a virus and prevent it from spreading Covid19 by diminishing its characteristic of attacking host bodies. Nanotechnology is growing exponentially to help us step into digital transformation.
10. Robots
As soon as this Covid 19 pandemic began, we have seen the implementation of drones to sanitize streets, to play songs for locals in lockdown, or deliver food. In China and some other countries like the USA, Robots were responsible for providing medicines to patients and treated them while in isolation. Robotics will bring digital transformation in this world and will help us establish new norms and culture. These robots need software that is provided by companies like us. Our digital solutions are tackling the impact on small businesses due to coronavirus.
AppStudio is the leading digital agency in Canada, and we are providing our clients with most contemporary technologies amidst this pandemic. Our core focus is to provide our clients with tools, strategies, and digital solutions to combat the economic crisis and earn profits. Contact us for further information without any obligation.
Also Read: How To Stay Motivated During Quarantine?