Understanding how customers use your website is a fundamental step towards enhancing any future online marketing campaign. However, in this post, we will outline the top key metrics to look for in Google Analytics that businesses need to run.
What is A Metric in Google Analytics?
Some business owners talk about this often. Agencies pass it on in their client presentations to look smart. Even Interns often use it to emphasize that they know a thing or two about marketing. But we are sure no one has taken the time to explain what Google Analytics metrics are.
Metrics are collections of performance data that are integrated with the actions on your website. For example, how many people visited your site last week? These are the metrics that form the basis of your website's performance data.
Top Key Metrics to Watch in Google Analytics
These metrics are categorized into four groups are Audience, Acquisition , Behavior and Conversions.
Traffic Sources
Knowing where your site traffic is coming from and the specific set of keywords that bring it. They can give you insight into what keywords and phrases you should focus more on. Search engines are still the primary source of website traffic, according to various studies, but you can also take advantage of other traffic sources.
However, one can find this data in the Acquisition >>All traffic and then select source/ Medium.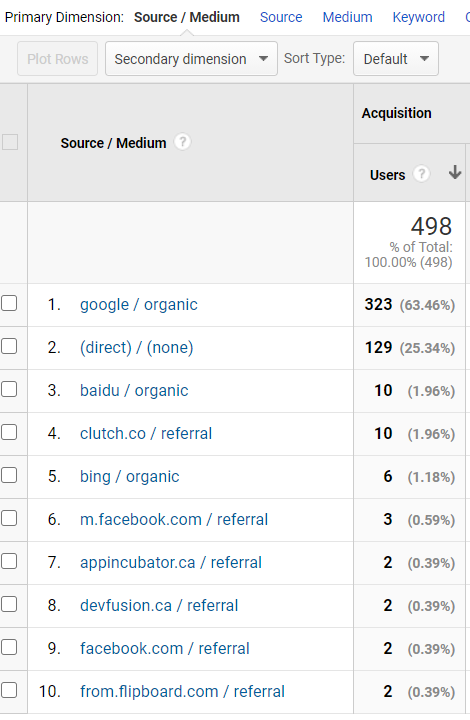 Overall Site Traffic
Significant changes to how traffic flows to your site show how effective specific digital marketing techniques. When measuring site traffic, do not just focus on page views or the number of clicks your website gets. Also, how many visitors your website gets per week or month. Some SEO service providers claim that the more unique your site visitors are, the greater the chances of reaching potential customers.

You can access user and session data in the Audience>>Overview. After that, you can choose Sessions or Users in the dropdown.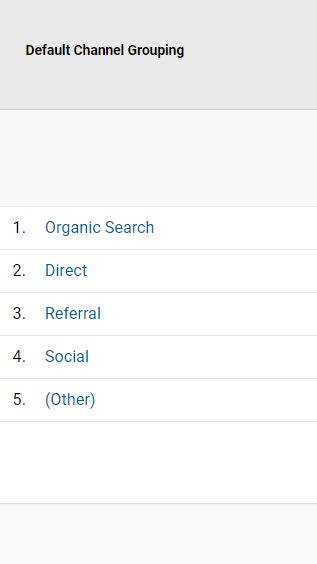 Mobile Traffic
This requires more attention from digital marketers as it can open new doors to a more comprehensive and more diverse source of income. These metrics can also provide insight into how business owners can structure their content effectively. It helps to result in better engagement with mobile and non-mobile website visitors.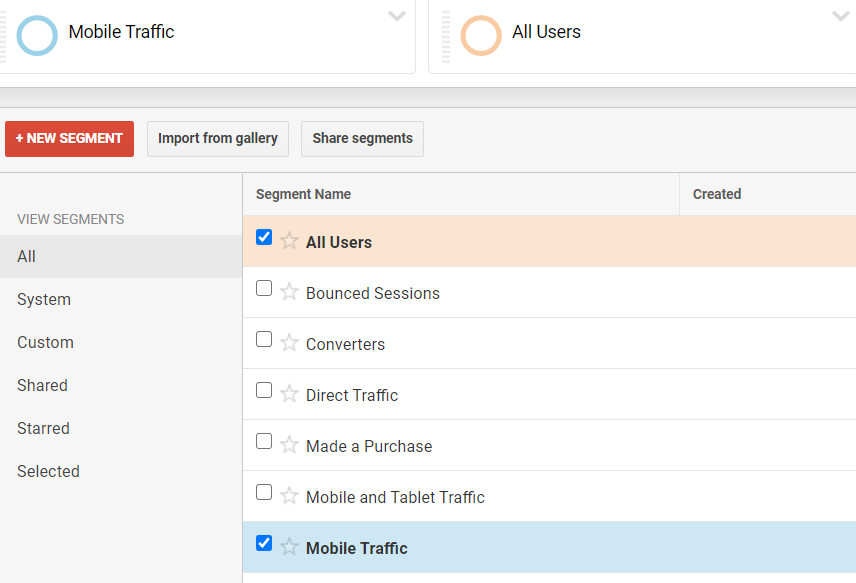 Bounce Rate
Not all website traffic to your site can be turned into leads or sales. It lasts longer on your web pages and takes part in your website content. However, on some of these visits, site visitors leave or bounce as fast as they arrive. If they feel your content is not relevant to their needs. Knowing your bounce rate can provide you with insight into how you can further improve your content.
For Instance – at the bottom of the Overview page>> Browser to determine whether the site is performing better or worse for visitors using different browsers.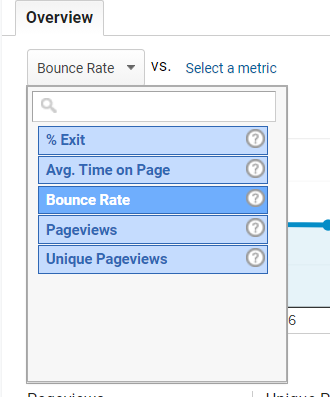 Average Time on Site
You can measure how well you engage with targeted website visitors. It is essential to measure what content is relevant and will drive results from site visitors. And ultimately increase this level of trust into something that will eventually lure them into converting.
Moreover, one can find it in Audience >> Overview, then click the dropdown above the first graph.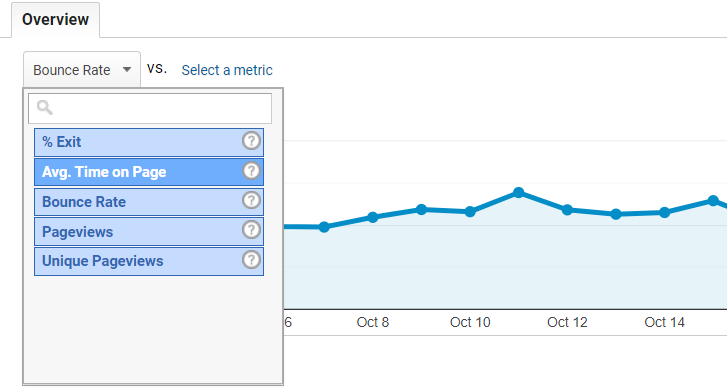 Average Pageviews per Visit
Last but not least, it is a crucial metric in Google Analytics for digital marketing. Driving good traffic to your website is one of your digital marketing campaigns' best elements—the more page views generated from each visit, the more opportunities for engagement with website visitors.
However, one can find this in the dropdown in the Overview section under Audience.
Average Cost per Page View
The cost per page view controls the amount of investment associated with paid digital marketing channels. Your price per page view should also be significantly lower than the revenue you can generate from the page.
Return Visitor Rate
Website popularity is determined not only by the amount of traffic your site generates. Also, by the rate of returning visitors who keep coming back to partake of more than what you can show with your content. Knowing your Visitor Return Rate can provide you with insight into improving your content to attract unconverted site visitors.
Conversion Rate
Measuring how many website visitors converted to leads or sales is valuable. Also, the tangible metric that determines your digital marketing's success, whether your goal is to gather useful information about your website visitors and potential customers, and monitor your Conversion Rate.
Here, you will find conversion rate in Conversions>>Goals>>Overview. Then, hit on the dropdown.
Cost Per Lead
The success of a digital marketing campaign depends on your content and website converts website traffic. CPL is a metric that determines the lead conversion rate of a particular campaign and the related costs. Moreover, it gives business owners or marketers insight into how profitable their campaigns are or not.
Click-Through Rate
As we all know, PPC services are a viable source of targeted traffic. It can be measured effectively by calculating the number of clicks your PPC ad receives. So, you can lower your PPC costs by receiving a discount from the SEM platform.
Cost Per Click
CPC determines how much you will pay the search marketing platform every time an internet user clicks on your PPC ad. This value will vary depending on how famous the keyword or keyword phrase you choose and the standard price that search engines initially set.
Return on Investment
ROI can be precisely measured by the website traffic that is ultimately converted into new paying customers. Moreover, these metrics help you to identify which areas in your digital marketing campaign are driving revenue.
There are many versions of the ROI formula. Two of the most commonly used are shown below:
ROI = Net Income / Investment Cost
And
ROI = Return on Investment / Investment Base
Cost of Obtaining Customers
ROI is measured by the number of new paying customers for a certain period. In contrast, the cost of acquiring these new customers is determined by getting the total marketing and advertising costs. However, the given period is divided by the number of new paying customers generated.
Final Words
As a final note, AppStudio, as a well known digital marketing services provider states, what are the most critical metrics in Google Analytics. Also, it's important to reiterate that each of the metrics described above are good indicators. Each one focuses on a specific area and stage in your digital marketing campaign, so we recommend using this tool as a whole.
The key here is to use data that you can extract from these metrics. Therefore, allowing you to identify which components of digital marketing are working and which are not. So, let's talk to us about running a profitable digital marketing campaign.