Embracing and acknowledging digitization is pivotal in the present era. Every sector needs to streamline its methods and techniques to keep pace with the changes. And banks are no exception. Do you know what is helping the banking sector to adopt digital transformation? Banking and Fintech APIs.
FinTech and banking APIs (Application Programming Interfaces) have become key facilitators in ushering to a no-fuss digital metamorphosis. Research suggests that over 40% of people use no less than one FinTech service, half of which uses banking applications.
Today, users prefer customized services that reflect their dealings and user experiences. As a result, many financial establishments use banking and FinTech APIs to open up a host of financial solutions. These solutions propel modification and generate opportunities in the financial sector.
FinTech and Banking APIs are modifying an industry that was immune to change. Their growing embracement and utilization all around the financial region have furthered in an outburst of new applications, business structures, and services.
This blog post will weigh in on the importance and role of Banking and FinTech APIs in restructuring the financial sphere.
What Does Banking and FinTech API Mean?
An API permits you to harmonize and link the host of services with the already existing apps for uncomplicated data tracking. When used in FinTech, APIs track data that helps in pointing out threats, personalizing customer wants, curbing time and strengthening the FinTech sector.
APIs play the role of a connector uniting FinTechs and banks so that both groups can reap benefits from one another and provide strategic and methodical quick fixes to their users.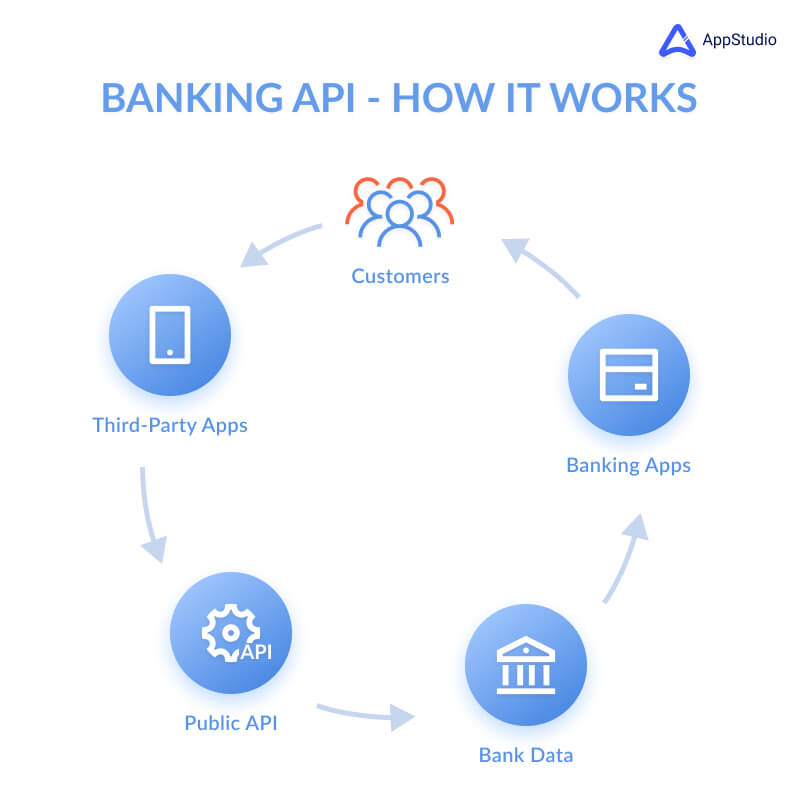 How Do APIs Benefit the FinTech and Banking Sector?
APIs are vital in binding the data and information between companies without the difficulty of combining their operative processes. APIs permit siloed methods and data to interact and connect and enlarge the potential to deploy products speedily and swiftly that are customized for their customers.
This, in turn, saves a lot of time and energy, and to be more specific, money. After all, APIs aid to curb the market time for fresh products.
APIs nurture these connections between financial establishments without reconstructing their existing architecture. Instead, it modifies financial solutions and takes them a level ahead. That's why the financial sectors are reaching out to grab the services provided by an API development company.
Let's check out some of the benefits of FinTech and Banking APIs in revolutionizing the financial sector.
Amplifies Cost-Effectiveness
To offer a wide spectrum of banking services to meet users' needs, financial organizations often incur increased costs. Keeping that in mind, FinTech APIs come to the rescue. Open API development acts as a blessing for users. They can now avail of many services through various integration of apps.
For example, a user can effortlessly safeguard its banking particulars in third-party accounting software, monitoring every pivotal detail regarding the transaction. Banking APIs help to curb down the overall cost of management and maintenance.
Fosters Data Sharing for an Unparalleled Experience
Earlier, banks were overprotective about sharing their user details. However, the landscape completely flip-flopped.
Presently, users with the complete authority of their details are pressing banks to permit their particulars to be distributed with their preferred third-party source. This is only possible with the help of open APIs. It is one of the many benefits provided by FinTech APIs.
Also Read :- How To Develop a Fintech Mobile Application
As we are digitally progressing, users' demand for easements is increasingly rising. The advantages that the other industrial sectors provide them with have steered their expectations from the financial sectors too. The users demand simplicity in all the services they are engaged in.
Taking a look at the financial sector, the FinTech APIs provide comprehensive solutions for a smooth and speedy transaction. They enable immediate ingress to financial records and make the ease of payment effortless.
You can't underestimate the power of APIs in open banking enterprises. APIs are the scene to carry out business in the current open banking environment. Also, banking app development is increasing faster, and the chances of dimming the API structure in financial institutions is slim in the future.
Likewise, the user's wants are ample for financial institutions to keep providing quality services by fusing APIs.
Enables Quick and Structural Functionings
Banking APIs entitle clients to direct their financial transactions over mobile banking, e-banking and wallet facilities securely on their handheld devices instantly. As a result, one doesn't need to be physically present in the bank to complete their transactions, saving time and effort.
Nowadays, most transactions happen outside concrete financial institutions. Therefore, proper utilization of banking APIs can cut down costs, thus refining the financial infrastructure. That's why financial institutions are trusting mobile app development agencies to build APIs.
Strengthens Overall User Engagement
The APIs have empowered the banks to fulfill the diverse needs of the customers and place themselves pertinent for the banking demands of the future. Banking APIs can work in a clear-cut way to boost and strengthen user engagement and label user wants securely and quickly.
Varied Use Cases of Open Banking in the FinTech API Platform
One idea that rose to glory is the P2P (Peer-to-Peer) network. It came to the scene because of the absolute need to simplify banking processes, mainly while dealing with transactions. Nowadays, several financial organizations offer countless services via P2P payment applications.
At present, this notion has ultimately established its position in currency exchange. As the request of purchasing and selling currencies are shared among the concerned clients, it puts forward an abundance of opportunities for the FinTech agencies to broaden.
Many FinTech startups use their latest APIs to eradicate the intercessors in this operation. For instance, Transfer wise API offers several tools and ensures various modular APIs, open and free of providers. This has permitted several banks to provide this service to their customers.
P2P platforms are growing and becoming immensely popular in the lending arena too. For example, Lending Club is the sizzling and most acknowledged FinTech API platform that helps perform searches, carry out orders, track loans, and customize lending portfolios as an investment.
Developing API Market Platforms
Looking at the immense acclaim of FinTech APIs, banks such as BBVA brought forward an innovative plan – API Market. This platform provides many APIs, tools, and solutions that simplify the developer's job, as they can join hands with the bank on commercial occasions.
Payment processing APIs enlarge the payment privileges for the merchants. Since shopping has gone global, it aids the merchants to obtain different existing modes of payment. Payment processing APIs can facilitate and shorten the check-out and payment procedure while shopping online.
One good case of the emergence of payment processing FinTech is noticed in the variance between Ayden and PayPal. These are payment processing FinTech agencies.
PayPal was the FinTech API that eBay earlier used, but later on, it decided to switch to Ayden as it offers a smooth and flawless checkout experience. In addition, Ayden permits customers to stick to the page during checkout, unlike PayPal.
Although several companies possess numerous branded APIs, White-label APIs are accessible to banks and other FinTech agencies. With the help of these APIs, they can make use of the boons and need not create their personal programs and platforms.
FinTech and RegTech sync and accompany one another in the modern world, especially when engaging third-party open APIs. When providing various financial solutions, it is essential to certify user identity repeatedly. As the entire open banking environment relies on user data, it is non-debatable.
By the power of RegTech APIs, open banking helps in providing answers concerning user data. They offer a wide array of schemes ranging from biometric authentication to KYC policies. It eliminates the need to fill up forms, thus offering an improved user experience.
Trulioo is a FinTech API example that provides a FinTech API platform helping authenticate and certify user data via JSON interchange.
Future of APIs in FinTech
Considering the rising utilization of FinTech APIs, the future seems quite promising, mirroring the infusion of APIs between recognized organizations and the wide-reaching communities.
For example, banking APIs might help banks in linking with various e-commerce sites, streamlining online transactions systems in the future. Furthermore, they can merge with traditional stores and banks to provide financing and lending benefits at POS (point of sale) spots.
The Key Takeaway
Thanks to the evolving financial sector, users can now enjoy banking from the comfort of their homes without visiting the banks. As it is a key requirement in the day-to-day scene, banking and FinTech APIs offer speedy and hassle-free services to the customers.
So, if you are concerned about API financial services, it's high time you act. Pick out an experienced FinTech API development company to offer your customers the kind of comfort and satisfaction they wish for. Right?
AppStudio is a leading API development agency with years of experience building APIs for various sectors ranging from banks to FinTech. If you plan to develop banking or FinTech APIs to streamline the online process, contact our Fintech API app development team.