With growing awareness of the benefits of investing, people from every age group are inclined to invest in the stock market. According to a Global Investing Adoption Survey by Finder, 39% of the total Canadians are indulged in investing in stocks. This makes Canada rank 6 out of 16 countries for share trading. Thanks to the digital market, any person seeking to invest in the stock market can easily resort to several eminent stock apps. While there is an array of stock market apps available, an apt application would be the one sufficing your needs, goals, and experience as an investor. If you are a novice investor, we have a curated list of some of the best stock apps for beginners to explore. And for entrepreneurs wishing to venture into making the best trading apps in Canada, have a look at some splendid stock apps prototypes.
Some of the Best Stock Apps for Beginners to Invest in Canada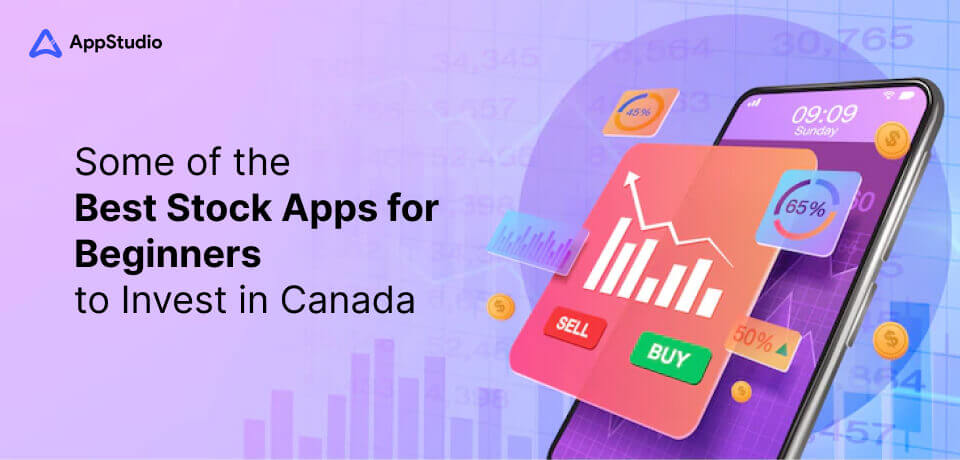 Wealthsimple: Wealthsimple is the best stock trading app in Canada for new investors, swaying the fintech sphere tremendously. The simple yet enticing user interface aids newbies in conveniently making and reviewing their portfolios. There is no specific minimum amount required to open an account. In fact, here are various portfolios best-suited for every investor.
Being one of the best investment apps for beginners, Wealthsimple offers immense transparency to its users. The investors can easily know how portfolios are allocated, where the dividends are coming from, and what trades are being made. All in all, a complete history will appear in front of the investor with just a single click on "Account Activity."
Business owners wishing to create a simple yet robust app like Wealthsimple, hiring a mobile app developer can help you with the same.
Questrade: Questrade is the most sought-after choice for DIY investors dealing in ETFs (Exchange-traded Fund) and building their portfolios. Questrade, aka discount broker, is leading the online stock market because of the low trading commissions on stocks they offer. Not only this, but Questrade also made ETFs free for buyers. New investors with a lack of capital can easily enter the stock market using this game-changer app.
Creating an ETF portfolio is hassle-free, with just one share involved and no added commissions to pay. Exciting, right! However, investors should note that you must pay trading commissions while selling out. Worry not; Questrade charges the lowest fees in the market. Furthermore, the USP of this trading app is its Instant Deposit feature. It enables the Visa Debit Card holders to transfer up to $3,500 into the Questrade account instantly. In a nutshell, opening an account in this ETF-friendly application will be a boon for the investors to capitalize on fast-moving market opportunities.
Check Out – Guide to Developing a Fintech Application
WealthSimple Trade: Potential investors who are in search of buying and selling individual securities should choose WealthSimple Trade. Being one of the best investing apps in Canada, WealthSimple Trade lets you do away with the trading commissions. Potential investors needn't pay anything even while buying or selling stocks here. Being an exclusive no-commission brokerage website in Canada, it is a user-friendly and easier to navigate stock app.
Investors should note that the options of highly detailed security data and accessibility to precise charting tools are limited. Similarly, you may find some of the securities missing from the trading option on WealthSimple Trade. While this can be frustrating for advanced investors, it is one of the best investing apps for novice investors trying their hands on the stock market.
BMO adviceDirect: BMO adviceDirect is one of the best investing platforms in Canada, offering online investing advice with personalized support. This best stock investment advisor has been serving Canadian investors for decades with its comprehensive investing approach, empowering the investors with the freedom of self-directed investing plus expert advice. The best thing about BMO is it lets you take charge of your trades after giving you investing advice. This service assesses your portfolio 24/7 and sends you alerts immediately if things are not in balance. Moreover, investors receive personalized recommendations for buying and selling based on their profile and risk tolerance. This boosts the confidence of novice investors. BMO also connects them with financial experts to receive customized investment devices.
If you are looking for the best app for trading advice, BMO is your best bet. Entrepreneurs can also capitalize on similar app ideas by partnering with an iOS or android app development agency. When you get on board with BMO, you will be charged a management fee, which will be calculated based on how much you have invested. To get started, one must keep a minimum balance of $10,000 and expect a 0.75% payout on billable assets up to $3,750 annually. This fee encompasses all trading commissions up to a trading limit based on the investor's portfolio size. And then, you will be charged $7.95 per trade.
Questwealth: Being one of the best stock investment advisors, Questwealth serves its clientele with expertise in exchange for the lowest fees. This trading app is one of the most affordable options available in the market. Questwealth portfolios charge just half of their competitors, which is just 0.25% of the management fees. Once investors pick a Quest Wealth portfolio based on their risk tolerance, they will take care of the rest. These portfolios augment and automate the investing experience by handling everything on their own. From tax-loss harvesting to re balancing and reinvesting dividends – you can leave it all on one of the best apps for trading in Canada, Questwealth.
How to Choose an Apt Investment Application?
While there is a vast pool of investment apps to choose from, one must choose an app that suffices their needs and aligns with their portfolios. An ideal investment application is one that serves your investment and financial goals. If you are looking to trade in stocks and ETFs, you have several options. However, if you wish to trade in cryptocurrencies, you may have to choose among fewer options. That being said, if you are aware of what type of investment you wish to purchase, it will directly influence your choice to pick an investment application. Furthermore, taking help from a robo-advisor, by paying minimum online brokerage, for investing and trading advice is also a smart choice. All in all, an appropriate investment app will help you in knowing about the best stock to buy in Canada.
How can AppStudio help you?
AppStudio precisely understands the growing demand for user-friendly and secure investment apps. Therefore, we offer a wide variety of app development services catering to the needs of the stock market enthusiasts. We build robust, error-free, high-performing, and user-friendly applications that the top investment companies in Canada vouch for. If you are a business owner keen to create the best apps for investing in Canada, get in touch with our team immediately.
Frequently Asked Questions
Q1.How Can I Be Sure That My Investment App is Safe?
An authentic investment app would be certified and regulated by a provincial or federal government agency; always check for that. While a Canadian Investor Protection Fund (CIPF) member, a safe app must offer 256-bit encryption. Make sure you look for the said factors while making the best investment in the share market online.
Q2.What are the Best Investing Apps for Beginners?
The investing app for beginners should align with their investing experience, financial goals, and risk tolerance. Newbies should elect an app that doesn't ask you to invest a large chunk of money but charges less while selling and buying stock. Opting for applications like Questrade, WealthSimple, Questwealth, and BMO adviceDirect would be wise.
Q3. Do Canadians use Investment Apps?
According to several surveys, 39% of Canadians are investing online, making Canada the 6th country leading in share trading.